Obama's Indiana Victory Lap Highlights Democrats' Problems in Red Indiana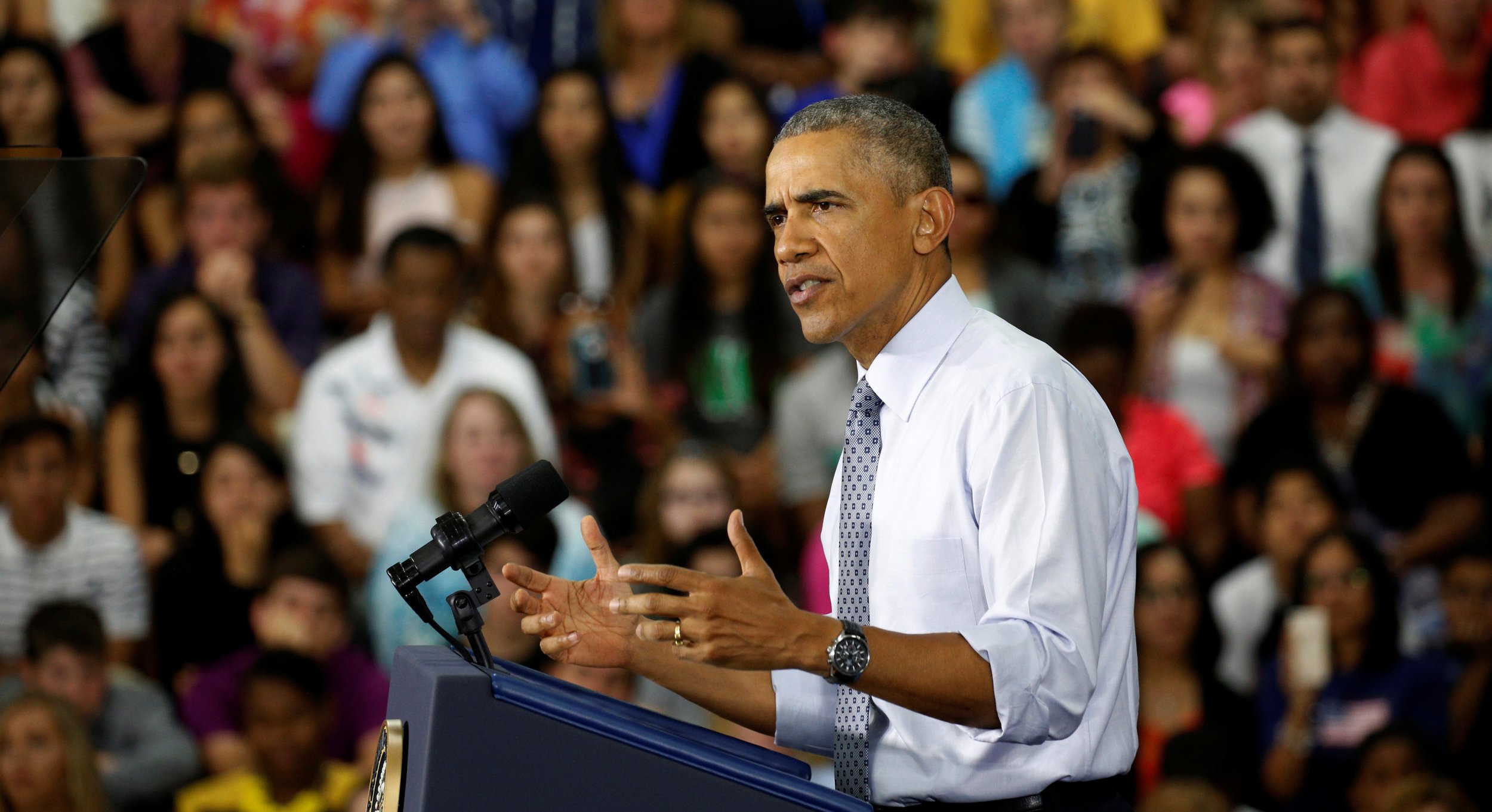 "I'm not here looking for votes," Obama told supporters in Elkhart, Indiana, on Wednesday. That was only half true. He wasn't asking Hoosiers to vote for him, but he was definitely looking for votes—for the next Democratic presidential candidate, who is most likely going to be former Secretary of State Hillary Clinton.
With the Democratic presidential primary looking likely to conclude in favor of Hillary Clinton in the next couple of days, many expect President Obama to emerge as one of his former secretary of state's most vocal advocates on the campaign trail. In Indiana, which Obama barely won in 2008 and lost soundly in 2012, the outgoing president made the case for another four years of Democratic control of the White House, even if this was not officially a campaign trip. If Democrats could pick up Indiana and its 11 electoral votes in November, however unlikely, it would make the Republicans and Donald Trump's already-difficult path to the White House that much steeper. Indiana has voted Republican in every presidential election since 1940 except for the Lyndon Johnson landslide in 1940 and Obama's win in 2008. Republicans control the governorship and both houses of the legislature by large majorities.
"America's economy is not just better than it was eight years ago, it is the strongest, most durable economy in the world," Obama told a crowd of supporters in a town which had some 20 percent unemployment during the recession but is down to 5 percent. But, he said, long-term economic trends leave some feeling like the system is "rigged." But Obama said that belief is incorrect. In a comment that could have been directed at either Bernie Sanders or Donald Trump, Obama criticized politicians who take issue with the system itself, arguing they are "playing on that frustration for headlines and votes."
Trump, though never named, was a focal point of Obama's speech. The president touted the importance of free trade, citing his Trans-Pacific Partnership, the largest free trade deal ever negotiated, which Trump opposes. "Most of the manufacturing jobs we've lost of the past eight years weren't the result of trade deals, they were the result of automation," Obama said. He also took issue with Trump's plans to deport 11 million undocumented immigrants and build a wall along the southern border of the U.S., plans he called "a fantasy" and "logistically impossible."
Obama's trip to Elkhart, population 51,265, is something of a bookend on his presidency. The small city, about two hours' drive from Obama's hometown, Chicago, was the first place he visited as president in 2009. For the Obama administration, Elkhart has become a symbol of America's financial recovery. A hub of RV manufacturing, Elkhart was hit harder than most during the 2008 recession, as Obama pointed out during his hour-long speech at Concord Community High School. And it bounced back better than most, thanks in part to the American Recovery and Reinvestment Act of 2009 pushed by the Obama administration and congressional Democrats. Today, Elkhart is set to ship nearly 400,000 RVs, an all-time record, Obama said