1 in 10 Trump Supporters Believe Biden Won the Election, Poll Says
Some supporters of President Donald Trump aren't convinced he won the 2020 election, believing that Democratic candidate Joe Biden will head to the White House in January, a recent poll found.
Among people who voted for Trump, 10 percent said they think Biden will be the next president as "election night" stretches into its fourth full day. Citizens for a Strong Democracy, a bipartisan group focused on strengthening democratic institutions, conducted the survey during the two days following the November 3 election among 1,000 voters, according to Axios.
The majority of respondents (43 percent) said they were still unsure about what the outcome of the election would be. Several states have yet to be called as elections officials continue working through massive influxes of mail-in ballots.
Thirty-seven percent of voters believe Biden won, while 18 percent thought Trump will go on to serve a second term. Among people who voted for Trump, only 37 percent thought he pulled off a win. Sixty-four percent of those who voted for Biden were confident their candidate will be the next president.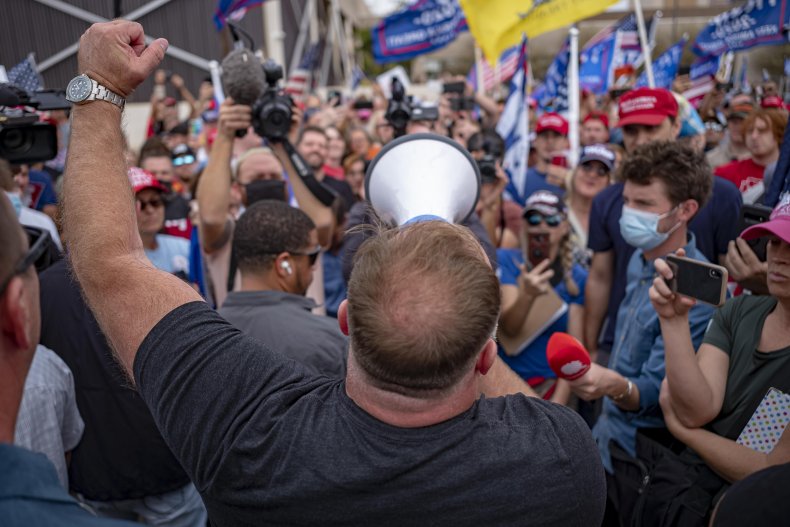 The voters' responses reflect the race's current status. Biden holds the majority of both the popular and electoral votes, with 74.8 million and 264, respectively, according to the Associated Press. Trump currently has 214 electoral votes and 70.5 million popular votes.
A winner has not yet been declared in Alaska, Georgia, Nevada, North Carolina and Pennsylvania. Trump holds significant leads in both Alaska and North Carolina, but Biden has pulled ahead by narrow margins in the three other swing states.
If Biden wins the electoral votes from just one state out of Georgia, Nevada or Pennsylvania, he would win the presidency. However, Trump, assuming he wins both Alaska and North Carolina, would need to also win some combination of the three remaining states if he has any hope at re-election—a feat that is looking increasingly unlikely as the days drag on and ballots continue pouring in.
But Trump's ever-loyal fan base has shown up in full force this week, flocking to major cities in the undecided states to echo the president's unsubstantiated claims of widespread voter fraud. In Philadelphia and Pittsburgh, protesters supporting both campaigns have clashed during nonstop demonstrations since Wednesday outside buildings where vote counting is taking place, USA Today reported.
Several police departments in Bucks County—the state's fourth most populated county—said they've ensured the departments are adequately staffed and prepared to respond to any incidents that might occur, according to USA Today.
The Citizens for a Strong Democracy survey found that an overwhelming majority of voters (85 percent) thought "violence is occurring or will occur as a result of this election," but 92 percent agreed "violence because of the results of an election is never acceptable." Eighty percent of respondents said they would accept the election's outcome.