Houston's Health Department reported Friday that nearly 1 in 4 residents are now testing positive for the novel coronavirus, as Texas sees an ongoing surge in new cases and subsequent hospitalizations related to the respiratory illness.
According to data released by the health department, Houston's test-positivity ratio reached nearly 25 percent on Thursday, July 2, up from 15 percent reported one month earlier. Test positivity rates measure the number of diagnostic COVID-19 tests confirming presence of infection against the total number of tests administered during a designated period of time. The ratio offers a clearer picture of virus transmission in a given area than standalone case counts do, since health officials across the country have ramped up distribution of diagnostic tests since regions began to reopen.
Newsweek reached out to the Houston Health Department for comments but did not receive a reply in time for publication.
Harris County, where Houston is located, has reported the highest concentration of COVID-19 cases compared to all other Texas regions. Additional data published by the Texas Medical Center, an expansive hospital network based in Houston, shows its latest test-positivity ratio is higher than those seen previously during the pandemic.
Figures released by the Texas Department of State Health Services (DSHS) note a slight decrease in statewide test-positivity rates since June 27, when its 7-day average ratio showed 14 percent of tests distributed returned positive. That statistic marked Texas' highest test-positivity rate to date.
Most cities currently reporting COVID-19 spikes saw milder outbreak statistics during the first three months of the pandemic, prompting earlier economic recovery strategies that, in some areas, were rolled back recently. New York—and New York City, in particular—was considered the United States' viral epicenter throughout March, April and May. During an especially severe stretch of April, now regarded as the peak of its outbreak curve, New York confirmed thousands of new virus cases and hundreds of deaths per day. The majority were confirmed within New York City's five boroughs.
New York Governor Andrew Cuomo has warned that his state's outbreak statistics foreshadowed others that would surface later in different parts of the U.S. While that would eventually prove true, the latest data from hard-hit cities like Houston, which is currently experiencing its peak of COVID-19 infections, show fewer people are testing positive for the virus than they were in New York City two months ago.
Of cities across the U.S. currently reporting peaks, Texas metro areas have reported the nation's highest test-positivity rates, according to Austin-based ABC affiliated news station KVUE. Still, they remain considerably lower than test-positivity figures seen in New York City during the height of its outbreak.
Ongoing test-positivity data published by the New York City Department of Health and Mental Hygiene shows ratios between 30 and 66 percent reported daily throughout the first three weeks of April. The largest portion of tests administered citywide returned positive on March 28, with 71 percent confirming presence of COVID-19 infections. New York City's daily test-positivity rate fell to 19 percent by May 1 and has steadily declined since then. Most recent figures published by the health department indicate daily rates were below 3 percent positive throughout June.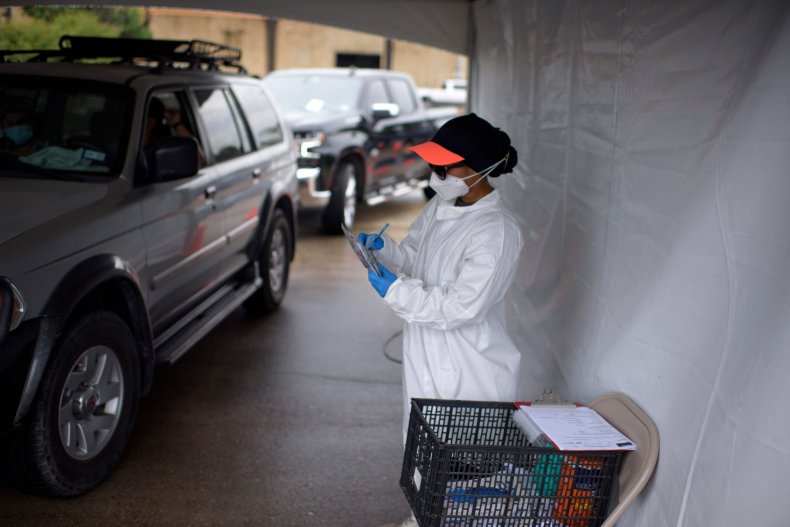 Close to 178,000 people have tested positive for the novel coronavirus throughout Texas as of Friday, July 3. Nearly 33,000 of them were diagnosed within the boundaries of Harris County, according to the Texas DSHS. More than 100,000 of the state's total cases were diagnosed over the past month, as Texas health officials recorded several record daily increases in new infections. Its latest record was confirmed on Wednesday, June 1, with more than 8,000 new cases.
Texas' overall virus count is the nation's third-highest total, behind New York and California. As of Friday, July 3, New York had diagnosed close to 400,000 cases, according to Johns Hopkins University's tracker. Roughly half of them were diagnosed within New York City, according to the city's health department.