1 in 5 New COVID Cases in U.S. Last Week Were From Florida Alone, White House Advisor Says
Florida accounted for one in five new COVID-19 cases reported in the United States last week, according to a White House adviser.
Jeff Zients, the administration's coronavirus response coordinator, said at a virtual news conference on Friday that the Sunshine State accounted for 20 percent of the nation's new cases.
"As the more transmissible Delta variant continues to spread across the country, we will likely continue to experience an increase in COVID cases in the weeks ahead, with these cases concentrated in communities with lower vaccination rates," Zients said.
"In fact, just four states accounted for more than 40 percent of all cases in the past week, with one in five cases occurring in Florida alone," Zients continued.
Data from the Florida Department of Health found the state's test positivity rate over the past week was 11.5 percent. For the week starting July 9, the state recorded 45,603 new cases—nearly double the amount from the week prior.
Health officials reported 59 new virus-related deaths Friday from the past week. The cumulative death toll in the state is 38,388.
More than 9.7 million Floridians are fully inoculated against the disease. These individuals either received the single-dose Johnson & Johnson vaccine or completed a two-shot series.
The Delta variant's prevalence across the country has skyrocketed in recent weeks, driving an increase in new coronavirus cases in every state.
Los Angeles County, the nation's most populous county, is reinstating a mask mandate for all residents regardless of vaccination status to help curb the high rate of transmission of the virus.
Orange County, Florida Mayor Jerry Demings has urged both vaccinated and unvaccinated residents to strongly consider wearing face masks while in crowded places indoors.
"Unvaccinated Americans account for virtually all recent COVID-19 hospitalizations and deaths," Zients said during the White House's COVID-19 briefing on Friday. "Each COVID-19 death is tragic, and those that are happening now are even more tragic because they are preventable."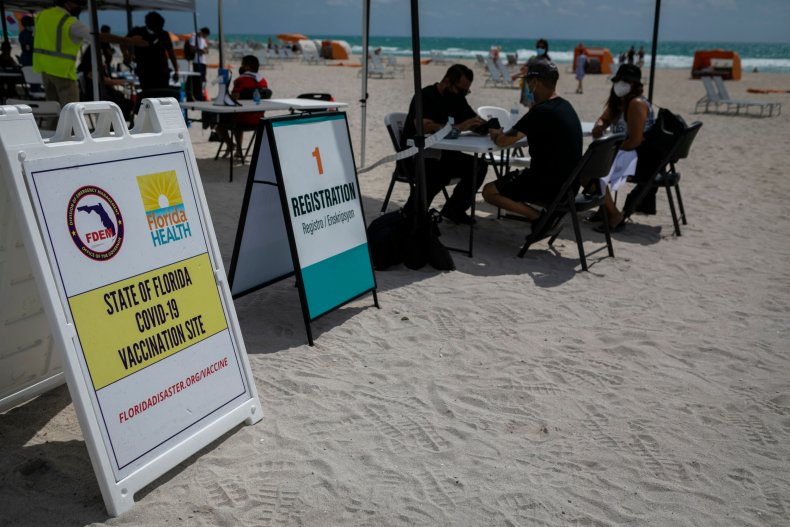 The Center for Disease Control and Prevention (CDC) echoed that sentiment on Friday, stating the COVID-19 outbreak is becoming a "pandemic of the unvaccinated."
"The good news is that if you are fully vaccinated, you are protected against COVID hospitalization and death and are even protected against the known variants, including the Delta variant circulating in this country," Dr. Rochelle Walensky, director of the agency, said at a press conference.
Walensky added, "If you are not vaccinated, you remain at risk."
Newsweek reached out to the Florida Health Department for comment on the state's rising cases but didn't receive a response before publication.