1/6 Committee Unanimously Votes to Recommend Ex-DOJ Official Jeffrey Clark for Contempt
The House Select Committee on the January 6 attack on the Capitol unanimously voted Wednesday to recommend contempt of Congress charges against former U.S. Department of Justice (DOJ) lawyer Jeffrey Clark.
The committee voted 9-0 to recommend the charges against Clark, who was one of the attorneys instrumental in former President Donald Trump's unsuccessful bid to overturn the 2020 presidential election.
The committee had previously subpoenaed Clark for a deposition, but reports stated that he "refused to produce any documents or answer pertinent questions."
Clark had been an assistant U.S. attorney general at the time of the election, and reportedly made significant attempts to get the Justice Department to invalidate President Joe Biden's victory. Additionally, it was revealed that Trump had tried to install Clark as the acting attorney general in order to invalidate election results in Georgia, a ploy that ultimately failed.
Clark eventually resigned from the DOJ six days before the end of Trump's presidency.
Representative Adam Schiff (D-Calif.), a member of the committee, told Axios in a statement that Clark "has direct knowledge of former President Donald Trump's efforts to politicize the Department of Justice following the November election and prevent the peaceful transfer of power."
Clark becomes the second former Trump ally, following former chief strategist Steve Bannon, to be recommended for contempt charges. Bannon was later indicted by a federal grand jury and eventually turned himself in to authorities.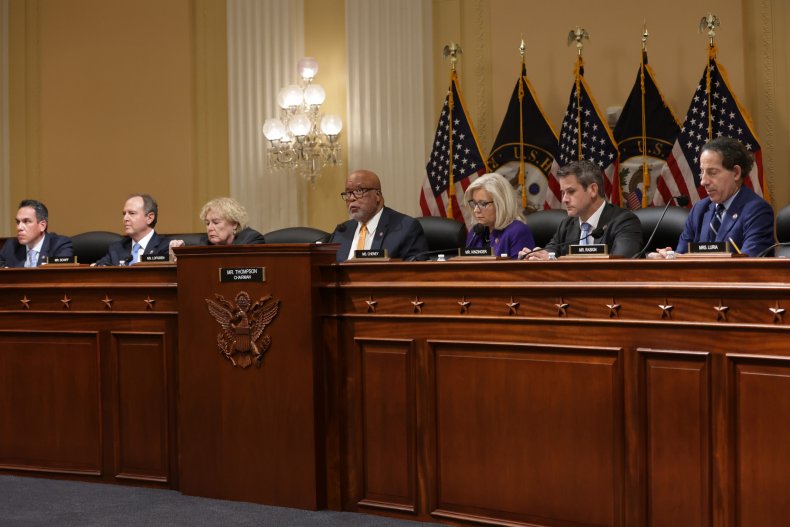 "As legislators charged with finding truth about an attack on our democracy and sworn to support and defend the Constitution—we put Mr. Clark on our witness list ... he refused to cooperate ... Mr. Clark has left us no other choice," said chair of the committee, Representative Bennie Thompson (D-Miss.).
Thompson added that Clark is expected to plead the Fifth Amendment and invoke his right against self-incrimination, according to his lawyers, one of whom sent a letter to Thompson stating as such. He has also agreed to continue his deposition with the committee, presumably so he will be able to plead the Fifth.
Thompson called the invocation of the Fifth Amendment a "last-ditch attempt to delay the Select Committee's proceedings." He added that despite Clark agreeing to appear again, the committee will still be moving forward with their contempt proceedings.
A vote on whether to hold Clark in contempt would now be passed onto the House of Representatives, where the Democratic-led House is expected to pass that measure. The House had voted 229-202 to hold Bannon in contempt, and indicted him less than one month later.
However, the committee did state that it could rethink its decision to move forward with the contempt process if Clark agreed to cooperate with the panel.
"We will not finalize this contempt process if Mr. Clark genuinely cures his failure to comply with this subpoena this Saturday," said Representative Liz Cheney (R-Wyo.), one of two Republicans on the committee. She appeared to imply that they would not send a vote to the House if Clark were to change his tune and testify.
If Clark would be willing to give up information, he would not be the first ex-Trump official to do so.
Mark Meadows, Trump's former chief of staff who was also subpoenaed, agreed to cooperate with the January 6 investigation after facing similar threats of an indictment.
Newsweek has reached out to Thompson's office for comment.
(12/01/2021, 8:30 p.m. ET): This story has been updated with additional information.