Daniel Rodriguez, a Capitol riot defendant accused of tasing Metropolitan Police Department Officer Michael Fanone, said that he would assassinate President Joe Biden if he got the chance, court documents allege.
Rodriguez allegedly made his comments on a Telegram group chat called "Patriots 45 MAGA Gang," prosecutors said in court documents. Participants in the group chat advocated violence against certain groups and individuals who supported the results of the 2020 presidential election, prosecutors said.
The group chat participants also advocated for killing perceived communists, liberals and government officials. Prosecutors allege that the chat conspired violence against the U.S. government.
In the chat, Rodriguez, 38, allegedly said he would assassinate Biden if he got the chance and "would rather die than live under a Biden administration."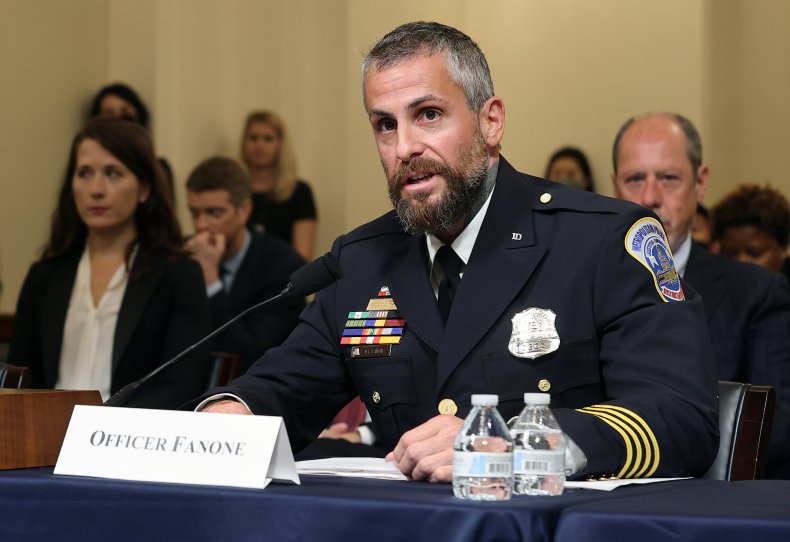 FBI agents arrested Rodriguez on March 31. In a three-hour interview with agents following the arrest, Rodriguez repeatedly cried, Courthouse News reported. He also told agents that he tased Fanone, who has since spoken often about the assault he endured during the January 6 insurrection and the traumatic stress he has felt since.
When asked why he assaulted Fanone, Rodriguez replied, "I don't know. I'm a piece of sh**. I'm sorry. I don't know. He's a human being with children, and he's not a bad guy. He sounds like he's just doing his job and he's—I'm an as***le."
Rodriguez also said that he wasn't trying to kill Fanone and that he should have protected him.
Rodriguez's attorney Cecilia Valencia has since argued that Rodriguez's admissions during the FBI interview shouldn't be considered voluntary. The FBI agents used "psychologically manipulative tactics" and didn't correctly inform Rodriguez of his right to remain silent, Valencia alleges.
In response to Valencia's allegation, Justice Department attorney Kimberly Raschall said that Rodriguez voluntarily offered to speak with agents and neither stated otherwise nor tried to end the interview.
The judge in the case, U.S. District Judge Amy Berman Jackson, has promised to review Rodriguez's interview footage and decide on its admissibility in court.
During the riot, Fanone suffered a heart attack, a traumatic brain injury and a concussion. He has since been diagnosed with post-traumatic stress disorder (PTSD). He said he has received repeated death threats for speaking about the attack.
The January 6 riot occurred when supporters of Republican former President Donald Trump attacked the Capitol to stop Congress from certifying Biden's 2020 election win. Trump baselessly claimed the election had been "stolen" from him through an unprecedented nationwide conspiracy of voter fraud.
Trump's former attorney general, his former head of U.S. cybersecurity infrastructure, over 60 court cases filed by Republicans, as well as numerous statewide audits have all concluded that there's no evidence that the 2020 election was stolen.
Rodriguez's attorney may try to defend him by using a "public authority defense." The move would state that Rodriguez is innocent because he was "acting upon authorization of a government official," namely Trump.