Jenna Ryan, 'White' 1/6 Rioter Who Said She'd Avoid Jail, Now Plans to 'Detox' in Prison
January 6 insurrectionist Jenna Ryan is slated to report to prison in January, but according to a video she posted on social media Sunday, she plans to use the prison as a makeshift spa.
Ryan previously made national headlines after she was arrested for breaching the Capitol building, but said she wouldn't serve prison time because she was white, tweeting in March that she had "blonde hair white skin a great job a great future ... sorry to rain on your hater parade. I did nothing wrong."
This did not turn out to be the case, however, as she was sentenced to 60 days behind bars for "parading, picketing & protesting."
In a video on TikTok, Ryan, a Texas-based real estate agent and a self-described life coach, stated that she would use her prison time to work on her health.
"The only thing that I can see that's good about having to go to prison is that I'm going to be able to work out a lot and do a lot of yoga and detox," Ryan said. "Also I can't eat because the food is awful and there's just no food. So hopefully they have like some protein shakes and some protein bars, I think, because you don't want to like eat green bologna, that's what they have to eat."
"So I'm gonna end up losing weight in prison ... so hopefully, I'll finally get down to my ideal weight because I won't be able to drink, I won't be able to eat," she continued.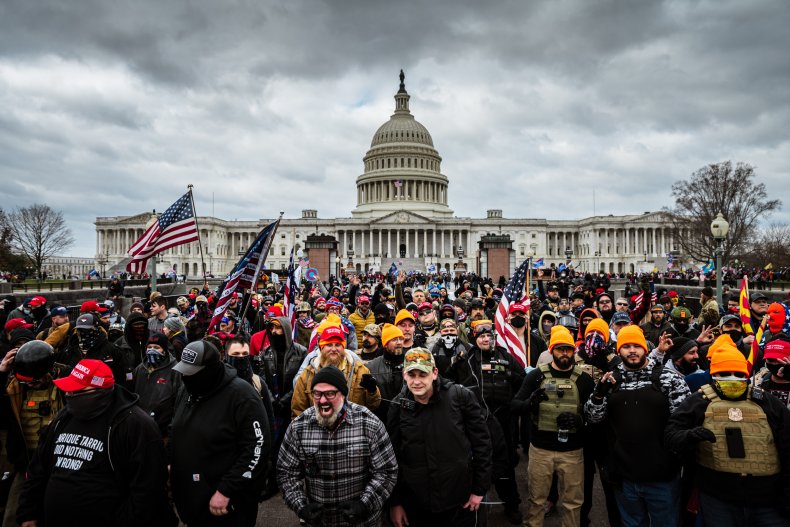 Ryan also stated that she would be able to lose weight because she wouldn't have access to a large amount of junk food in prison.
"I won't be able to eat, like, stupid stuff, like chips and all the stuff I eat sometimes," she went on. "I can get down to, you know, 140, so 30 pounds in two months, if I do that, then it will be worth going to prison for 60 days."
"So you have to look at the bright side of everything you do!"
The circumstances surrounding Ryan's participation in the attack became a media sensation after it was revealed that she flew to Washington, D.C., in a private jet.
After her arrest, she appealed to former President Donald Trump for a pardon, but he did not grant her wish.
Ryan eventually pleaded guilty. However, while she apologized for her actions, she added that she did not believe she'd done anything wrong.
"While I feel badly about unlawfully entering into the Capitol on January 6th, not everything I did that day was bad," Ryan wrote to a U.S. district judge. "Some actions I took that day were good. I came to DC to protest the election results. I wanted my voice to be heard. My only weapon was my voice and my cell phone."
"I have every right to feel, think and believe according to my own experience – even when the experience contradicts that of people who were not at the event themselves," the letter continued.
Ryan is one of a number of January 6 insurrectionists who have been sentenced to prison in the past months.
Perhaps the most high-profile insurrectionist, Jake Angeli, better known as the QAnon Shaman, was sentenced to 41 months in prison in November for disorderly conduct at the Capitol.
Newsweek reached out to the Bureau of Prisons, but the BOP said it was unable to comment on someone not currently in its custody.
(12/07/2021, 4:30 p.m. ET): This story has been updated with information from the BOP.