1/6 Suspect Asks Judge for 'Right to Defend Himself' From Prison Guards
A suspect in the January 6 Capitol riot accused of assaulting several officers in the attack asked a federal judge for permission to defend himself against prison guards at a status hearing for his case.
In a tense exchange in court Thursday, Josiah Kenyon, 34, who was arrested in Reno, Nevada, asked Judge Carl Nichols to acknowledge that he has the right to defend himself if corrections officers try to assault him, according to Politico's Kyle Cheney.
Before his comment, Nichols warned Kenyon to consult with his attorney before speaking. "I have a high enough IQ range to not screw up there, boss," Kenyon shot back to the judge.
Nichols said he would not be "making any finding one way or another" about his right to defend himself while incarcerated. At the end of the meeting, Nichols asked if Kenyon had any other issues to raise.
"My wife and children [are] homeless on the street. Have a wonderful day," he replied.
U.S. attorneys with the Justice Department charged Kenyon with unlawfully entering the Capitol and with assaulting a police officer. Kenyon assaulted several officers with "a table leg with a protruding nail," the FBI said.
FBI officials added that on January 6, Kenyon wore a red "Make America Great Again" cap and was dressed as Jack Skellington, a character from the movie The Nightmare Before Christmas.
He allegedly assaulted officers with multiple items and threw a "large, hard plastic pylon" at others—in addition to trying to break a window. Court documents allege that he was in the Capitol for about 25 minutes near a Senate Wing door. He then joined a crowd outside at the Lower West Terrace, according to the court documents. Kenyon is #94 in the "seeking information" photos posted by the FBI.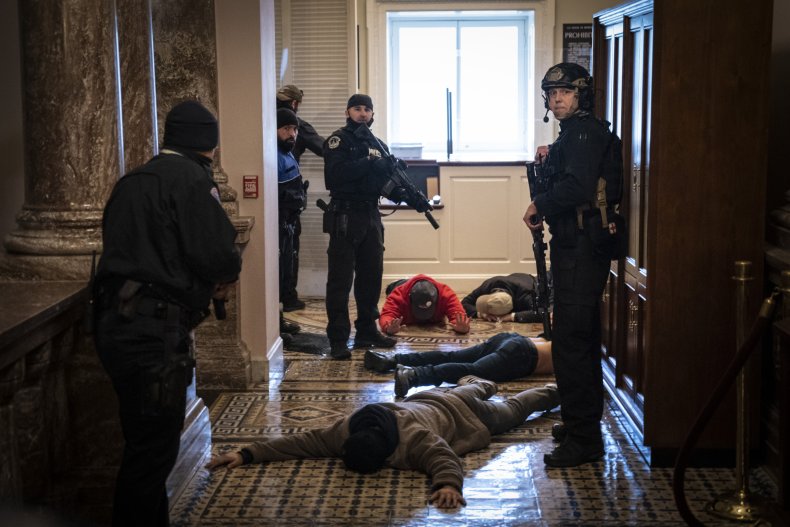 Newsweek reached out to Kenyon's lawyer, but did not receive a response in time for publication.
Police said Kenyon was arrested December 1, 2021, in Reno, Nevada, when Washoe County Sheriff's Office deputies found his wife along with two children in an unheated travel trailer on the foothills of Peavine Mountain, KOLO reported. While deputies spoke with his wife, Kenyon drove up to the trailer in a Ford Crown Victoria and told the deputies his family would be leaving soon. The deputies ran a check on the Ford's license plates and discovered Kenyon was wanted.
Kenyon and his wife were both arrested on charges of child endangerment, according to KOLO.
More than 725 people have been arrested, in nearly all 50 states, in cases linked to the attack on the Capitol. The FBI says 165 have pleaded guilty to federal charges, including 22 felony offenses. The FBI investigation is ongoing.