1 in 7 Health Care Workers Who Died From COVD-19 Worked in the U.S., Report Says
An estimated one in seven health care workers who died after contracting the novel coronavirus worked in the U.S., according to an Amnesty International analysis shared on Thursday.
The report said about 7,000 health care personnel have died around the world due to COVID-19 during the pandemic, more than double the number of deaths that Amnesty International reported in mid-July. While Mexico has the greatest number of deaths among health care workers, the U.S. is second with one investigation reporting as many as 1,079 by early September.
"Throughout the pandemic governments have hailed health workers as heroes, but this rings hollow when so many workers are dying from a lack of basic protection," said Steve Cockburn, Amnesty International's head of economic and social justice, in a Thursday news release.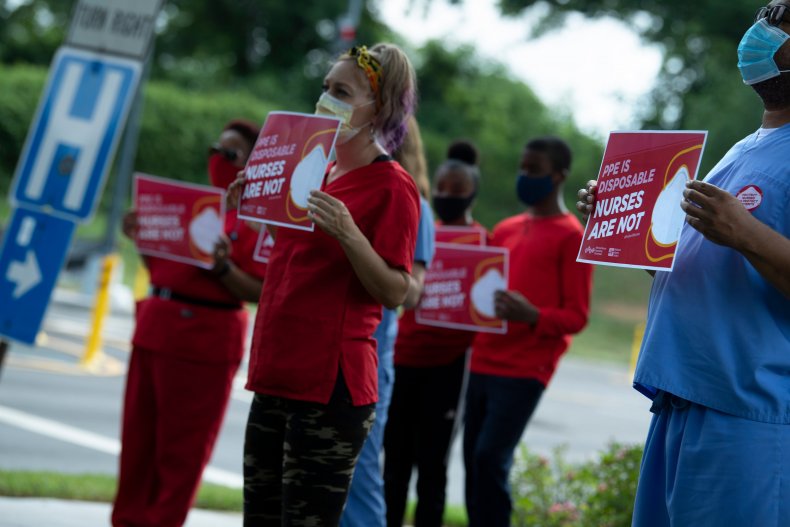 The number of U.S. health care worker deaths cited in Amnesty International's reporting is hundreds greater than the number officially reported by the Centers for Disease Control and Prevention (CDC). By Thursday, the CDC reported on an agency web page tracking health care worker case counts and fatalities that 151,998 health care workers in the U.S. have contracted COVID-19 thus far and 672 have died. But the CDC acknowledged that its data was not complete, with health care worker status available for less than a quarter of those surveyed. Among the health care worker COVID-19 cases that were reported to the CDC, only about 70 percent of those confirmed whether the infected person survived, according to the CDC's website.
With incomplete data available on health care worker deaths in the U.S., The Guardian and Kaiser Health News launched an investigative effort last month in an attempt to more accurately determine the number of health care worker lives lost in the U.S. during the pandemic. The joint effort reported that 1,079 health care personnel died in the U.S. by Thursday. Amnesty International said it used this data in creating its latest analysis.
Though Mexico is the country with the greatest number of health care worker deaths—with more than 1,300 reported by late August—Amnesty International said the Mexican Ministry of Health has managed a "detailed registry" of deaths among health care personnel. "Such transparency is essential and all countries should be making this kind of detail available," according to the Amnesty International report.
Outside of the U.S. and Mexico, the United Kingdom, Russia, Brazil and India have between 500 and 700 health care worker deaths each. South Africa, Italy, Peru, Iran and Egypt each have between 150 and 250 health care worker deaths, Amnesty's report said.
The organization emphasized the lack of complete data throughout its report, acknowledging that definitions of health care workers are different around the world, reasons for higher death counts differ depending on the situation any given country is facing and that government efforts to compile hard numbers were not comprehensive. Amnesty International said it tried to piece together the data available by working with investigative projects like that forged by The Guardian and Kaiser Health News, as well as with nursing unions and other organizations compiling data outside of government institutions.
Denise Bell, a researcher with Amnesty International USA, said the reported number of health care workers who have died from COVID-19 in the U.S. reflects a "breakdown in the public health response."
"What we're seeing is a crisis of the U.S. government's own making," Bell told Newsweek. "Over 1,000 health workers in the U.S. have died trying to prevent other Americans from dying. This was preventable and attributable to the government's failure to take COVID-19 seriously—to offer adequate [personal protective equipment] to not only health workers but the public in general, and to fully utilize all the tools at its disposal."
Bell said that, instead of relying on scientific expertise, the U.S. "put its political agenda" ahead of the safety and well-being of its people.
"It's the politicization of a non-political issue," she said.
Despite the data that indicates global health care worker deaths doubled over the summer, Amnesty International said the actual number of deaths could be much higher.
"These figures are likely to be a significant underestimate, due to underreporting by many of the countries included in the analysis," the organization said in its release.
Newsweek reached out to the CDC for comment, but did not receive a response in time for publication.
Updated 5:50 p.m. ET: This article has been updated to include comments from Amnesty International USA researcher Denise Bell.