1 Charged in Possible Hate Crime After Car Strikes Two Women Protesting Death of Andrew Brown Jr.
A North Carolina woman was charged on Monday after striking two victims with her car while they were protesting the fatal police shooting of Andrew Brown Jr. Police said that they are investigating the situation as a possible hate crime.
According to a Facebook post from the Elizabeth City Police Department, the incident occurred on Monday at around 6:45 p.m. local time when police responded to a motor vehicle crash at the intersection of Ehringhaus Street and Griffin Street.
Police said that two women were "peacefully protesting and exercising their constitutional rights," when they were struck by the woman driving the vehicle. The two women that were struck by the vehicle were identified by police as 42-year-old Michelle Fleming Morris and 42-year-old Valerie Lindsey. Police said that both victims were Black females.
Both Morris and Lindsey sustained non–life threatening injuries from the vehicle and they were both transported to the Sentara Albemarle Hospital by EMS, police said.
Shortly after the incident, the woman driving the vehicle that struck the two others, was taken into custody by officers with the Elizabeth City Police Department. The woman motorist was identified by police as 41-year-old Lisa Michelle O'Quinn of Greenville, North Carolina.
Police charged O'Quinn with two felony counts of assault with a deadly weapon with the intent to kill by the use of a motor vehicle; one count of careless and reckless and one count of unsafe movement.
O'Quinn was booked into the Albemarle District Jail on a secured $40,000 bond. She is scheduled to make her first court appearance on Thursday.
In the Facebook post, Elizabeth City Police Chief Eddie Buffaloe said that the department is "currently investigating this matter and will be presenting facts and findings in this case to include potential aggravating factors for criminal enhancements for potential sentencing purposes of a hate crime involving this event."
Videos of the incident posted on social media showed that the two victims were protesting the fatal police shooting of Andrew Brown Jr. on April 21.
Brown, a 42-year-old Black man was fatally shot by deputies from the Pasquotank County Sheriff's Office, who said they attempting to carry out an arrest warrant.
Body camera footage of the shooting showed Brown attempting to drive away from officers as they began shooting. During a press conference earlier this month, Pasquotank County District Attorney Andrew Womble called the incident "tragic," but said that the officers' actions were justified.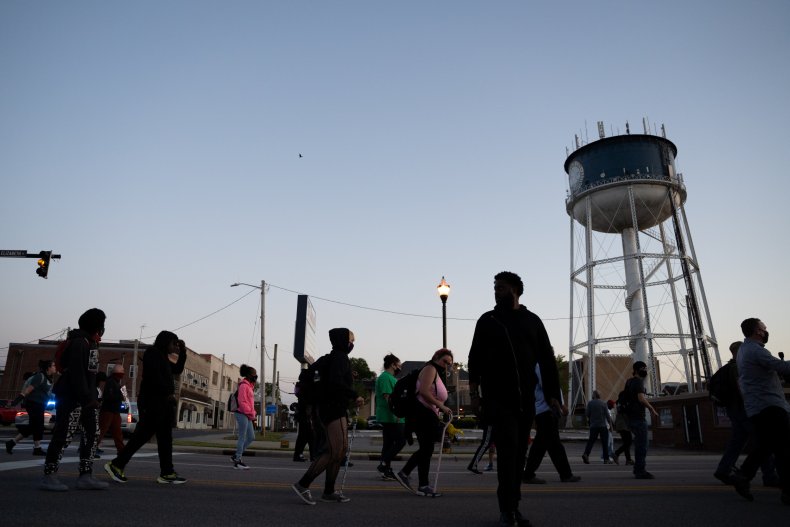 "I find that the facts of this case clearly illustrate the officers who used deadly force on Andrew Brown Jr. did so reasonably and only when a violent felon used a deadly weapon to put their lives in danger," Womble said.
Since Brown's death, residents have continued to protest in Elizabeth City and just before the incident on Monday, the Elizabeth City Police Department alerted residents to "Be vigilant as Elizabeth City prepares for peaceful protests."
"Please expect delays as traffic may be redirected around citizens exercising their constitutional right to a peaceful protest," the Elizabeth City Police Department wrote in a tweet prior to Monday's incident.
Newsweek reached out to the Elizabeth City Police Department for further comment but did not receive a response in time for publication.