One child died and at least three more were injured Thursday after a car rammed into them following a collision with a school bus in California, police said.
The incident occurred just before 4 p.m. at an intersection in Desert Hot Springs, on the outskirts of Palm Springs.
An officer from the California Highway Patrol (CHP) told KESQ-TV that the vehicle involved, a white Cadillac of unspecified model, had smashed into the back of the school bus, then attempted to go around it. Police said the Cadillac then knocked down a speed limit sign before plowing into a group of four young children.
The children were reportedly walking home after getting off at a nearby bus stop. They were forced to walk on the shoulder of the road because the street they were on did not have sidewalks.
The exact circumstances surrounding the crash are still unclear, but law enforcement stated that they are treating the area as a crime scene.
"The causes, after that collision, are still under investigation, but [the driver] ended up going around the school bus, and then ended up striking four pedestrians, juvenile pedestrians," CHP Captain Dennis Woodbury said.
"I don't know what happened to the driver [of the Cadillac], there could be a lot of different factors that would happen after a collision occurs," he added.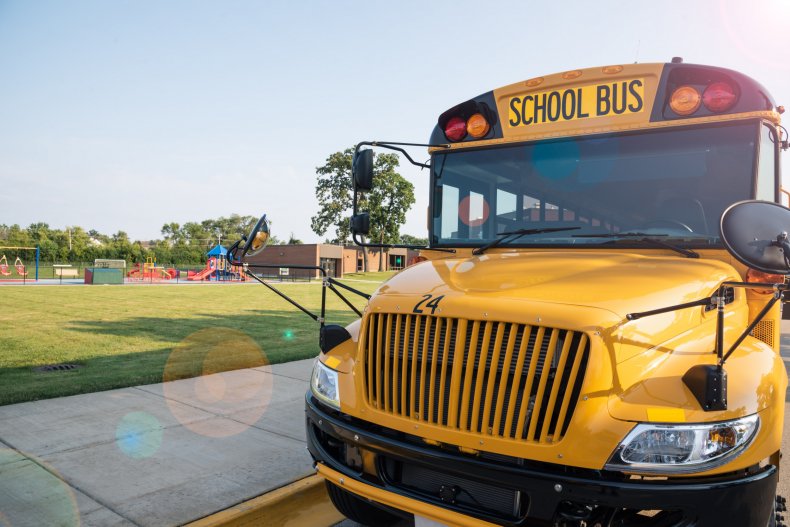 One child was worked on by first responders at the scene of the accident, but was soon pronounced dead.
Additionally, two more children suffered serious injuries in the accident and were transported to a local hospital, while another suffered only minor injuries, California fire authorities stated.
The deceased child was a 9-year-old girl, according to a traffic collision report obtained by Newsweek.
The driver of the Cadillac, an 87-year-old male, was also transported to the hospital with undisclosed injuries, the collision report stated. He was charged with vehicular manslaughter, gross negligence and felony hit-and-run.
A spokesperson for the Palm Springs Unified School District (PSUSD), Joan Boiko, stated that the school bus involved had been coming from Rancho Mirage High School, and had been carrying special-needs students. The children who were struck were reportedly students at nearby Julius Corsini Elementary School.
In a statement sent to KESQ-TV, the district stated that it had been contacted by the local authorities at approximately 4:30 p.m., and added that it was saddened by the news.
"It is overwhelming to hear and process this kind of tragic news," said PSUSD superintendent Dr. Mike Swize. "We want our families and staff to know that we are here for them to provide any supports they need now or in the coming days and weeks ahead. All of us at Palm Springs Unified extend our heartfelt condolences at this most difficult time."
The PSUSD has 16 elementary schools, five middle schools, and six high schools, in addition to full-day and childcare programs, the district's website says. A full-time staff of 2,000 keeps the district running.
(10/10/2021, 10:30 p.m. ET): This story has been updated with additional information.