1 Dead, 1 Wounded After Prop Gun Misfires on Upcoming Alec Baldwin Film Set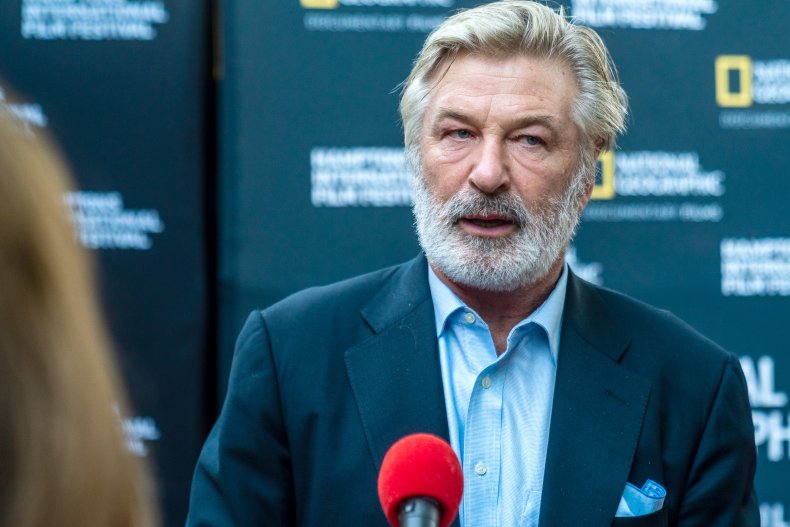 One person was killed and another injured after a prop gun reportedly misfired Thursday near Santa Fe, New Mexico, on the set of the upcoming Alec Baldwin film Rust.
The Santa Fe County Sheriff's Office said in a statement obtained by Newsweek that an unnamed 42-year-old female crew member had been killed after the incident, while an unnamed male crew member, also 42, was injured and remains hospitalized. Investigators said that "it appears that the scene being filmed involved the use of a prop firearm when it was discharged" and that an ongoing investigation was looking into how the weapon was fired and "what type of projectile was discharged."
Deputies were dispatched to the set of the Western, located on Bonanza Creek Ranch, about 1:50 p.m. local time after receiving a 911 call informing them that a person had been shot. The female shooting victim was transported by helicopter to University of New Mexico Hospital, where she later "succumbed to her injuries." The male victim was taken to Christus St. Vincent's hospital and was said to be "receiving emergency care" as of early Thursday evening.
The set was reportedly locked down and access to a church being used during filming was blocked after the apparent accident, according to Deadline. Before the fatality was confirmed, a Rust production spokesperson told the outlet that the incident involved "the misfire of a prop gun with blanks" and that the crew members shot were "receiving care." It is not clear whether Baldwin was on set at the time.
"Production has been halted for the time being," the spokesperson said. "The safety of our cast and crew remains our top priority."
The New Mexico Film Office announced that Rust was in production earlier this month. Around 75 crew members, 22 actors and 230 extras from New Mexico were working on the film, in addition to cast and crew from out of state. Filming had been planned to continue until early November, although the schedule is likely to change in light of the shooting.
Rust, which was written and is being directed by Joel Souza, focuses on an "outlaw" named Harland Rust and his 13-year-old grandson as they are pursued by a U.S. marshal and a bounty hunter. Baldwin plays the title character, while other cast members include Jensen Ackles, Brady Noon, Frances Fisher and Travis Fimmel. In an October 6 press release, producer Ryan Smith said that Rust "could not have asked for a better backdrop" than New Mexico for filming.
"We can do all genres of film here in New Mexico, but historically, and presently, a standout genre for our state is Westerns," Amber Dodson, director of the New Mexico Film Office, said in the same release. "From animal wrangling and weapon handling to Western movie ranches to authentic desert landscapes, New Mexico offers the ultimate wish list for the Western genre, and you can't find more beautiful light and sunsets."
Newsweek reached out to the production for comment. The New Mexico Film Office declined comment.