One Dead, 11 Wounded In Minneapolis Shooting
One man is dead and 11 other people injured following a shooting in Minneapolis in the early hours of Sunday, police said.
Minneapolis Police initially tweeted that 10 people had been shot with "various severity levels of injuries" and urged people to avoid the area in Uptown Minneapolis.
The department later revised its total in a tweet posted shortly after 3 A.M. to say that one man had died and 11 others have non-life-threatening wounds.
A preliminary investigation indicated that "individuals on foot" had started shooting in the mid-2900 block of Hennepin Avenue South at around 12:30 a.m and proceeded north before fleeing the scene, according to Minneapolis Police spokesperson John Elder.
Multiple ambulances responded to the scene and transported victims to the Hennepin County Medical Center, Elder said. Others were taken to area hospitals in private vehicles, he said.
All of the injured were adults, Elder said. The identity of the deceased victim will be released by the Hennepin County Medical Examiner's Office, he added.
No one was in custody in connection with the shooting as of 5.30 A.M.
Videos posted on social media appeared to show the aftermath of the shooting near the Uptown Transit Center at the intersection of W. 29th Street and Hennepin Avenue. People can be seen crouching over victims lying on the ground.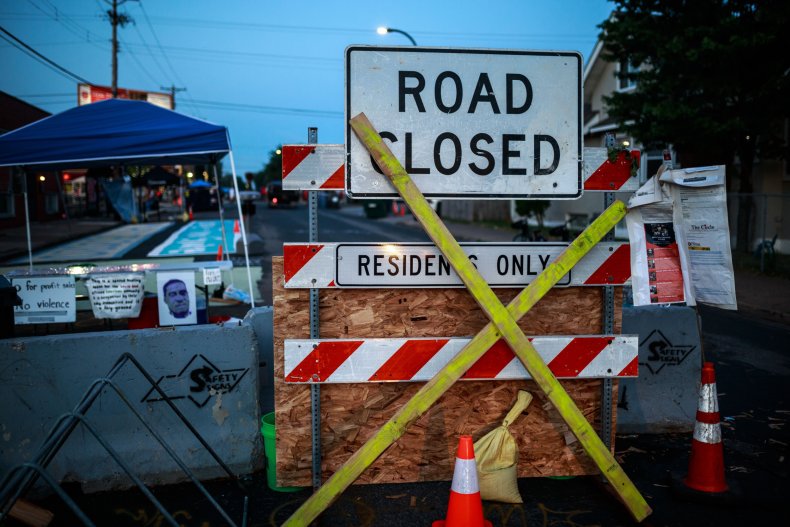 The area is a commercial district home to a number of bars and restaurants.
Minnesota's stay-at-home order expired on May 18, permitting businesses to start reopening. Gov. Tim Walz allowed restaurants and bars to reopen with limited service from June 1 after weeks of shutdown amid the coronavirus pandemic.
It came amid fiery protests that broke out following the killing of George Floyd on May 25. A white police officer was seen in widely shared footage kneeling on Floyd's neck for almost nine minutes while he struggled for air.
Derek Chauvin, the police officer who pinned Floyd down during an arrest, was fired and has been charged with second-degree murder and second-degree manslaughter. Three other officers involved in Floyd's death were also terminated and are facing charges.
Floyd's death triggered worldwide protests against police brutality and racism. In Minneapolis and elsewhere, it has sparked calls to defund the police.
Earlier this month, Minneapolis City Council announced intent to disband the city's police department—although Minneapolis Mayor Jacob Frey has opposed the plans.
Minneapolis City Council President Lisa Bender said the move intended to "end our city's toxic relationship with the Minneapolis Police Department, to end policing as we know it, and to re-create systems of public safety that actually keep us safe."