$1 Million Bond Set for Alleged Killer of 'Good Samaritan' Who Stopped After Traffic Accident In Minnesota
A man is in jail on a $1 million bond for allegedly killing a good Samaritan who stopped to help after a traffic accident.
Lionel Eaton, 27, has been charged with the murder of 31-year-old Javier Sanmiguel. Sanmiguel heard a car crash outside his home and ran outside to help. Witnesses say Eaton was hiding in the back of the wrecked car and began firing at neighbors when they attempted to open the door.
Police found a Smith and Wesson handgun and magazine in the driver's seat of the Ford Escape Eaton was driving. The police complaint states there were also multiple casings near the cargo area of the vehicle. Eaton told officers that he does not own a gun and that someone gave him the weapon earlier in the evening.
Eaton's family believes he may have been in the throes of a mental health crisis. His mother claims Eaton had been exhibiting erratic and paranoid behavior before the shooting, believing someone was trying to kill him. She had been on the phone with him, attempting to ascertain his location. Her plan was to take him to a medical facility for evaluation. The phone went silent, so she began driving around looking for him. Eaton's mother arrived on the scene later that night.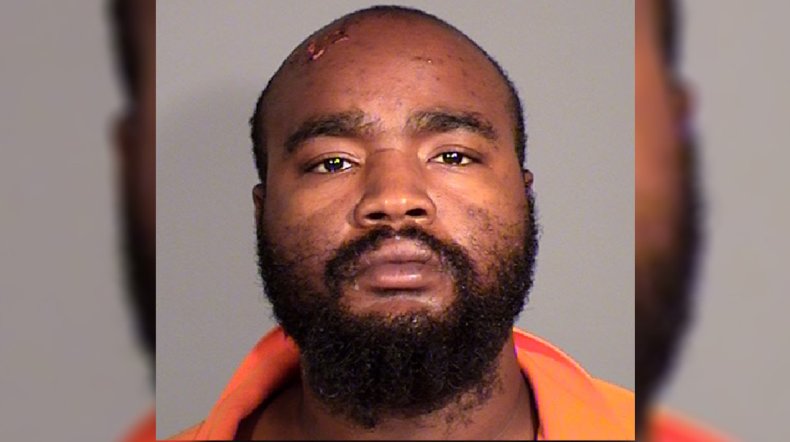 A statement released by Eaton's legal team states that his client does not have a history of violent behavior and was compliant with arresting officers. According to police, Eaton claimed to have been rammed by another vehicle, hitting his head. He believed he heard gunshots, panicked and began firing randomly.
Eaton is charged with one count of second-degree murder and one count of third-degree murder. According to his paralegal, Kristi Testa, Eaton plans to plead not guilty to the charges. Bail for Eaton was set at $1 million. His next appearance in court is currently set for October 4.
Sanmiguel's wife, Kayla, was on the phone with 911 dispatchers when the shooting occurred. In a written statement, Javier Sanmiguel's family said it came as "...no surprise that Javier died like he lived, selflessly serving others." They noted his strong Catholic faith and commitment to his family. Sanmiguel's family referred to his decision to help a stranger after a car crash as his "final act of courage." Police described Sanmiguel as a "good Samaritan."
Funeral services for Javier Sanmiguel were held Monday, September 16. As the community mourns the loss of Javier Sanmiguel, a GoFundMe page has been set up for his family. Over $160,000 has been raised so far.