1 Million Migrants Fled Honduras for the U.S. Under Juan Orlando Hernández
Close to 1 million migrants fled Honduras for the U.S. border over the eight-year tenure of former President Juan Orlando Hernández, now facing drug trafficking charges after being arrested Tuesday following a U.S. call for arrest and extradition.
With the nation currently totaling a population of just over 10 million, this figure represents roughly 10 percent of the Central American country's population.
From 2014 to 2022, Hernández oversaw an administration that faced allegations of corruption, and was referred to as a "narco-dictatorship" by current President Xiomara Castro after taking office this January.
The former president's brother, Juan Antonio Hernández, was a notorious drug trafficker who earned millions smuggling cocaine into the U.S. before being arrested by Miami authorities in 2018. Reuters estimated in a March 2021 article that since 2015, between 150 and 300 tons of cocaine passed through Honduras to the U.S. each year.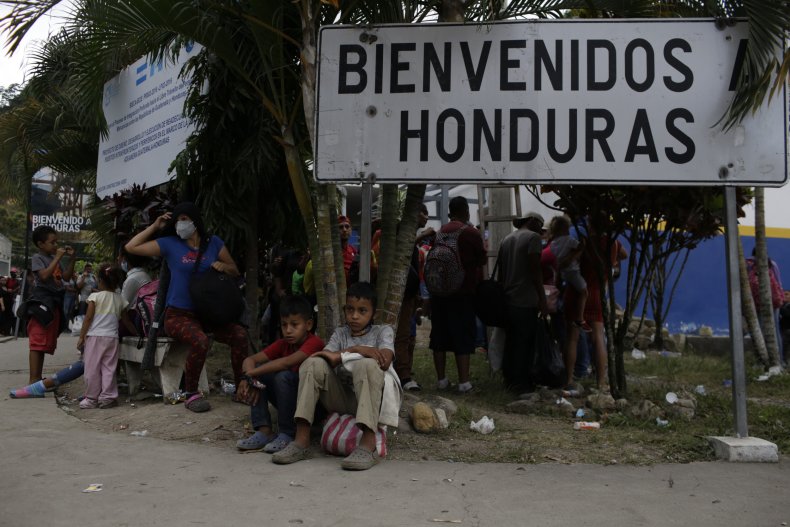 As drug trafficking ran rampant, the MS-13 and Barrio 18 gangs continued to exert influence over large portions of the country, leaving it facing the fourth-highest homicide rate in the world. Crime in the country often goes unpunished due to corruption within the judicial and law enforcement systems, reports Human Rights Watch.
Violence and economic insecurity surged alongside pressures brought on by the COVID-19 pandemic, making 2021 the greatest year for migration from Honduras to America's Southwest border under Hernández's reign. Over 319,000 migrants were encountered at the Southwest border that year, U.S. Customs and Border Protection reported.
The second-greatest number of crossings occurred in 2019, with over 261,000 Hondurans coming to the border. The third-greatest total at close to 91,000 took place in 2014, Hernández's first year in office. However, because CBP reports its data in financial years, a portion of the 2014 total likely arrived in the three months preceding Hernández formally taking office.
As it stands, it is not clear what the timeline may look like for Hernández's extradition. Marlon Duarte, an attorney in Honduras' capital city of Tegucigalpa who has worked on five extradition cases, told The New York Times that a legal battle could take months, given the lack of precedent regarding the extradition of a former president. Hernández said he is ready to take on that fight.
"I'm ready to present myself voluntarily and defend myself in accordance with the law," he wrote in a Tuesday Facebook message. "It's not an easy moment, I don't wish it on anybody," he said on Twitter.