One person was shot inside the U.S. Capitol after protesters breached the building on Wednesday, according to Chief Robert J. Contee III of the Washington, D.C. Metropolitan Police Department (MPD).
During a news conference late Wednesday afternoon with Washington, D.C. Mayor Muriel Bowser, Contee said MPD will be taking the lead on the investigation into the shooting.
Contee said protesters marched from a rally at which President Donald Trump spoke earlier in the day to the Capitol and began efforts to enter the building. Bowser declared a riot at the Capitol, and the MPD was called in to assist the U.S. Capitol Police, Contee said.
"It was clear that the crowd was intent on causing harm to our officers by deploying chemical irritants on police to force entry into the United States Capitol Building," Contee said. "As you are aware, they were able to gain access to the Capitol Building, and I can confirm that one civilian was reported to have sustained a gunshot wound inside of the Capitol."
Contee declined to comment on the severity of the victim's injuries or provide further details about the shooting due to the pending investigation, however, multiple outlets, including The Washington Post and CNN have reported that the victim has died from her injuries.
Video obtained by MSNBC showed a bleeding woman being carried out on a stretcher as officials appeared to perform chest compressions.
Officials confirmed with Newsweek earlier in the day that a victim was transported after being shot.
Contee said "several" MPD officers suffered injuries in the clash with protesters but said they were still "working very hard to regain control of the Capitol."
"Today's events were not representation of peaceful protests," Contee said. "Today what we witnessed was unlawful, riotist behavior. And people that come to our city engaged in unlawful behavior will be held accountable."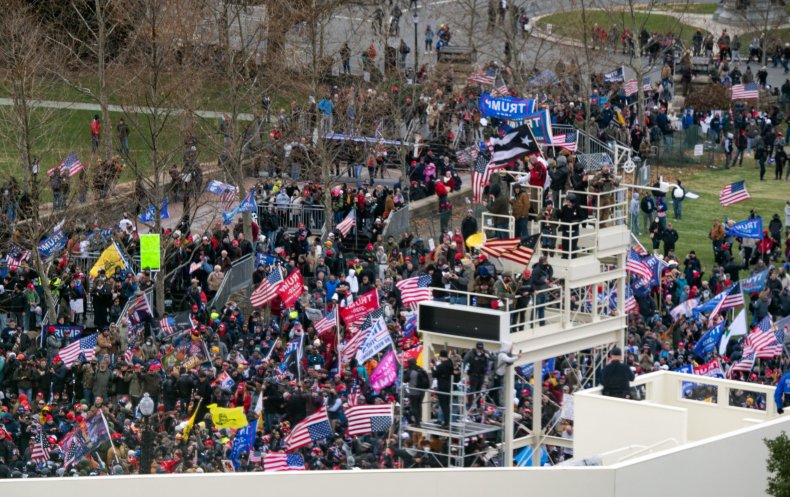 A joint session of Congress gathered at the Capitol earlier Wednesday to certify the Electoral College votes in the 2020 presidential election. Before processions began, Trump spoke to some of his supporters at a "Save America Rally" that took place at the Ellipse near the White House. The president, who lost his bid for re-election last fall, previously encouraged Vice President Mike Pence to help him overturn the results of the election while presiding over Wednesday's joint congressional session.
Republicans issued their first objection over Electoral College votes for Arizona, a state called for President-elect Joe Biden. Shortly after members of the House and Senate returned to their chambers to debate the objection, protesters surged past law enforcement stationed outside the Capitol Building and began flooding inside.
Video captured by journalists reporting on the day's events showed some protesters using blunt objects to bash through windows while others scaled the walls of the Capitol.
House Minority Leader Kevin McCarthy, a Republican, called into FOX News and confirmed that shots had been fired inside the Capitol.
"This is so un-American. I condemn any of this violence that's happening in the Capitol right now," McCarthy told FOX News. " I could not be sadder and more disappointed with the way our country looks at this very moment. People are getting hurt. Anyone involved in this, if you are hearing me, hear me very loud and clear: This is not the American way. This is not protected by the First Amendment. This must stop now."
Pence also condemned the violence in a tweet. "The violence and destruction taking place at the US Capitol Must Stop and it Must Stop Now. Anyone involved must respect Law Enforcement officers and immediately leave the building," Pence wrote. "Peaceful protest is the right of every American but this attack on our Capitol will not be tolerated and those involved will be prosecuted to the fullest extent of the law."
Trump encouraged his supporters to "stay peaceful" in a couple of tweets posted after the violence began. His son, Donald Trump Jr., also encouraged protesters to "be peaceful" on Twitter.
Later Wednesday afternoon, Biden spoke on national television condemning the violence at the Capitol, which he referred to as an "insurrection."
"I call on President Trump to go on national television now to fulfill his oath and defend the Constitution and demand an end to this siege," Biden said.
Shortly thereafter, Trump posted a minute-long video message on Twitter that encouraged protesters to "go home" but also referenced widely debunked conspiracy theories that the election was "stolen" from him.
"I know your pain. I know you're hurt. We had an election that was stolen from us. It was a landslide election, and everyone knows it—especially the other side," Trump said. "But you have to go home now. We have to have peace. We have to have law and order. We have to respect our great people in law and order. We don't want anybody hurt.
"It's a very tough period of time. There's never been a time like this where such a thing happened, where they could take it away from all of us—from me, from you, from our country. This was a fraudulent election, but we can't play into the hands of these people. We have to have peace. So go home. We love you, you're very special, you've seen what happens, you see the way others are treated that are so bad and so evil. I know how you feel. But go home, and go home in peace," Trump's video message concluded.
Twitter flagged the video and blocked engagement with it less than 20 minutes after Trump posted the message.
"This claim of election fraud is disputed, and this Tweet can't be replied to, Retweeted or liked due to a risk of violence," Twitter's flag said.
Newsweek reached out to the U.S. Capitol Police for comment.
Update (5:30 p.m., 1/6/2021): This story has been updated with additional information, background and comments from MPD Chief Robert J. Contee III.

Update (6:15 p.m., 1/6/2021): This story has been updated to add reports that the victim has died from her injuries.