$1 Tn Infrastructure Bill Gains Another GOP Vote With Senator Roger Wicker's Support
Senator Roger Wicker announced his support for the roughly $1 trillion bipartisan infrastructure package Sunday after he voted against shutting down debate a day earlier—which now adds another GOP backer to the bill that's awaiting a final vote.
"I rise this afternoon to announce my support for this bipartisan infrastructure legislation," the Mississippi Republican said on the Senate floor Sunday afternoon. "I will vote yes on this legislation."
"The bill we're now debating is far from perfect. If I were the only one with a pen, I would have made many changes. But at the end of the day, I believe this package will do a great service for the United States of America," he added, noting that his decision "has not been easy or straightforward."
Eighteen Senate Republicans voted with Democrats to advance the bipartisan package Saturday. The chamber is expected to vote on clearing one last filibuster Sunday evening, before a final vote is held to pass the bill, likely to occur Tuesday.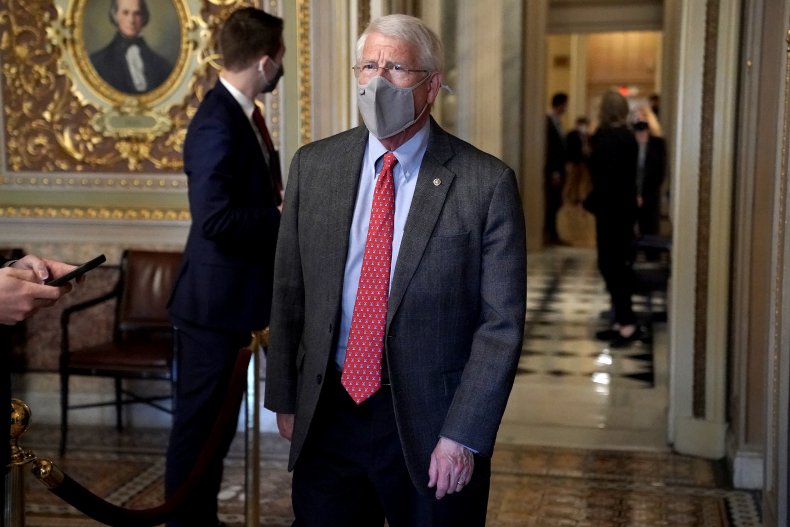 A spokesperson for Senate Majority Leader Chuck Schumer told Newsweek Sunday evening that "the next vote will be to invoke cloture on the underlying bill. Then absent an agreement, there will be up to 30 hours before the vote on final passage."
With 19 Republicans signaling a yes vote, the bipartisan bill appears to have filibuster-proof support.
Among the major investments, the package provides $110,000 billion for roads and highways; $65 billion for broadband development; $55 billion for water infrastructure; $40 billion for bridges; $25 billion for airport projects; $23 billion for state water; and $15 billion to move lead service lines.
No deal was struck by Sunday afternoon, after both sides spent the weekend negotiating amendments on cryptocurrency reporting rules and loosening restrictions on the use of coronavirus aid money as a pay-for.
Republican critics of the bill cannot block its passage but they can slow it down, and Senator Bill Hagerty of Tennessee indicated Saturday that he would act as the lone Republican to bring it to a crawl.
"I'm not inclined to expedite this process whatsoever," Hagerty said, before attempting to include 17 amendments by unanimous consent Sunday.
Once the bill passes the Senate, it will head to the House where its fate is complicated and foggy. House Speaker Nancy Pelosi said last month that the lower chamber won't vote on the bipartisan package without a larger, Democrat-only plan. Senate Majority Leader Chuck Schumer has pushed Democrats to complete the budget outline for the $3.5 trillion antipoverty and climate bill over the next few days.
Democratic leadership has vowed to keep senators in Washington D.C. for as long as it takes to pass the package that's key to President Joe Biden's agenda.