1-Year-Old in Critical Condition After Toddler Brother Shoots Her: Police
Police in Atlanta, Georgia are investigating after they said a one-year-old girl was accidentally shot by her brother on Friday.
Police responded to a call around 4 p.m. Friday and found a one-year-old girl "who appeared to have been shot," according to a description of the incident posted online by the Atlanta Police Department.
The child was transported to the hospital and is in critical condition, according to police.
The department stated that the preliminary investigation found the incident was a "tragic accident."
According to Fox 5 Atlanta, police said while the child's mother was upstairs, and the baby was downstairs with her older brother, at some point, the brother found a gun and it went off, injuring his sister. The brother is only a few years older than his infant sister, the station reported.
"Preliminary information indicates the child's mother was upstairs in the home and the one-year-old and at least one other child was downstairs, when the children came into contact with a firearm, which discharged and struck the one-year-old," police wrote in their description of the event.
"Investigators responded to the scene and are investigating to determine the circumstances surrounding the incident, to include where the firearm came from and who it belongs to," they added.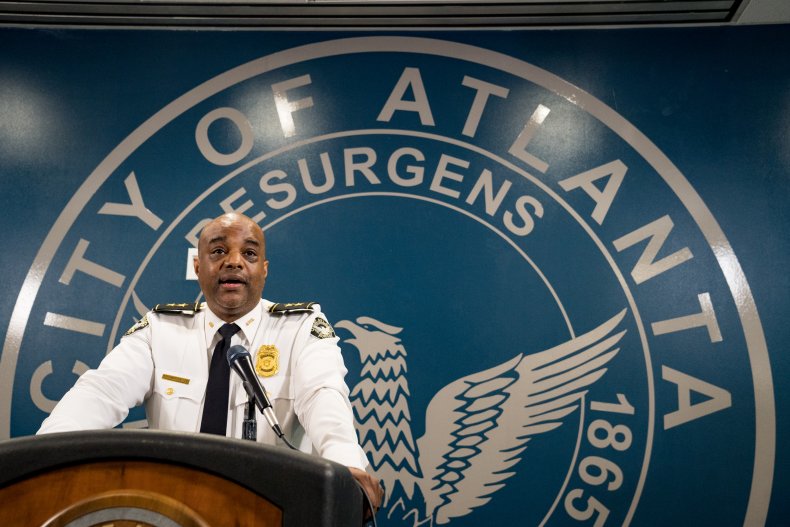 Police said the investigation is ongoing. When reached for additional details and updates regarding the case, police referred Newsweek to the online description about the incident.
Fox 5 Atlanta reported that in the wake of the incident, police are reminding gun owners to make sure their firearms are secured.
"Please put guns away. This is now the second time in the past couple of months that we responded to a scene in which a child was shot," said Lieutenant Ralph Woolfolk, of the Atlanta Police Department Homicide Unit said, according to the news station.
The station noted that just last month, an 8-year-old in the city was accidentally shot.
Fox 5 added that on Thanksgiving Day, police in South Fulton, Georgia said that a five-year-old was killed after being shot and killed by her three-year-old cousin.
Police said that the three-year-old found the firearm under a couch cushion before firing it into his cousin's chest.
On Thanksgiving Day in Minnesota, a 13-year-old boy accidentally shot and killed a five-year-old relative.
Also last month, in a separate incident in Texas, two children were taken to the hospital after a four-year-old boy accidentally shot himself and a two-year-old, police said.