1-Year-Old Shot in Head in Chicago as City Nears 700 Homicides in 2021
A 1-year-old boy survived a gunshot wound to the head in Chicago Thursday as the Windy City nears a grim milestone for homicides in 2021.
Talisha Ashford was driving on Chicago's South Side with her three sons when a shooting erupted near her vehicle.
A bullet pierced the windshield of the SUV, went past Ashford, and grazed the head of her 1-year-old son, Cor'Mari Allen.
"A bullet just went past me, and my baby was in the back," Ashford told ABC7 Chicago. "It made a pop noise to my ear. I could feel it so close to me I actually thought I was hit."
Allen's oldest brother, Cordaryl Allen, 10, remembered shouting out "he got hit" once he noticed that his baby brother was bleeding.
"First I thought he got shot right here cause I just saw a whole lot of blood," recalled Cordaryl. "There was a lot of blood."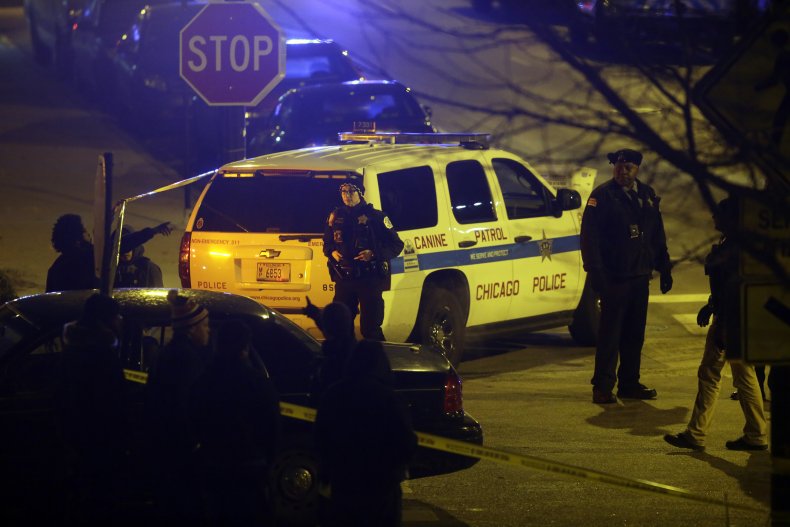 Surveillance footage obtained from the scene at a gas station shows four men exiting a vehicle and approaching another man at 75th and State Street. The four shot at the man, who returned fire despite being hit.
The targeted man and one of the four men were injured. As of Friday, their conditions were not known.
Chicago police detained a person of interest in the case and are currently questioning them about the shooting. Their name has not been released to the public, but the department did say that charges are pending against them.
Newsweek reached out to the Chicago Police Department for a comment on this story.
Ashford explained that she was so shocked by the incident, that once it happened, she exited her SUV to help her infant son before even putting it into park. At first, she was so concerned about her son's injury that she was afraid to even touch him.
"These are innocent children, and they deserve a chance," Ashford said. "This is a 1-year-old. He don't know anything."
Allen will require surgery to remove bullet fragments from his head wound.
As of Friday, Chicago is on the cusp of 700 homicide deaths across all of 2021. With the killing of Chinese college student Shaoxiong "Dennis" Zheng on Tuesday, the count by Friday was 698, surpassing the 680 homicides during the same period in 2020.
As with most major cities in the U.S., the rate of such violence in Chicago skyrocketed amid the COVID-19 pandemic. By the same time in 2019, the Second City had seen 442 homicides.