10 Apartment Upgrades From Wayfair Reviewers Love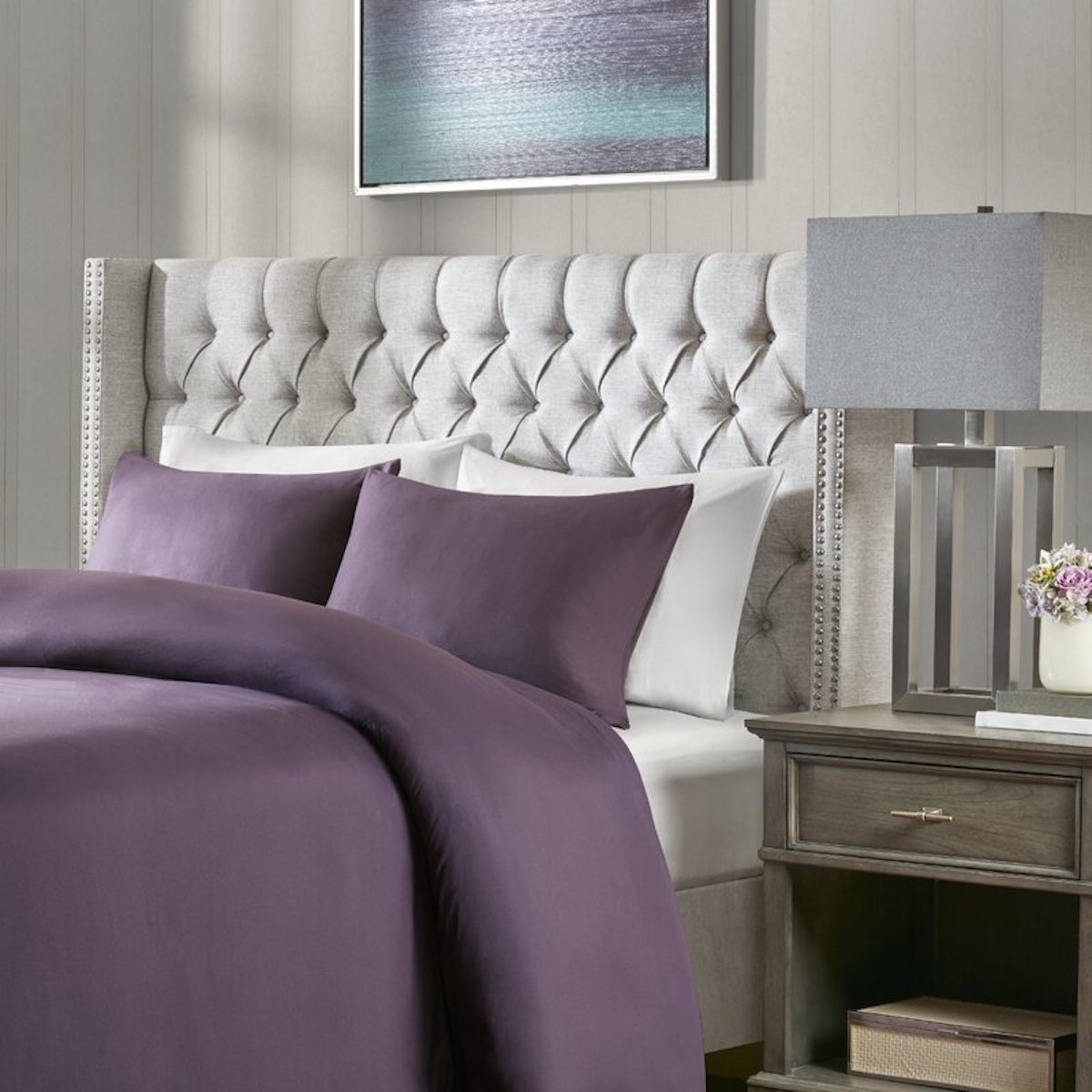 When living the apartment life, there's limited room to work with and a finite amount of things you can do alter the space. Painting is a maybe depending on what the landlord says, but home improvement staples like wallpapering, flooring, molding and other DIY projects are basically out of the question. That doesn't mean you should give up transforming your apartment into the rental palace of your dreams—it just means you have to go all out with the furniture and decor.
That's where Wayfair comes in! Since most apartment-dwellers are usually ballin' on a budget and don't plan on living there forever, a few key pieces from Wayfair can upgrade your space the upgrade it deserves.
And since a slew of positive reviews usually seals the deal for making a purchase, check out 10 budget-friendly apartment upgrades on Wayfair that are consistently loved by reviewers. As always, the prices listed may fluctuate over time.
10 Apartment Upgrades From Wayfair Reviewers Love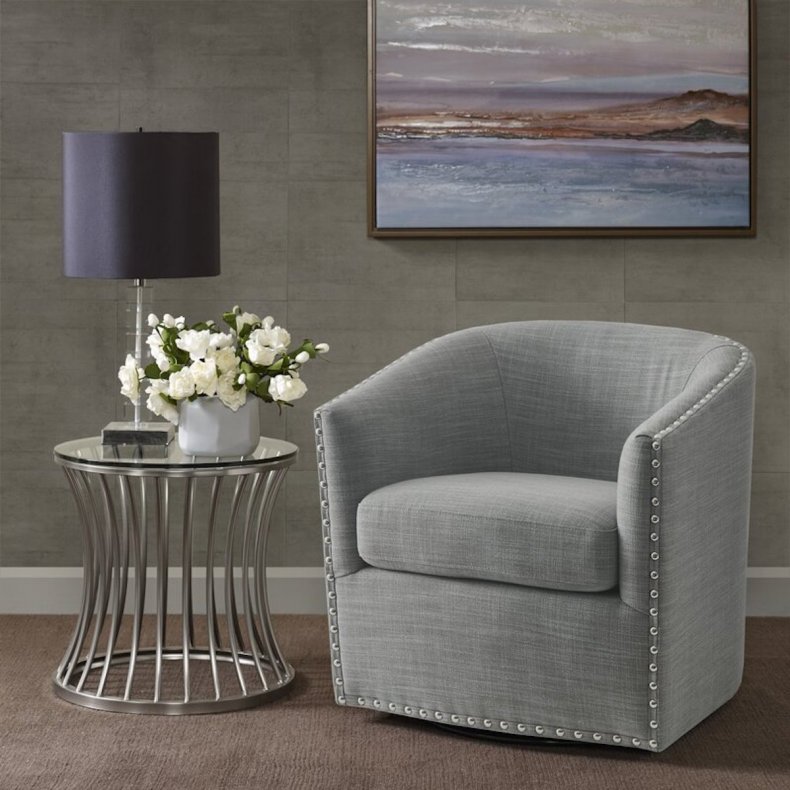 Aside from barstools, the Leominster 28-Inch Wide Swivel Barrel Chair is another must-have in any apartment. Chances are, chairs are fewer and further in between in your rental space.... But we all deserve a comfy, cozy spot in which to sit! (You can't oscillate between your bed and the couch forever.) The Leominster 28-Inch Wide Swivel Barrel Chair is just the spot you're looking for. Available in gray (pictured above), teal, chocolate and natural hues, this barrel chair with nailhead lines and a 4.8-star rating is plush enough and classy enough to add that je ne sais quoi your apartment might be missing. One Wayfair.com reviewer wrote, "Love these! Got two in the blue green to flank our fireplace. I love the depth of the color—it is very pretty. These chairs are comfortable, and very good quality for the price. Highly recommend!"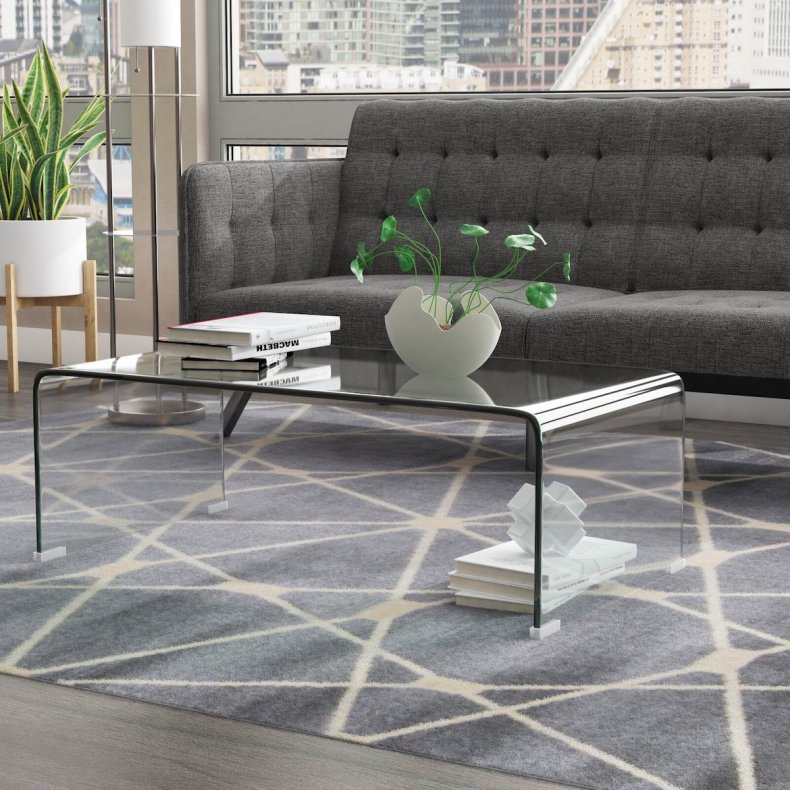 Consider this a sign that it's time to get a coffee table. After all, the right coffee table—it should be chic and classic and small—can make any apartment appear modern and more filled out. (There's nothing as sad as an empty studio!) The Sedgefield Sled Coffee Table—which has a 4.8 rating and more than 2,600 reviews—is a fan-favorite because of its minimalist, simple aesthetic, which works in just about any space. (It's transparent and made of glass, after all.) One Wayfair.com reviewer wrote, "Perfect! Looks glamorous. Makes my small living room spacious. Very sturdy, can't complain about the price."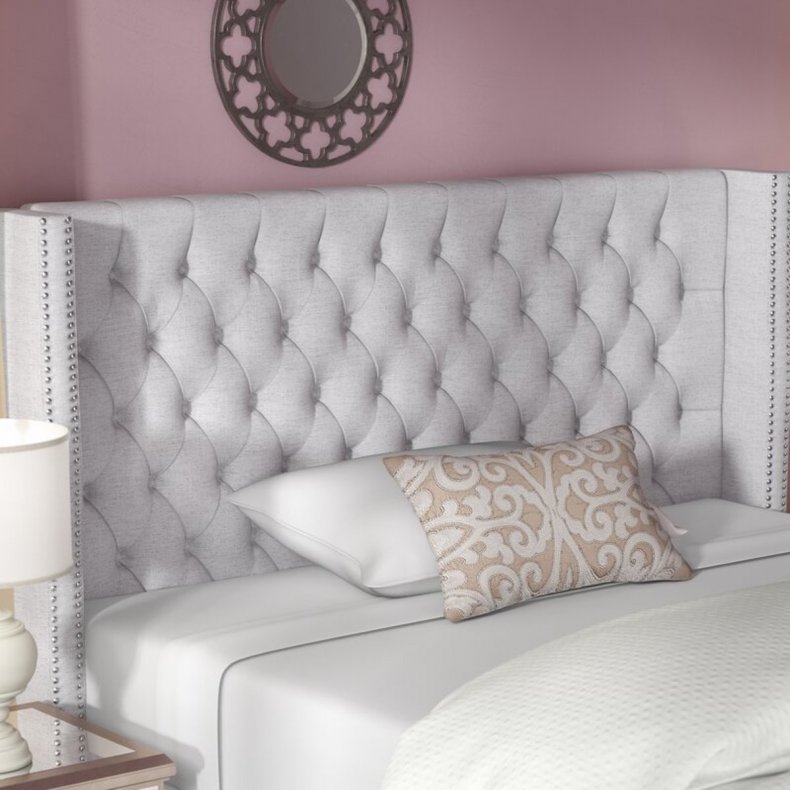 Whether it's your first studio post-grad or you've been rocking the rental life for a few years now, we're all grown up enough to deserve—and yes, shell out for—a headboard. If your box spring or platform bed doesn't come with one, buying the Candice Upholstered Wingback Headboard is the easiest way to elevate your bedroom. This elegant accessory has 4.8 stars and more than 3,500 reviews on Wayfair.com. With a headboard purchase, you're one step closer to truly #Adulting.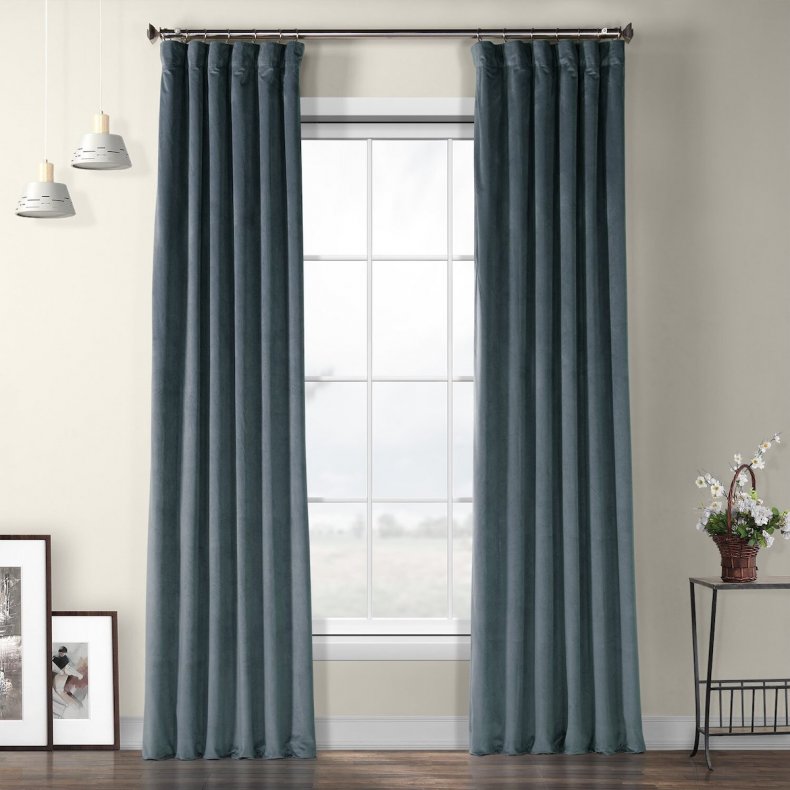 Another grown-up staple? Curtains! Rated 4.8 stars with more than 2,500 reviews, the Heritage Velvet Solid Room Darkening Thermal Rod Pocket Single Curtain Panel provides some much-needed privacy when you're living close (or, you know, New-York-close) to your neighbors. They also look a lot more expensive than they really are, so screw in a rod, hang 'em up and bam—instant upgrade. One Wayfair.com reviewer wrote, "These drapes are absolutely gorgeous! I got them to girly up my home office and I couldn't be happier with them."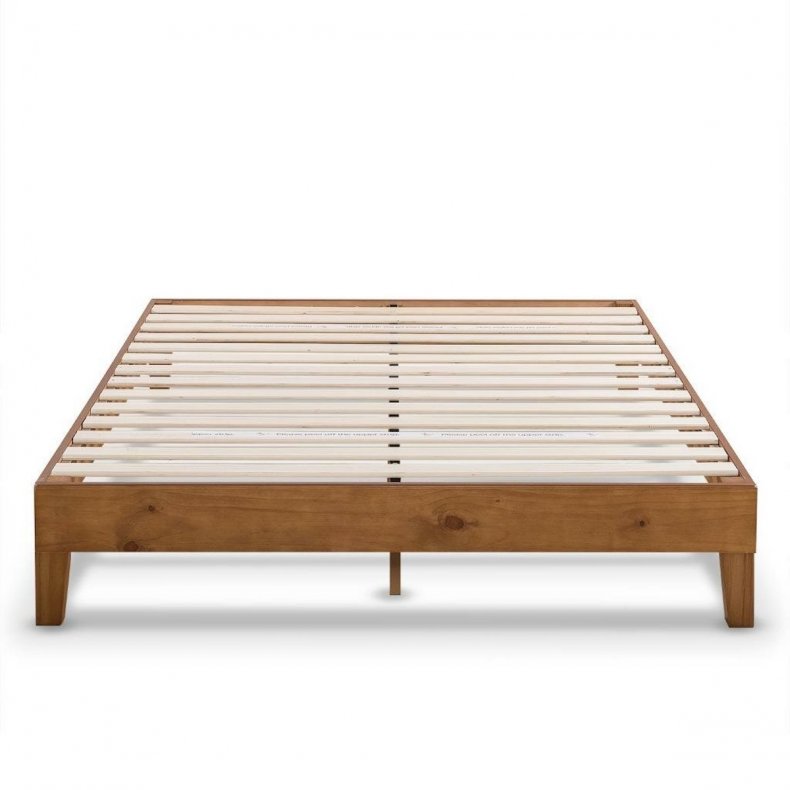 Despite the name, you can get the Harney Twin Solid Wood Low Profile Platform Bed in any size—full, queen and king included. This platform bed, which has amassed 3,655 reviews and 4.8 stars, also comes in three colors—natural, espresso or cherry. But beyond its very natural and minimalistic aesthetic, you'll also love how bulky it isn't and how much space you save because of its sleek frame. It's stable, durable, easy to assemble—all the things you value when living in an apartment. One Wayfair.com reviewer wrote, "It's exactly what I wanted, great price. My 15 year old assembled in 45 minutes! My guest room is going to look great!"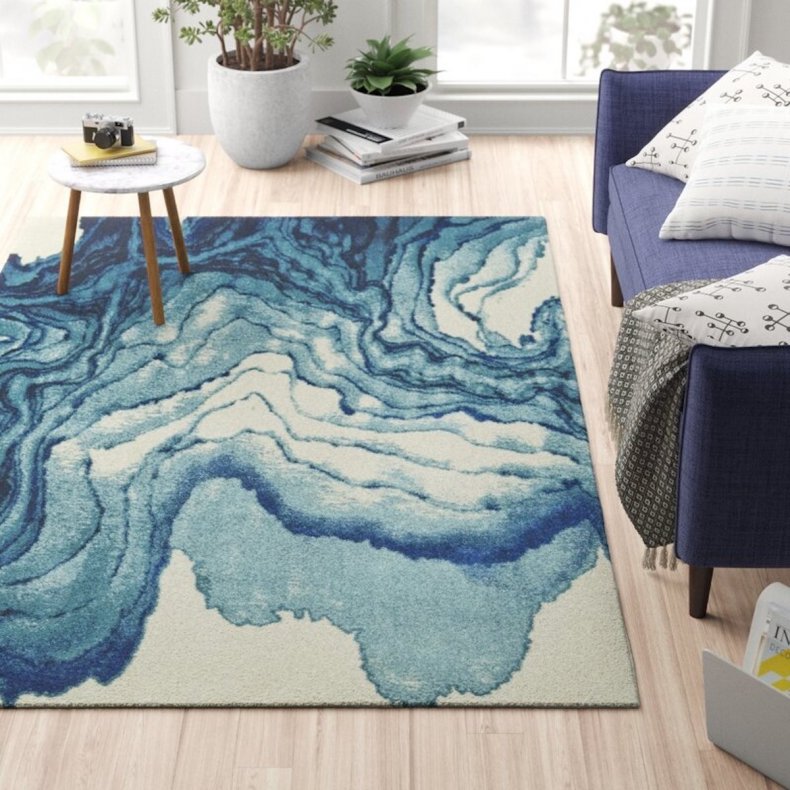 Sure, you're renting but you shouldn't underestimate the power of a rug. Capable of elevating any room in a heartbeat, the Stuart Abstract Blue Area Rug brings a bit of warmth and coziness to any space. With a marbelized pattern and stain-resistant polypropylene, Wayfair.com customers—who have all-in-all rated this rug a 4.8 and left more than 6,500 reviews—are low-key obsessed with it. One Wayfair.com reviewer wrote, "Better than expected. Beautiful rug. Looks different during different times of day. No shedding. Perfect and great price."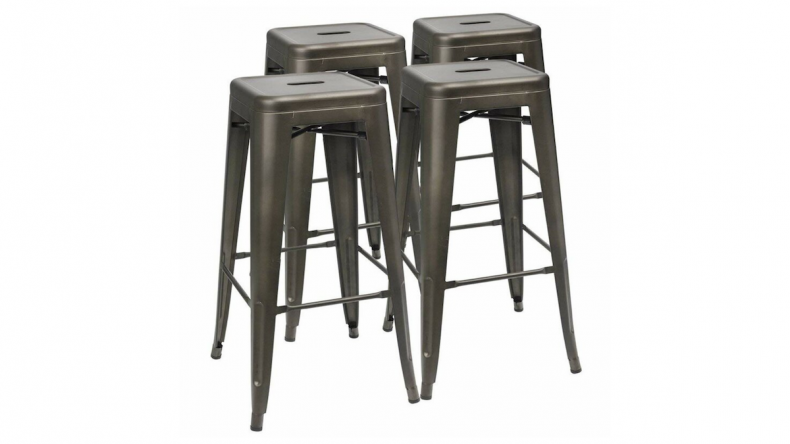 How can you make an apartment feel like a home? Throw in some bar stools! Perfect to place around a high-top table or to rest by the kitchen island, the Davisson 30-Inch Bar Stools feature square, backless seats and a built-in footrest. This metal style bar stool is also really in right now, and since these stools—which have a 4.8-star rating—come in a set of four, you'll be getting the most bang for your buck, too. One Wayfair.com reviewer wrote, "The stools were perfect. Arrived in a timely manner and came in great condition."
Buy a set of four at Wayfair for $182.99.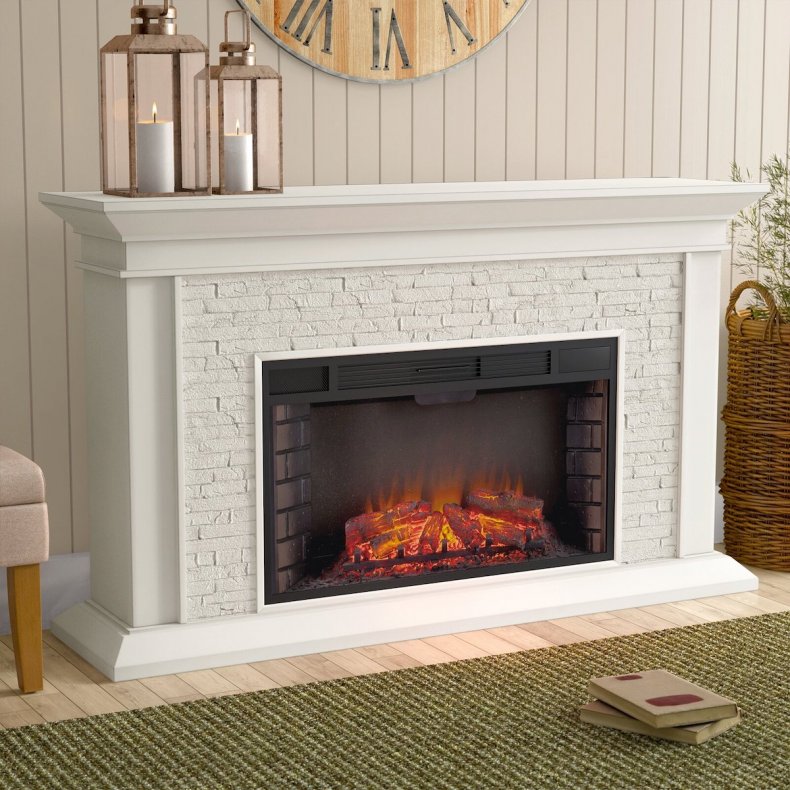 No working fireplace in your apartment? That's probably because real life isn't like Sex and the City. Anyway, you can still make the homey fireplace vibes of your fantasies come true by simply purchasing an electric one. The Trommald Electric Fireplace is beloved by many Wayfair.com customers—its 4.8 rating and more than 1,500 reviews don't lie. It features remote control, a faux-stone textured look, a realistic-looking molded mantel, and lifelike logs with flames and energy-efficient LED bulbs. Reviewers love how this fireplace truly resembles a custom built-in.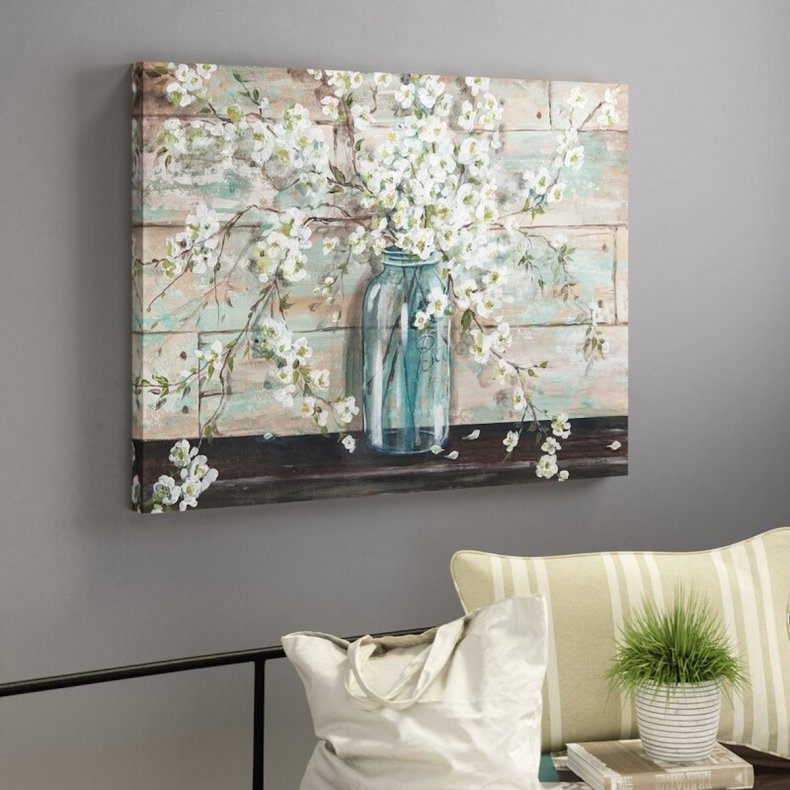 Nothing like a bit of tasteful art to upgrade your apartment. While something by Van Gogh or Jackson Pollack might be nice, we're partial to this cost-effective wrapped canvas print available on Wayfair—Blossoms in Mason Jar by Tre Sorelle. It may not be Starry Night, but we all know that some real art—a canvas, not a poster—is the true hallmark of a grown-up, elegant space. Plus, Wayfair.com reviewers can't get enough of its chic vibes. It has 4.8 stars and more than 2,000 reviews, with one happy customer writing, "This is a beautiful piece, colors are true to the picture. I put it in my breakfast dining room area. My husband [loved] it! There was so many areas l wanted to hang this piece, l wished l had a couple more in a different color."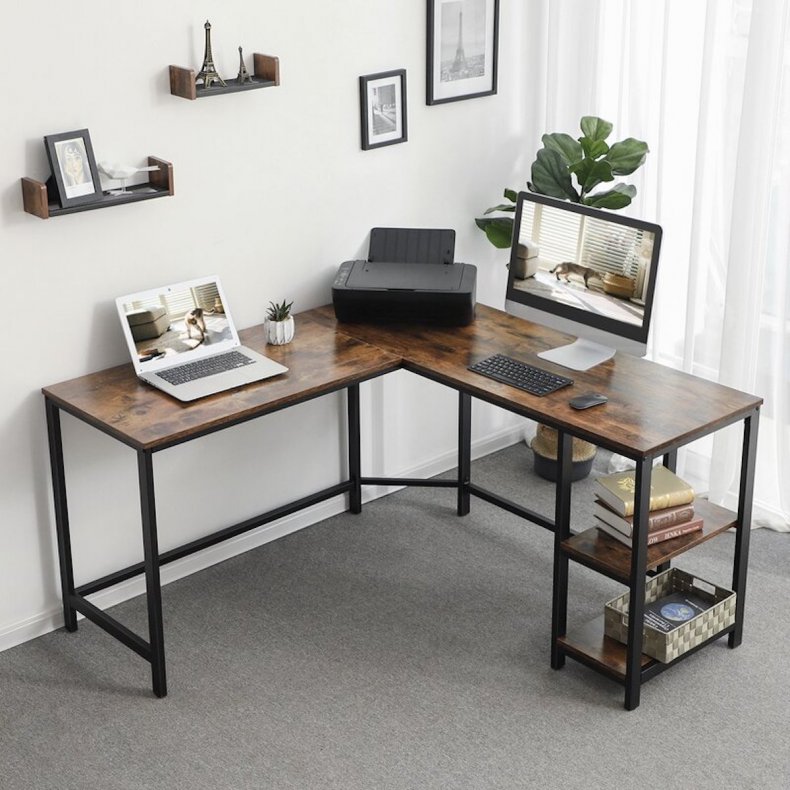 A spare room that's used as a home office is quite the commodity these days as most of us continue to work from home. Even if your apartment is on the smaller side, it's worth making the Williston Forge Enprise L-Shape Desk work for your space. Sure, it's a spacious piece of furniture—it's 29.5 inches by 54.3 inches by 54.3 inches—but with 4.8 stars and nearly 2,000 reviews, it's worth buying it first and figuring out where it goes later. It's durable, made of manufactured wood and has plenty of space for all your work-related things. One Wayfair.com reviewer wrote, "I wanted an L-desk to maximize space in the small corner I'm using as my office. The desk is beautiful, the wood finish is lovely and it was really easy to build (with a second set of hands!) I'm pleasantly surprised with how nice it came out and as you can see, it's being well used!"
Newsweek may earn a commission from links on this page, but we only recommend products we back. We participate in various affiliate marketing programs, which means we may get paid commissions on editorially chosen products purchased through our links to retailer sites.