The 2020 Tokyo Summer Olympics would have officially opened today, but a global pandemic has delayed the Games for a year. Most athletes train their entire lives to peak at the Olympics, and the Games historically have brought out the best in athletes and their humanity.
The COVID-19 outbreak may have put the Olympics on a temporary hold, but the historic moments will never go away.
Ancient Olympics took place for almost 12 centuries, from 776 B.C.through 393 A.D., all in Greece. About 1,500 years after those events ended, the Modern Olympics restarted in 1896, back in Athens, Greece.
Summer Olympics have evolved from traditional sports like swimming, track and field, wrestling, fencing and shooting to new sports. The Games in 2020 added events like karate, sport climbing, surfing and skateboarding. Baseball and softball were brought back because of their popularity in Japan.
Olympics have survived boycotts, terrorists attacks, doping allegations and the move from amateurism to professional athletes. There have only been three cancellations, all because of world wars. The 2020 postponement to 2021 is the first of its kind.
That said, here are 10 of the top memorable American moments in Summer Olympics history.
(In order by year)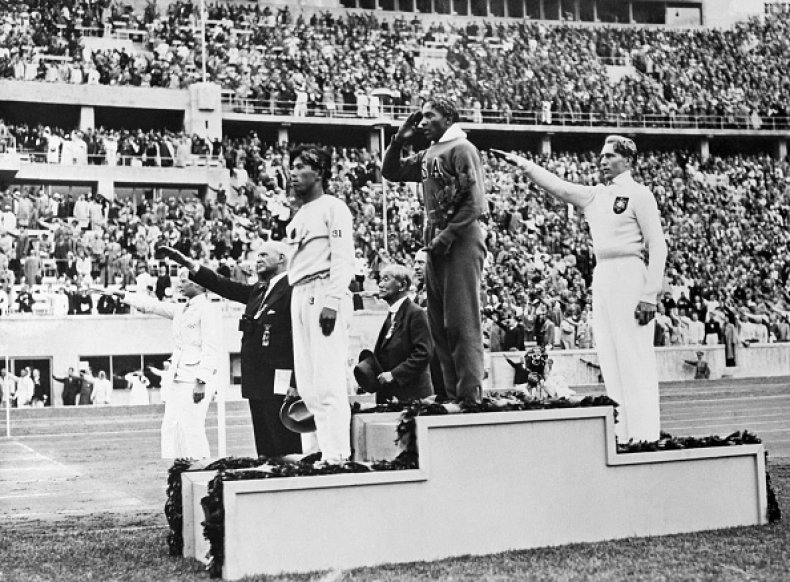 Jesse Owens, 1936 Berlin Games
Jesse Owens, a Black track and field athlete, won four gold medals at 1936 Berlin Games. Adolf Hitler, who was the German Chancellor, wanted to use the Games as a way to demonstrate not only Aryan racial superiority, but Germany's budding chance to become the supreme world power. Owens went on to win the 100 meters, 200 meters, 4x100 relay and long jump, breaking or tying nine Olympic records in the process. Hitler wanted to shake the hands of the greatest Olympian champions, but he refused to shake the hand of Owens.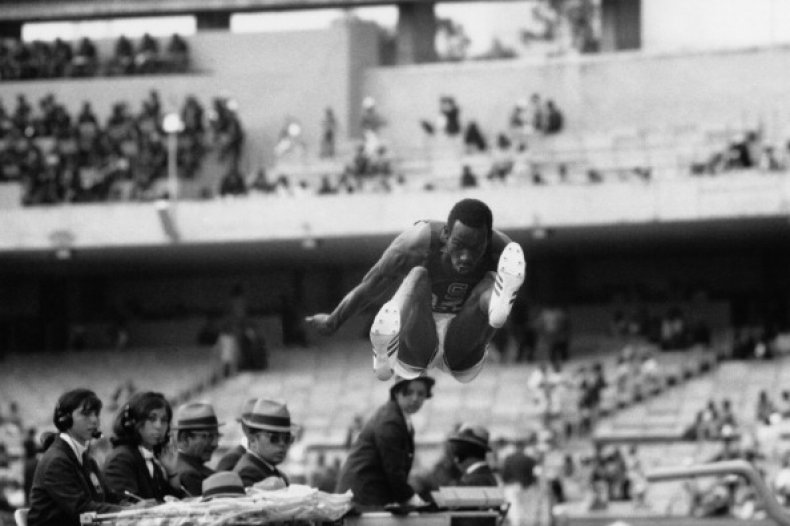 Bob Beamon, 1968 Mexico City Games
Bob Beamon barely made it into the finals of the long jump in the Mexico City Summer Olympics. His first leap during the final round, though, will remain something of Olympic legend. Beamon jumped so far on his first attempt that he almost left the entire sand pit. He only needed to jump 27-feet, 5 inches to set a new world record and presumably win gold. Beamon smashed that by almost 2 feet as he recorded a jump of 29-2 ½, a world record that stood for 23 years before American Mike Powell broke it. Beamon's jump still remains an Olympic record, though.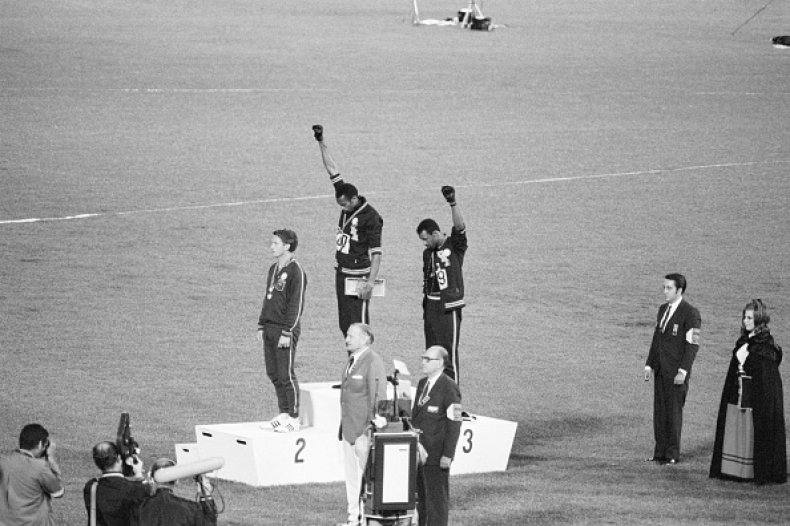 Tommie Smith and John Carlos — 1968 Mexico City Games
Black Power or Human Rights? Tommie Smith and John Carlos finished first and third, respectively, in the 200-meter race in Mexico City. While on the podium, both of them, along with the second-place runner (Australia's Peter Norman), all stood on the podium while sporting human rights badges on their uniforms. Smith and Carlos each wore a black glove on a fist that was hoisted into the air. Though many saw it as a "Black Power" salute, Smith, who set a world record in that race, said the fist raise was for human rights.
Their image still is still talked about, and revered, more than 50 years after it happened.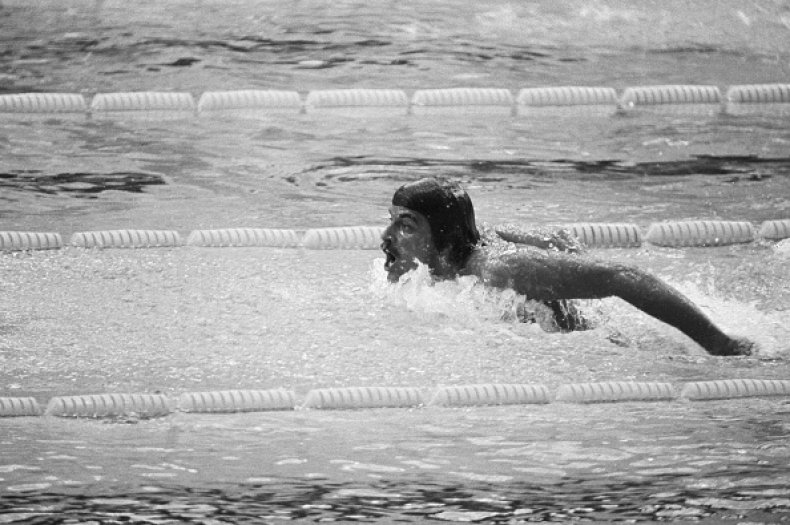 Mark Spitz — 1972 Munich Games
Mark Spitz became the first Olympian from any country during the Modern Olympics to win seven gold medals at one Games. The swimmer won four individual events and three relays—all with world record times—and this was before swimmers wore caps, goggles or body suits. He won these races:
200-meter butterfly
200-meter freestyle
100-meter butterfly
100-meter freestyle
4x100-meter freestyle relay
4x200-meter freestyle relay
4x100-meter medley relay
He would have stayed for the Closing Ceremony, but a Palestinian terror attack that led to the death of other Jewish athletes led him to skipping the ceremony and heading home.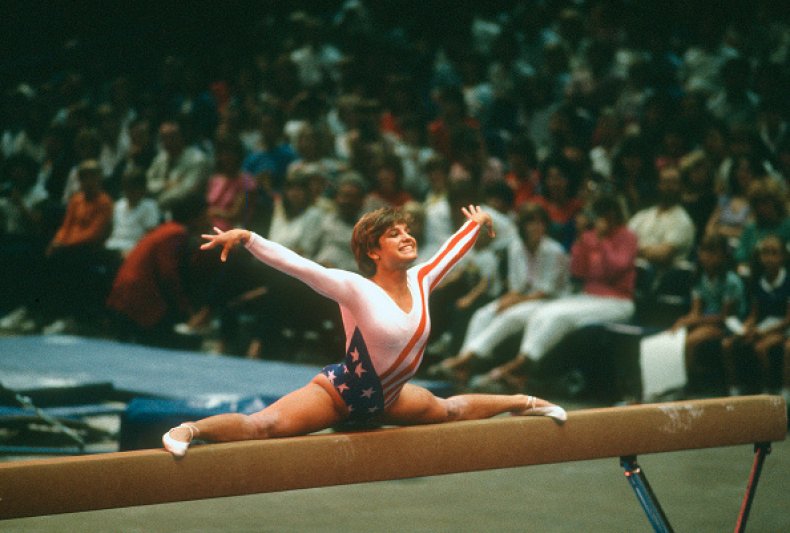 Mary Lou Retton — 1984 Los Angeles Games
Competing on her home soil, Retton became the first American gymnast to win an individual all-around gold medal. She went on to win four other medals, setting the stage for the future of gymnastics in America. Retton's idol was Nadia Comaneci of Romania, and Retton later became the benchmark for future Americans, most recently Simone Biles, who has formerly trained under Bela and Marta Karolyi, who also trained Comaneci for the 1976 Olympics.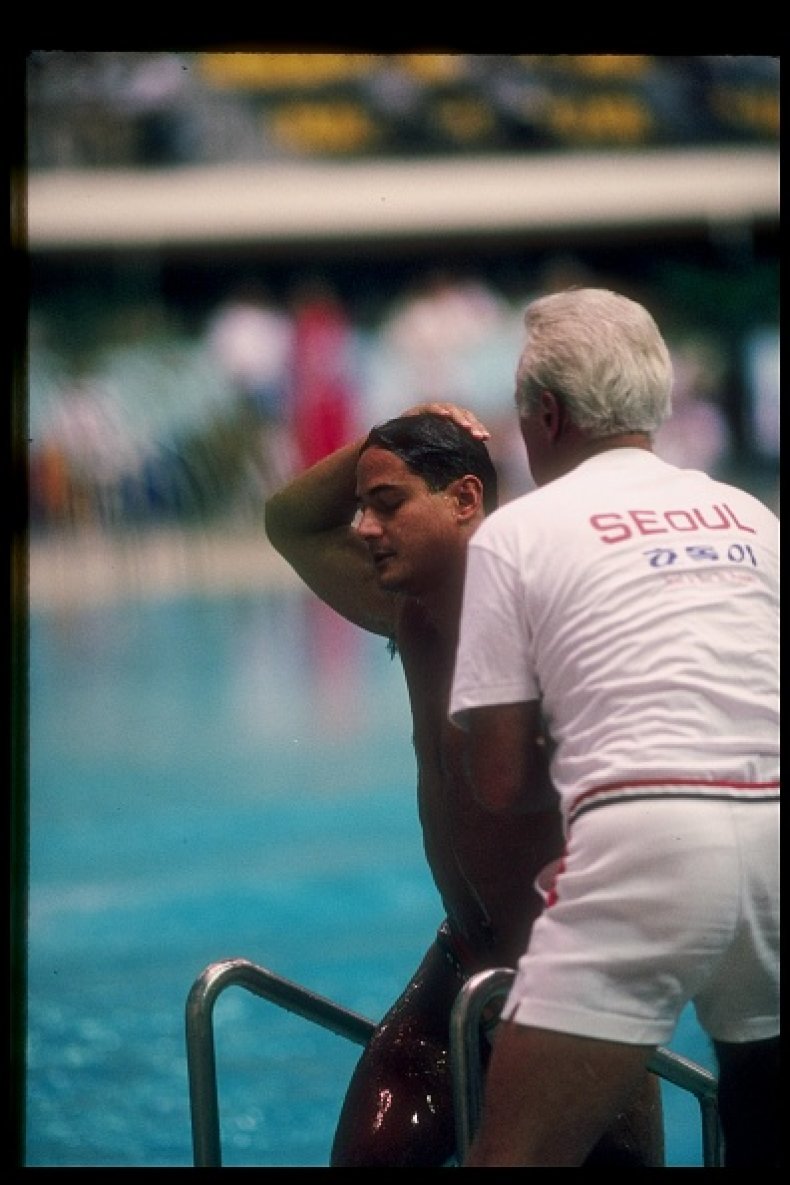 Greg Louganis — 1988 Seoul Games
Greg Louganis was already considered one of the top divers in American history before the 1988 Seoul Games in South Korea. He won silver in 1976, had to sit at home because of the 1980 boycott and pulled a remarkable feat in 1984 by winning both the 3-meter springboard and 10-meter platform gold medals. However, 1988 showed his unbelievable grit. During a preliminary-round dive, his head clipped the board on a two-and-a-half somersault in pike position. He left the pool for just 35 minutes to get medical attention. He made the finals, then won gold. The gold-winning dive was what he called the "Dive of Death," which was the same dive that led to his injury.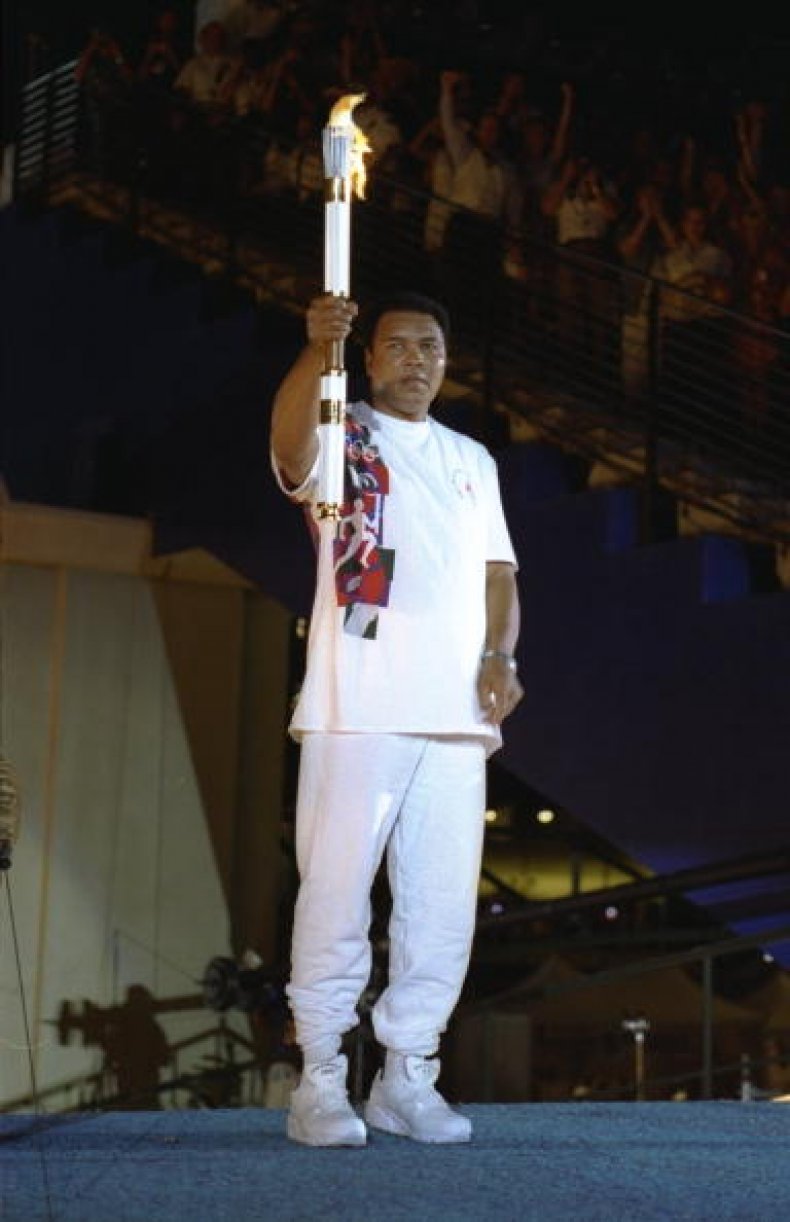 Muhammad Ali — 1996 Atlanta Games
One of the most-anticipated moments during the Opening Ceremony of the 1996 Atlanta Games was wondering who would light the Olympic flame. The torch run was to end with a great American Olympian, and Muhammad Ali ultimately lit that Atlanta flame. His storied career began as an 18-year-old boxer named Cassius Clay, who won the gold medal at the 1960 Rome Games. He turned professional and became both a hero and villain in the eyes of most Americans for his refusal to be drafted in the Army during the height of the Vietnam War. Many people called him the greatest American athlete of the 20th Century.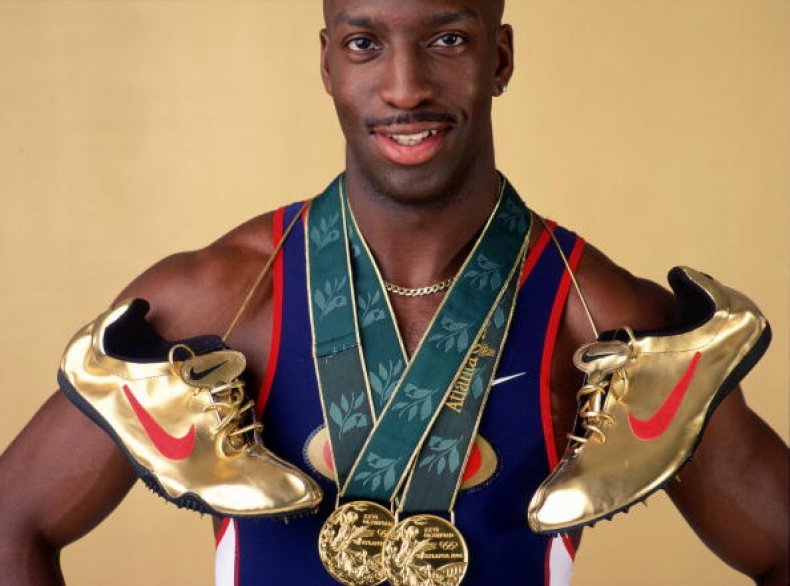 Michael Johnson — 1996 Atlanta Games
Michael Johnson proved that gold begats gold. He flew to victories in both the 200- and 400-meter races in Atlanta, cruising to world records in both races. Though his sprinting prowess was the talk of the day, his gold shoes coasting him to victory remain the talk of the Texas sprinter almost 25 years after it happened.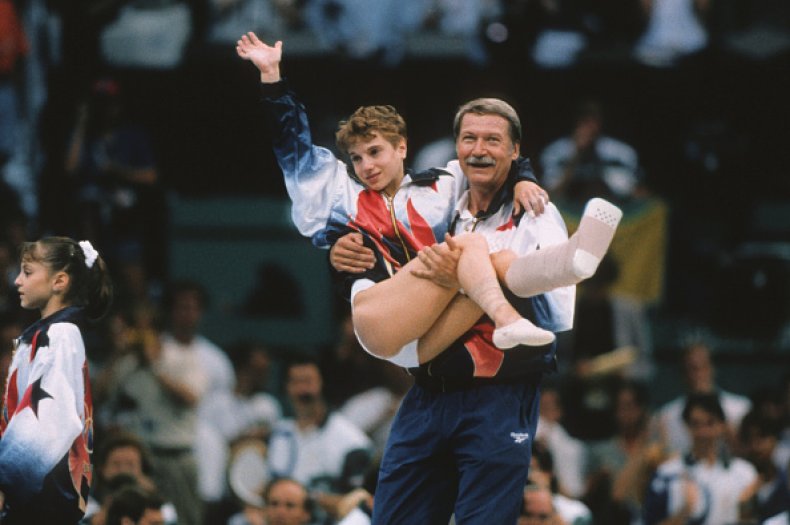 Kerri Strug — 1996 Atlanta Games
Strug will be remembered for sustaining a bad ankle injury at the Atlanta Games and limping back to the mats for America's last gasp at winning gold over the Russian team. Strug sprinted down the runway and made it, landing on both feet, for only a brief moment before balancing on her one good foot. The Americans won the team all-around, thanks to Strug, and coach Bela Karolyi carried her to the medal podium. She was unable to finish any individual events, but her performance goes down in American Olympic lore.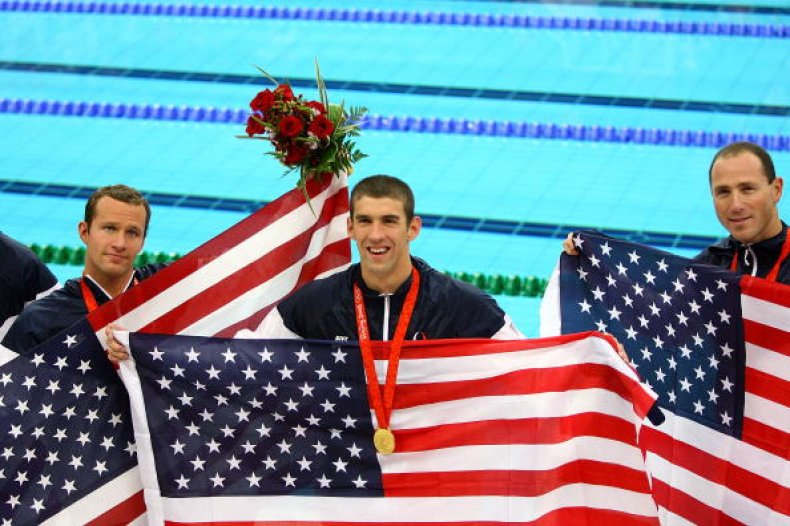 Michael Phelps — 2008 Beijing Games
Not only did Beijing have one of the most memorable Opening Ceremonies of all time, those Games had some unforgettable performances by the athletes. There was America's Kobe Bryant, who may have been the most popular athlete in Beijing. Jamaica's Usain Bolt introduced his speed to the world. And then there was Michael Phelps, who did something no other athlete has done. The swimmer won eight gold medals, a couple of them in breathtaking fashion, especially the 4x100 relay, in which fellow American Jason Lezak swam an unforgettable anchor leg—perhaps one of the greatest splits of all time—to touch first. Phelps won five individual races these Games, and he swam to gold in all of these races in 2008:
100m butterfly
200m butterfly
200m freestyle
200m individual medley
400m individual medley
4 x 100m freestyle relay
4 x 200m freestyle relay
4 x 100 medley relay
Phelps finished his career with 28 Olympic medals, 23 of them gold.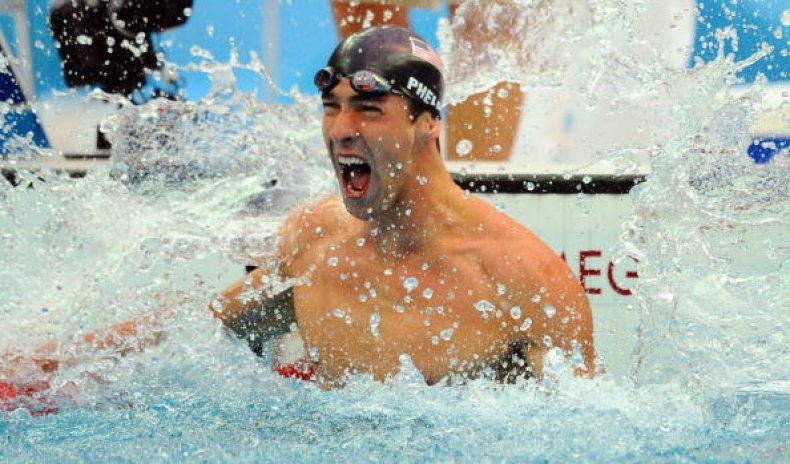 Scott McDonald is the sports editor at Newsweek. He has covered Olympians and Paralympians since 2009, and he has authored two books on Olympic athletes.
Uncommon Knowledge
Newsweek is committed to challenging conventional wisdom and finding connections in the search for common ground.
Newsweek is committed to challenging conventional wisdom and finding connections in the search for common ground.
About the writer
Scott McDonald is a Newsweek deputy night editor based in Cape Coral, Florida. His focus is assigning and writing stories across all topics, from news to politics, business, weather, sports and international news. Scott joined Newsweek in 2018 after a lengthy career of print journalism in Texas, including The Dallas Morning News, where he was a sportswriter, and he's a voter for the Heisman Trophy. He has been a newspaper editor-in-chief and also a newspaper publisher. He is a graduate of The University of Texas at Austin. You can get in touch with Scott by emailing s.mcdonald@newsweek.com. Languages: English