10 of the Best Calming Products to Ease Your Dog's Anxiety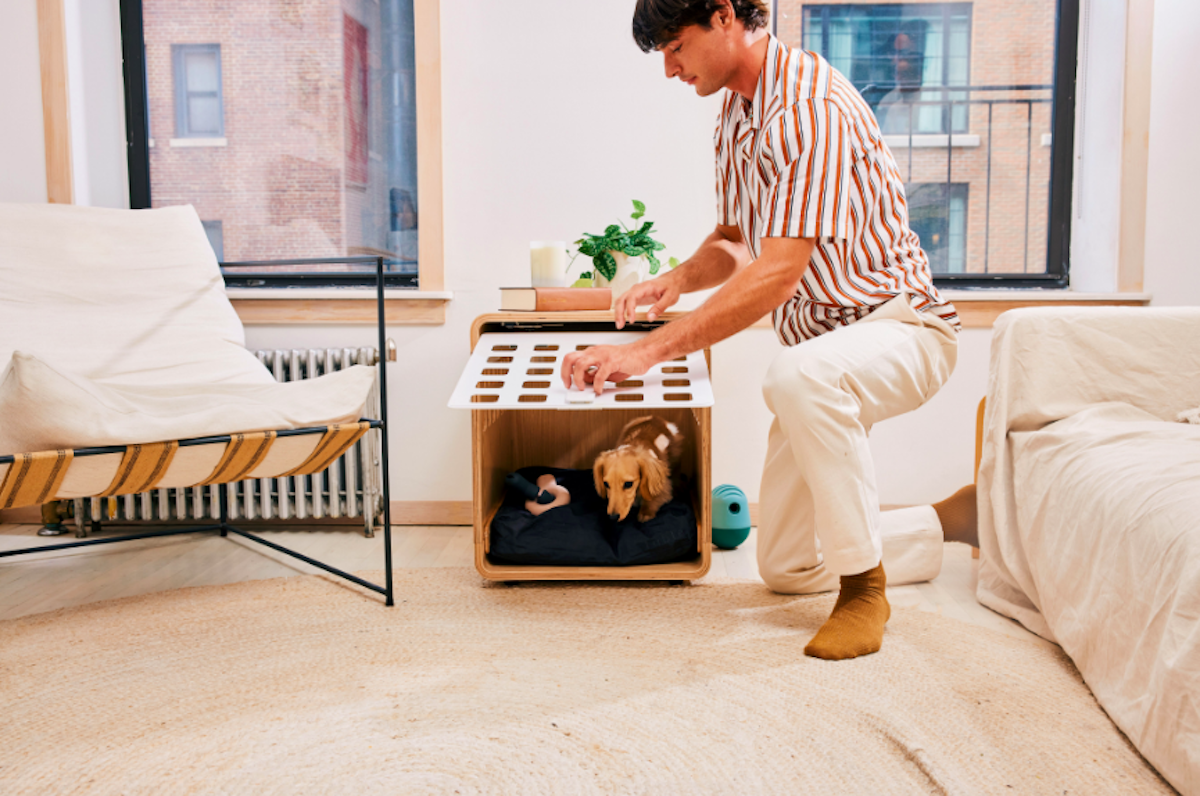 It's important to consult your pet's veterinarian with any medical concerns, and before making any changes or adding supplements to your pet's health plan.
After what has undoubtedly been one of the most stressful years of all time, it's safe to say that most of us are still reeling from all the implications of the coronavirus global health crisis. Did you know that also includes your pets? Our four-legged friends are just as stressed as we are! In fact, in the year 2020, 21 percent of dog owners purchased CBD supplements.
That's no coincidence—our dogs are stressed!
10 Products to Ease Dogs' Anxiety
According to pet company Trusted Housesitters, when you take dogs out of their homes or their routine changes, they experience more stress and anxiety. You can shuffle through a pet-friendly playlist (music is scientifically proven to calm down dogs' vibratory rate). Or, you can groom your dog nightly to soothe them before bedtime.
There are also a few pretty cool anti-anxiety pet products that can help ease your dog's troubles, too.
Keep reading for 10 products that can ease your dog's anxiety. As always, the prices listed may fluctuate over time.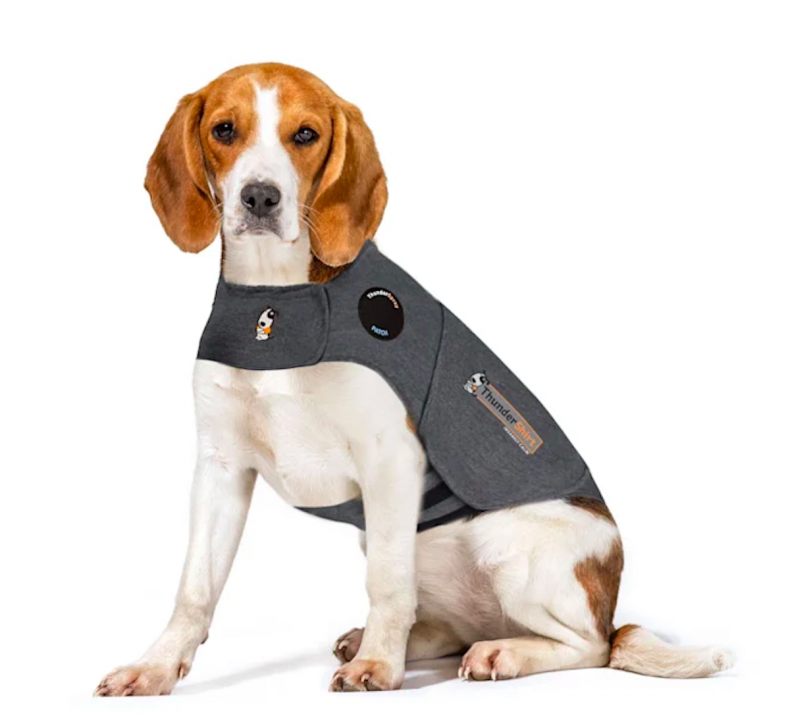 Surely you've heard of the Thundershirt! This revolutionary, wearable anxiety solution takes a page out of the swaddling book for newborns (a classic!). It uses the techniques of compression and wrapping to reduce dogs' fear and stress. Adjustable and available in different sizes so that all dogs can enjoy the benefits, the Thundershirt is made of lightweight material but still provides enough gentle, even and constant pressure to promote feelings of safety for your doggo.
Throw it on your pet right before a thunderstorm or to go in the car, and you'll notice the calming effect take place immediately.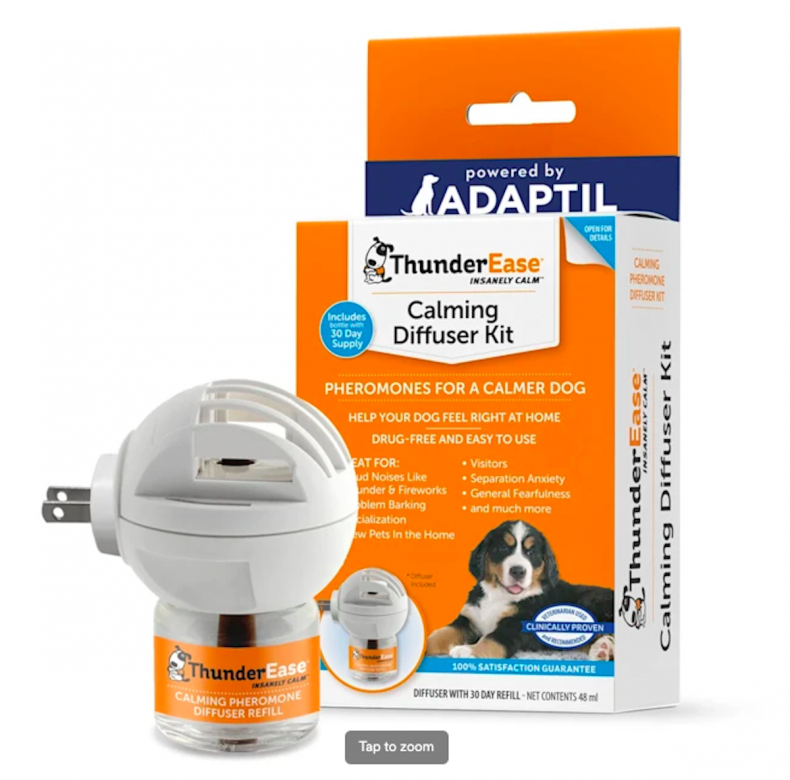 From the same company that makes the original Thundershirt, ThunderEase Calming Diffuser Kit is a new way to "treat" your dog's anxiety symptoms. And it's through their favorite sense—smell!
The ThunderEase Calming Diffuser Kit plugs in and pacifies barking, anxious or nervous dogs through the gradual release of pheromones. It has many uses, making it perfect for calming dogs when visitors come over, introducing your pet to a new home or reducing anxiety symptoms during thunderstorms or fireworks. You may even notice reduced barking if you have a problem barker!
And the best part is your dog doesn't have to do anything. There's no ingesting, no wearing—just plug it into the wall.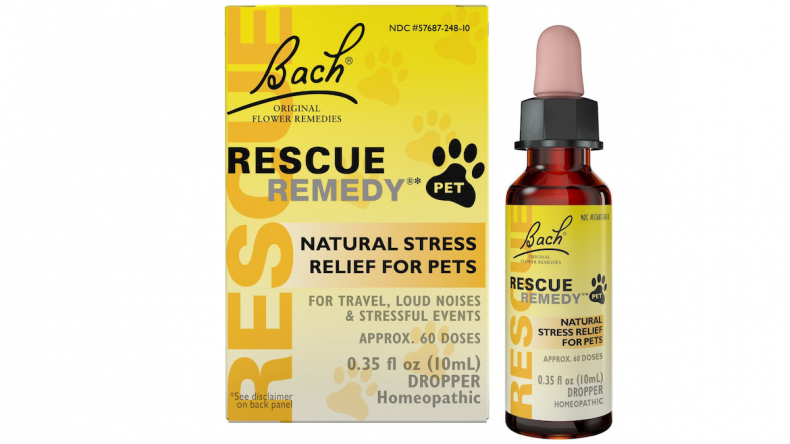 A safe and natural alternative to other stress-relief supplements, Rescue Remedy Stress Relief Pet Remedy is a homeopathic solution made of five flower remedies—Star of Bethlehem, Rock Rose, Cherry Plum, Impatiens and Clematis. It's alcohol-free, and you administer it by using the dropper to add a few drops to the water bowl, making it an easy option for pets who won't always accept new treats (or medicines).
It works great for pets experiencing distressing events like separation anxiety, travel, moving, running away or thunderstorms.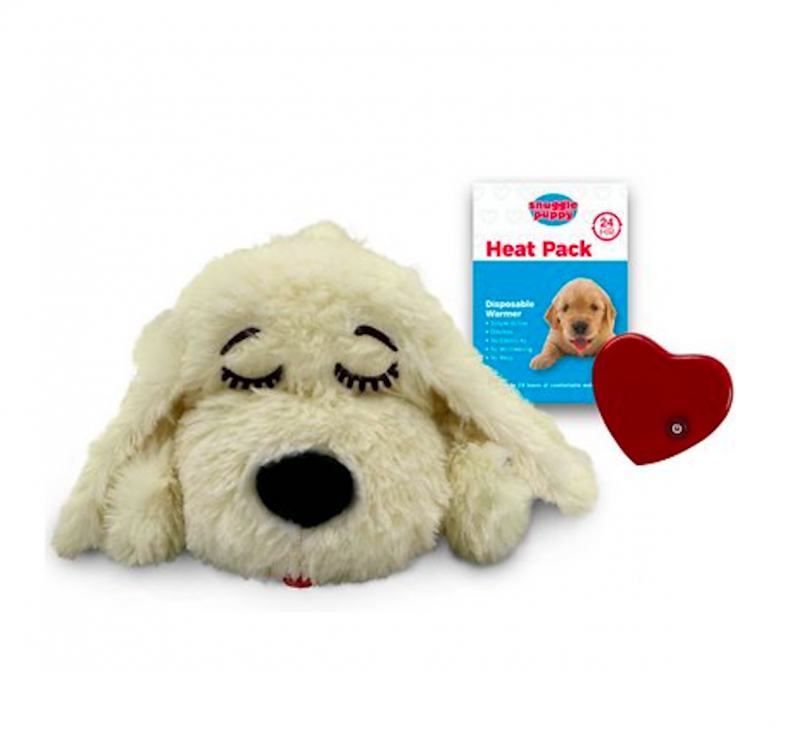 What's so great about the Smart Pet Love Snuggle Puppy Behavioral Aid Dog Toy is its versatility. This innocent little dog toy has so many uses, and luckily, one of them is for "treating" separation anxiety, fear, loneliness and negative behaviors like barking or whining. It helps your dog cope with the everyday stressors of life by simulating physical warmth and a pulsing heartbeat that reminds your pet of the intimacy they crave during trying times.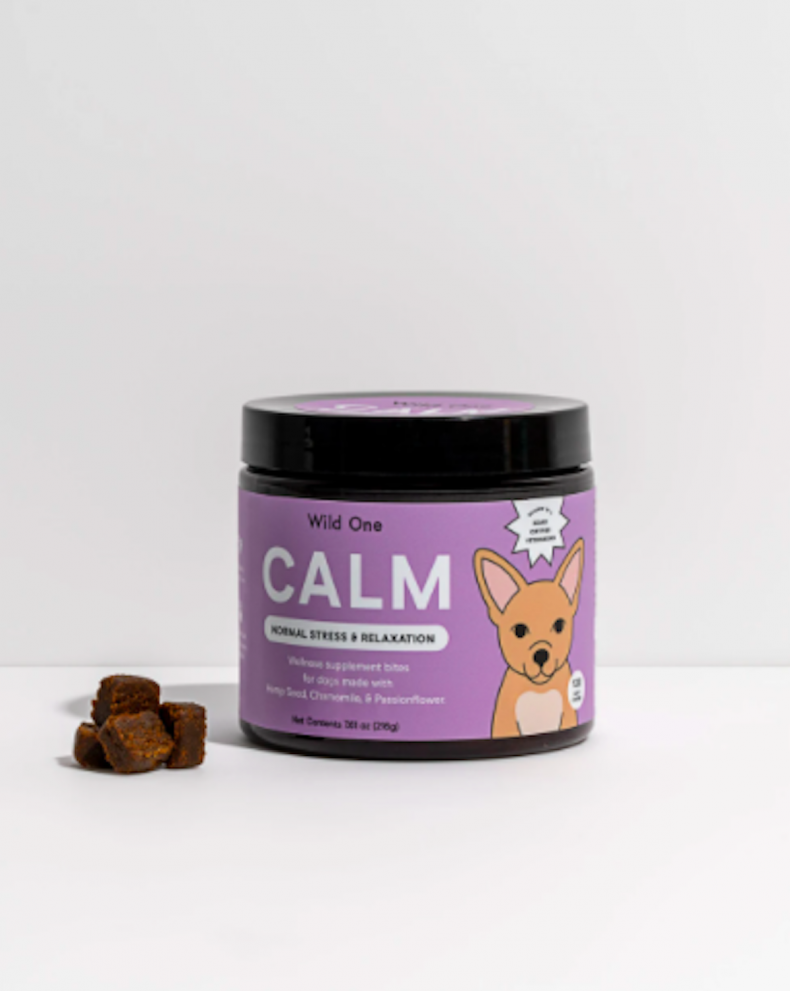 There are lots of calming aids and supplements for dogs out there, but with such a saturated market, it's difficult to sort through them all.
The Calm Normal Stress and Relaxation Supplement from Wild One is a standout. Its ingredients include hemp seed powder, organic chamomile and organic passionflower. These ingredients join forces to reduce hyperactivity (which sometimes presents in an anxious dog). These soft-chews are safe enough to use daily, but it's also essential to review the dosing directions according to your dog's weight.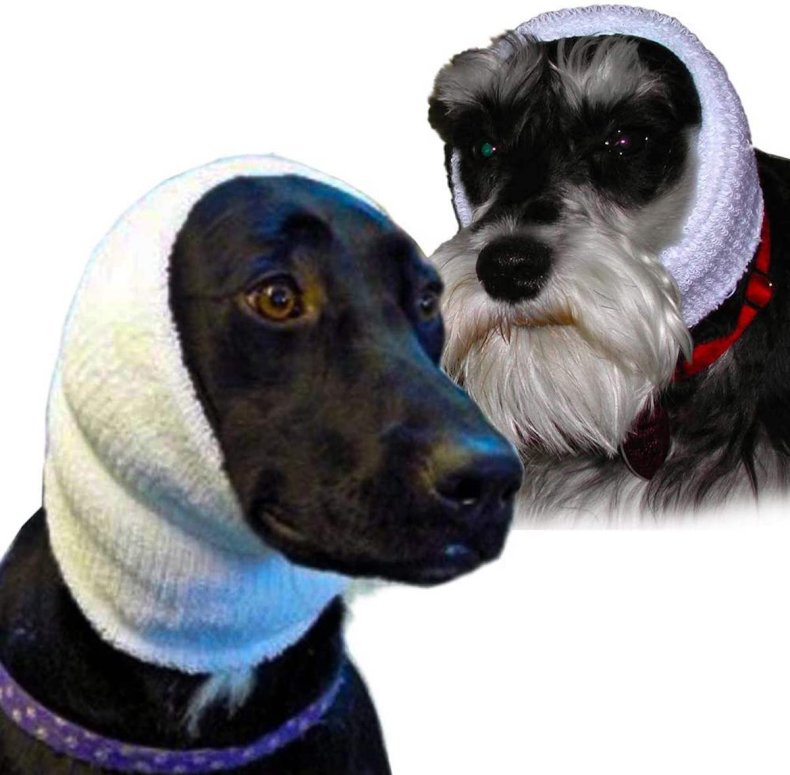 As funny looking as this anxiety solution may be, The Original Happy Hoodie is also surprisingly effective.
First used by groomers—who swear this product force-dries doggie hair while keeping animals calm—The Original Happy Hoodie uses light compression that works similarly to the ThunderShirt (or, you know, weighted blankets for people). It protects dogs from loud noises and provides a swaddling effect that comforts our furriest of friends.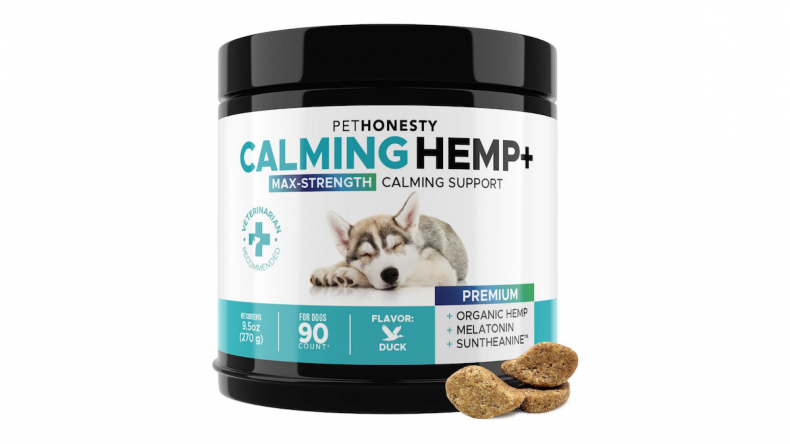 Calming treats can be somewhat controversial, but natural aids have had a recent spike of popularity amongst pet owners since the pandemic. PetHonesty Calming Hemp+ Max-Strength Duck Flavored Soft Chews work in anywhere from 30 to 45 minutes to reduce your dog's stress with non-sedative ingredients. It's made in the USA with ingredients sourced from the USA and is 100 percent free of wheat, corn, chemicals and GMOs.
So, how does it work? The power of hemp, combined with chamomile, valerian root and ginger, melatonin and Suntheanine work together to bring your pup down when he's worked up.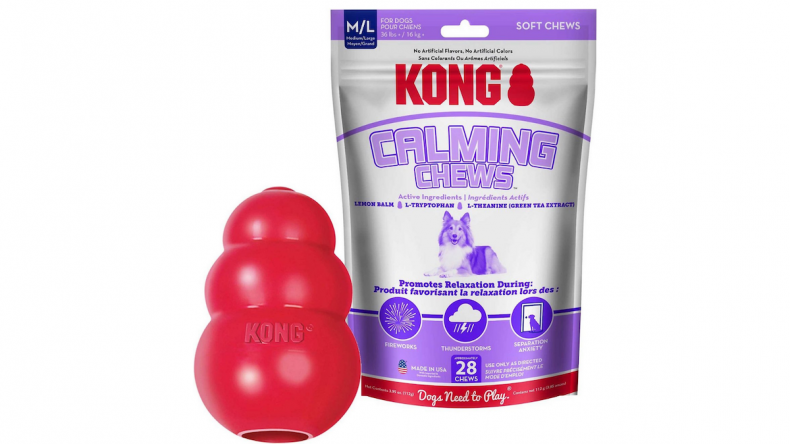 Often exclusively thought of as a "boredom buster," the Kong is the original anxiety-soother. After all, don't we all feel a sense of calm after licking some peanut butter?
The Kong Classic Toy and Calming Chews Bundle is perfect for distracting dogs in distress because it makes times where separation anxiety may kick in into playtime. By giving your dog something to do—lick at a toy full of peanut butter or Calming Chews—any stress they may have about being alone melts away. Combine the soothing nature of that distracting Kong Classic Toy with calming supplements that alleviate restlessness, and your dog will be zen in no time.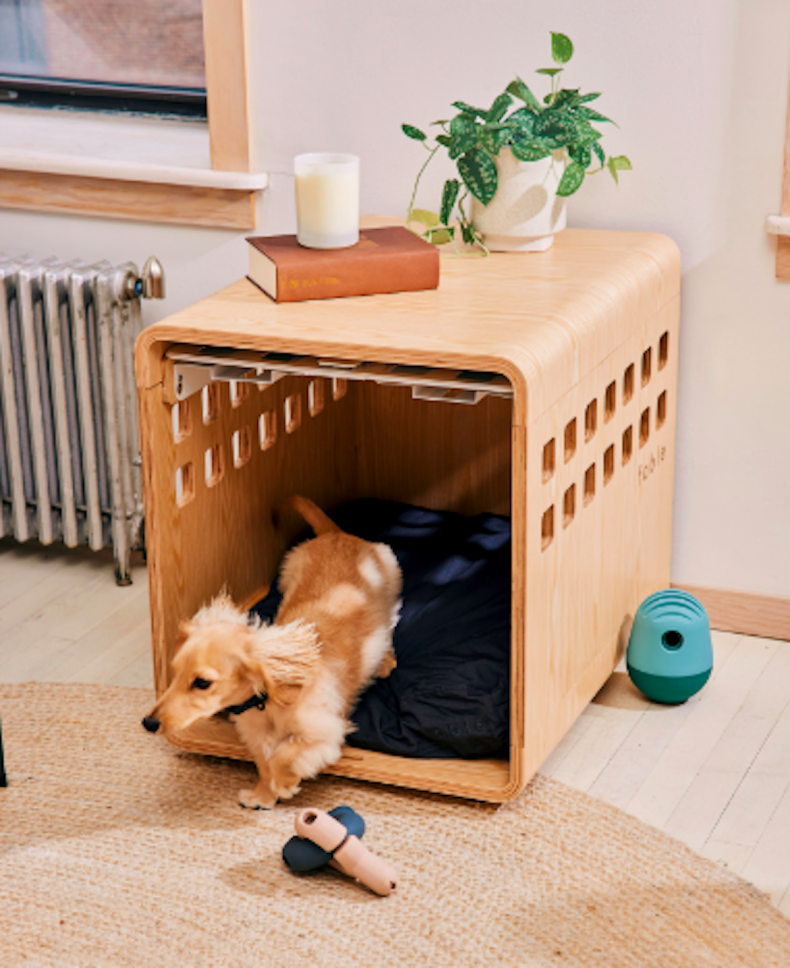 You may be wondering: How one earth could a crate actually calm down a dog? Wouldn't that make a pup even more stressed out? Wrong!
Thanks to the den-like space, the Crate from Fable is specifically designed to feel warm, cozy, and comforting. It was created with maximum airflow in mind, and believe it or not, a tight space might just be exactly what your pupper needs during times of uncertainty.
Also, it doesn't hurt that The Crate blends seamlessly into any home décor style!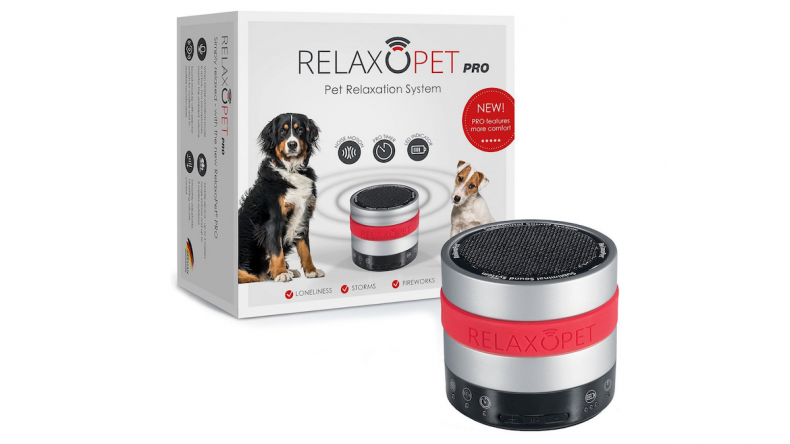 When all else fails, the RelaxoPet Pro Dog Relaxation System acts as a pseudo companion when your dog's separation anxiety kicks in while they're alone. This cool piece of technology emits high-frequency vibrations that can help calm a panicked pup—and these vibrations are so high frequency, humans can't even hear them, so you'll be completely undeterred.
Outfitted with a motion sensor, the RelaxoPet Dog Relaxation System senses noise or movement while you're out, then turns on to automatically soothe your pet. It's wireless, small and can help in all kinds of situations—moments of separation anxiety, fireworks, thunderstorms, travel and more.
Newsweek may earn a commission from links on this page, but we only recommend products we back. We participate in various affiliate marketing programs, which means we may get paid commissions on editorially chosen products purchased through our links to retailer sites.