The 10 Best Cheap Bluetooth Speakers at Walmart, Target, and Best Buy
If you pay attention to the latest in tech trends, then you may have noticed just how popular the new Marshall Action II Bluetooth Speaker is. With a vintage look and pristine sound, this contemporary speaker with old-timey appeal is cropping up in kitchens everywhere. It's available at Best Buy, but that beautiful exterior (and high-quality sound) comes with a price tag of $249.99. Yikes!
Since that's not exactly doable for speaker lovers on a budget, we'll let go of our obsession with the Marshall speaker for now. (Even if it breaks your heart—make like Jay-Z and move on to the next one.) Besides, there are plenty of aesthetically pleasing Bluetooth speakers out there with high-quality sound—for more than half the price.
These are the best of the best cheap Bluetooth speakers from Walmart, Target, and Best Buy—all for under $100.
Best Cheap Bluetooth Speakers From Walmart, Target, and Best Buy
Ultimate Ears Wonderboom 2 Speaker System
The Ultimate Ears Wonderboom 2 speaker system is known to sell out. That's how good it is! Users love its crisp, loud sound that really carries, and the fact that it packs 13 hours of playtime. And not only is it waterproof, it floats, too! It's perfect for rocking out to music in the pool or shower, and it's drop-proof, so you don't have to worry about the wear and tear. There is one important caveat, though: If your phone is connected to the speaker and someone calls you, there's no mic for the audio to work through the speaker. The Ultimate Ears Wonderboom 2 is only $79.95, but hurry because, as mentioned, these portable Bluetooth speakers go out of stock quickly.
Buy it at Walmart.
Altec Lansing Jacket H20 4 Portable Bluetooth Speaker
Available in black and mint, the Altec Lansing Jacket H20 4 portable Bluetooth speaker is beloved for its "everything-proof" quality. Altec claims this cheap Bluetooth speaker, on sale for $29.99, is everything-proof—and they mean it. That's waterproof (it floats!), dustproof, shockproof—you name it. It's meant to withstand some of the toughest environments, making it an awesome option for hikers, rock climbers, and the generally adventurous who want to listen to some tunes while they camp, climb, or hike. But even if you're the type to just stick to the backyard pool, this Altec model is a great option for introverts, too. It features 10 hours of nonstop playtime, connects with other Altecs for double the sound, and even has a Just Ask feature you can set up that allows you to access Siri or Google Assistant through the speaker's Bluetooth. Music to our ears!
Buy it at Walmart.
Onn. Small Rugged Portable Bluetooth Speaker
Can a Bluetooth speaker this cheap really be that good? The answer is a resounding yes. The Onn. Small Rugged Portable Bluetooth Speaker definitely packs a punch for its price. Here are some of its best features to rival other more expensive Bluetooth speakers: changing LED lights, a vibrating base, eight hours of play, Party Sync mode to connect with other Onn. speakers, and it's IPX7 waterproof, to boot. The company also offers toll-free support for customer service that's as smooth as its sound waves!
Buy it at Walmart.
Sony SRS-XB12 Portable Wireless Bluetooth Speaker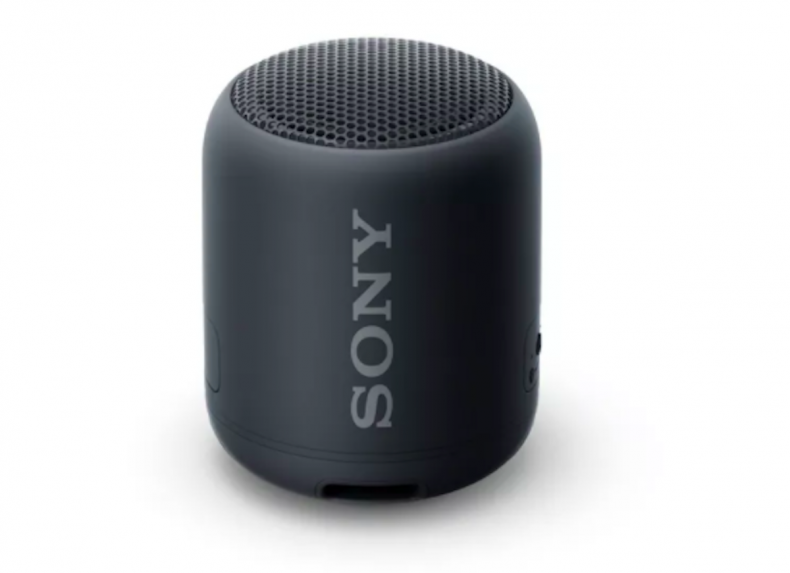 With waterproof casing and a detachable carry strap that can either hang, carry, or clip the speaker anywhere, the Sony SRS-XB12 portable wireless Bluetooth speaker is a great option for by the pool or beach.
Available in three colors—black, blue, and red—the Sony SRS-XB12 portable wireless Bluetooth speaker offers a lot of great features for just under $60. It has a waterproof casing, making it the perfect speaker to bring to the beach or sit with poolside, and it also includes a handy-dandy detachable strap that allows you to hang, carry, or clip the speaker wherever. It's also categorized by Target as one of the loudest speakers they carry, and it's known to bump up the bass. Plus, 89 percent of Target reviewers would recommend this speaker: It has amassed a near-perfect rating of 4.5 out of 5 stars for both value and quality.
Buy it at Target.
Pyle Portable PA Speaker with LED Lights PPHP844B
The Pyle PPHP844B 400-watts portable indoor-outdoor Bluetooth speaker system might be a bit clunkier in style—as well as a mouthful!—but that's only because it's outfitted with everything you need for a fun night in the yard (or on the beach). While it still has that desired Bluetooth connectivity, it also features FM radio and USB connector options for playing music, too. And if you're really ready to crank up the party, this baby has a mic input, as well, so you can sing karaoke wherever the night takes you.
Buy it at Target.
JBL Clip 3 Speaker
It's no secret that people love their JBLs. A fan-favorite wireless Bluetooth speaker brand for just how far it throws sound for a relatively low price, the JBL Clip 3 may be tiny, but she is mighty. It's perfect for hanging in or near the shower (yep, it's waterproof), packing in your beach bag, or clipping on a chair poolside. When fully charged, it even plays for 10 hours at a time, so the jams don't have to stop unexpectedly for a dead battery. Just $69.99 at Target, this little-speaker-that-could has an overall 4.4 rating, a 5.0 in quality, and a 5.0 in value on Target.com.
Buy it at Target.
Anker Soundcore Bluetooth Speaker
The Anker Soundcore Bluetooth Speaker comes in three colors (though we're partial to the bright blue, pictured above) and boasts a superior sound quality to any other Bluetooth speaker of a similar price point. At just $33.99, you'll love how this cheap Bluetooth speaker flaunts 24 hours of playtime—a whole day's worth! The party will never stop unexpectedly, thanks to the battery, and the speaker even has a built-in mic, so that if someone calls, you can take the call over the speaker without any issue. Other standout features include less than 1 percent total harmonic distortion, for the best-quality sound, and a spiral bass port that makes for the tightest, crispest bass. It also pairs fast and easily with your Bluetooth device—no wasting 20 minutes trying to connect.
Buy it at Walmart.
Amazon Alexa Echo Dot (4th Gen.)
The Echo Dot and other Amazon Alexa products often get overlooked as Bluetooth speakers, as users tend to focus on the voice capabilities over anything else. And while you probably shouldn't bring your Echo Dot to the pool and physically can't bring it to the beach (because good old Lexy needs to be plugged in), this Bluetooth speaker is one of best of the best for playing music in the house. It's not wireless, unfortunately, but that means you never have to worry about running out of battery. Oh, and don't look past the price point here—that's $79.89 for two Echo dots. Can't beat that sweet of a deal!
Buy it at Best Buy.
Bose SoundLink Micro Portable Bluetooth Speaker
Coming in at the top of the budget for cheap Bluetooth speakers is the Bose SoundLink Micro portable Bluetooth speaker, and it's well-worth that hundred bucks. Why? More than 4,054 reviews agree that the sound quality of the Bose SoundLink is unmatched. It's rated 4.8 overall on BestBuy.com with an emphasis on sound quality, and users also love that it meets IPX7 waterproof standards—the best of the best. It also has a built-in mic to take calls, stereo or Party Mode playback for connecting to other Bose speakers, and hands-free voice control with Echo Dot connection. What more could you ask for?
Buy it at Best Buy.
Insignia Sonic Portable Bluetooth Speaker
Insignia is a Best Buy brand, so if it's made by the Geek Squad, then you know it's the real deal. Now, you certainly won't be breaking any sound barriers with this super cheap Bluetooth speaker (it costs only $39.99), but it's a reliable option that won't disappoint. You can connect your smart device from up to 33 feet away, and the Insignia Sonic portable Bluetooth speaker is also water resistant. You've got up to 40 hours of listening per charge with this speaker as well as a built-in mic for hands-free calls through the speaker. It's got all the features of the really expensive speakers, but for less than $40.
Buy it at Best Buy.
Newsweek may earn a commission from links on this page, but we only recommend products we back. We participate in various affiliate marketing programs, which means we may get paid commissions on editorially chosen products purchased through our links to retailer sites.