10 Best Cities for Business Travel
These cities have it all: great airports, access to comfortable and affordable accommodation, public transport and fun things to do in the off hours.
Los Angeles is the best city in the United States for business travel, according to a new study by Fundera, an online marketplace for small business financial solutions.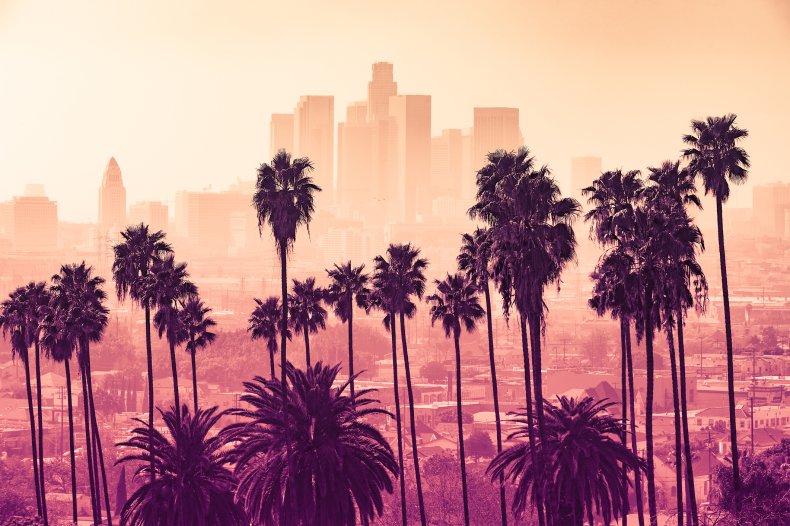 The study reports: According to research by Expedia, more than 60% of travelers extend business trips for leisure purposes. This means that the destination matters more than ever. These so-called "bleisure" (business + leisure) travelers take an average of six business trips per year.
In order to figure out the best cities for Bleisure, Fundera used a unique methodology.
The company states: "We started our analysis with a ranking of the 51 largest U.S. cities by population. Then, we evaluated each city based on the metrics listed below. Census data treats some nearby cities as part of a single metropolitan area, so where appropriate (Long Beach and Los Angeles, for example), we've referred to the metropolitan area. After assigned each metric a weight proportional to its importance, we developed a ranking of the best business travel destinations for 2019."
Hotel Availability and Cost (30% of Ranking)
One of the most important requirements for business travelers is convenient, affordable accommodation. The more hotel rooms that a city or metropolitan area has, the easier it is for business travelers to find an appropriate option, even if booking a trip last minute. Availability of more hotel rooms also makes a region well suited for hosting a large event or conference. Hotel cost is an important metric in its own right and acts as a proxy for other expenses, such as rental car and food.
Data on the number of hotel rooms in each destination comes from the Census Bureau's 2016 County Business Patterns Survey (latest available data). Hotel cost data comes from Business Travel News' 2018 Corporate Travel Index. Together, hotel room availability and cost account for 30% of the ranking.
Commute Distance and Time (25% of Ranking)
Being stuck in traffic can delay you for an important meeting or event, so Fundera evaluated distance and travel time from each destination's major airport to downtown. Fundera used rush hour (8 a.m. on a Monday) when checking travel time, given that this is when most business meetings or conferences would occur. This data comes from Google Maps and comprises 25% of the ranking.
Dining and Entertainment Establishments (15% of Ranking)
Business trips afford many opportunities for dining and entertainment. You might want to dine with a client, participate in a fun team bonding activity, or explore the city after a long day of meetings. Fundera used the Census Bureau's 2016 County Business Patterns Survey (latest available data) to find out the number of dining and entertainment establishments in each city. The Census data displays duplicates establishment numbers for some industry codes, so this data is approximated and accounts for 15% of the ranking.
Public Transportation Access (15% of Ranking)
Globally, business travel expenses are increasing, and businesses spend more than 20% of their travel budget on car-related expenses, such as car rental, taxis, fuel, and tolls. Utilizing public transportation can help small business owners cut back on travel expenses. Fundera used theNational Transit Database's 2017 Service Data (latest available data) to find the number of public transportation trips per capita in each destination. Public transportation access accounts for 15% of the total ranking.
Convention Center Size (10% of Ranking)
According to a survey by American Express, the number of in-person meetings and events is expected to increase globally this year. Business events are also expected to have more attendees and last for a longer time. This means that the best business travel destinations should be well-equipped to host events. Fundera evaluated each city based on the square footage of the local convention center. Data comes from the websites of the individual convention centers and accounts for 10% of the total ranking.
Alternative Transportation Bonus (5% of Ranking)
Some business travelers are relying more and more on alternative methods of transportation. Electric scooters have popped up in dozens of cities across the U.S. Together, Bird and Lime, the two most popular scooter companies, have provided more than 30 million rides. Many cities are instituting regulations to authorize scooters or regulate scooters that are already in use. Scooters cost $1 to rent plus 15 cents per minute. Helicopter sharing is much less common than scootering, but significantly more expensive.
Fundera assigned a low weight—five percent—to this category because scooters and helicopter-sharing still haven't become mainstream transportation options for business travelers.
Key findings included:
Large cities, including Chicago, Los Angeles, and New York, dominated the top 10 business travel destinations. This is due to easy hotel access and a plethora of dining and entertainment options.
However, some smaller cities made a strong showing, with Miami and Atlanta in the top 10. Smaller cities received high scores for affordability, light traffic, and convenient access to downtown.
There are some regional overlaps in the best destinations for business travel. For example, Los Angeles and Long Beach both earned high points as business travel destinations, as did the Dallas-Fort Worth-Arlington region of Texas.
Six of this year's top 10 business travel destinations are coastal regions. In particular, California has three coastal regions in the top 10.
Taking these factors into account, here are the areas that are currently best equipped to handle the needs of business travelers:
10. San Diego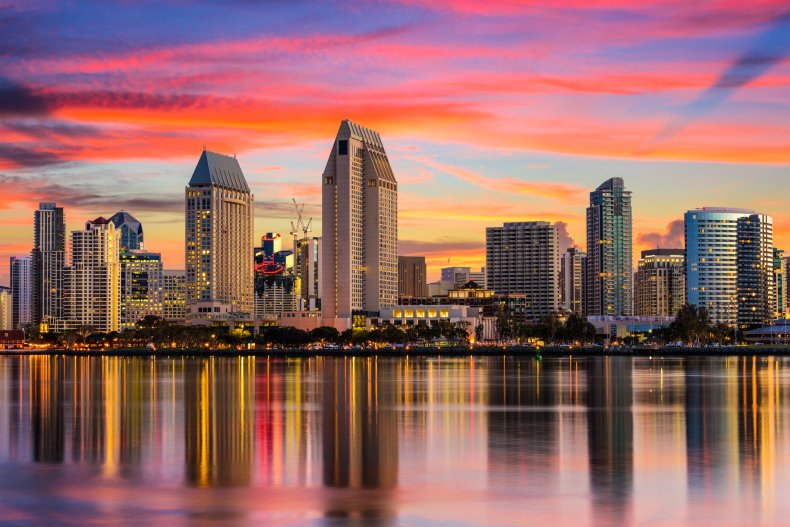 The city of San Diego is a big draw for business travelers, especially those in the healthcare, biomedical, and cleantech industries. This is one of the most efficiently run large cities in the U.S., which means residents and visitors alike can expect high-quality services and infrastructure. San Diego has 483 hotels and over 20,000 dining and entertainment establishments, with hotel rates averaging $201 per night.
San Diego International Airport is conventionally situated near downtown, just 3 miles and a short 15 minute drive away. The airport-to-downtown drive time is the fifth best among all the cities we evaluated. San Diego doesn't have great public transportation, with just 27 trips per capita each year. However, you can always zip around to meetings in an electric scooter. Many scooter companies are operating in the city after the San Diego City Council approved a permitting process for scooter companies.
9. Washington, D.C.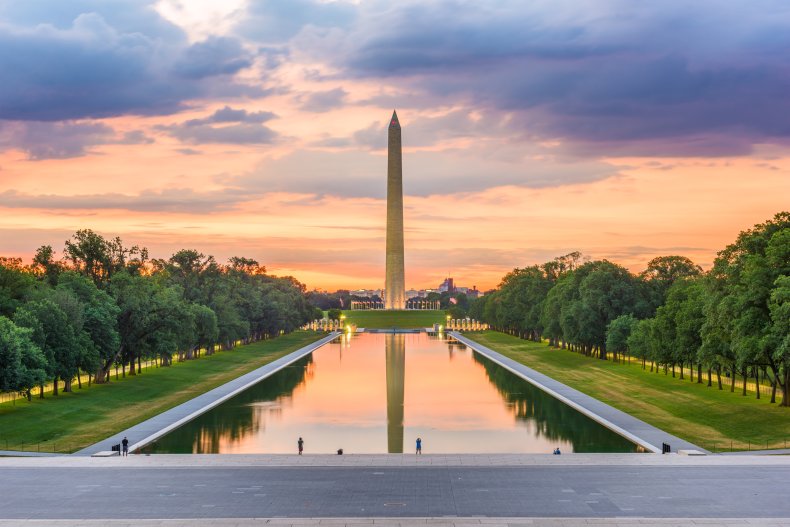 Most people view Washington, D.C. as a haven for government workers. The nation's capital is particularly important for government workers and federal contractors. However, D.C. also has a thriving hospitality, professional services, and retail scene.
Business travelers in D.C. will be able to choose from over 36,000 dining and entertainment establishments and 659 hotels. The average nightly rate for a hotel is a pricey $325. You have a choice of three airports, but getting to downtown D.C. from the largest airport—Dulles International—should take under an hour even in heavy traffic. If you'd rather get to your meeting or event by train, you're in luck. D.C. ranked as the fourth-best city for public transportation access.
8. San Francisco-Oakland* metropolitan area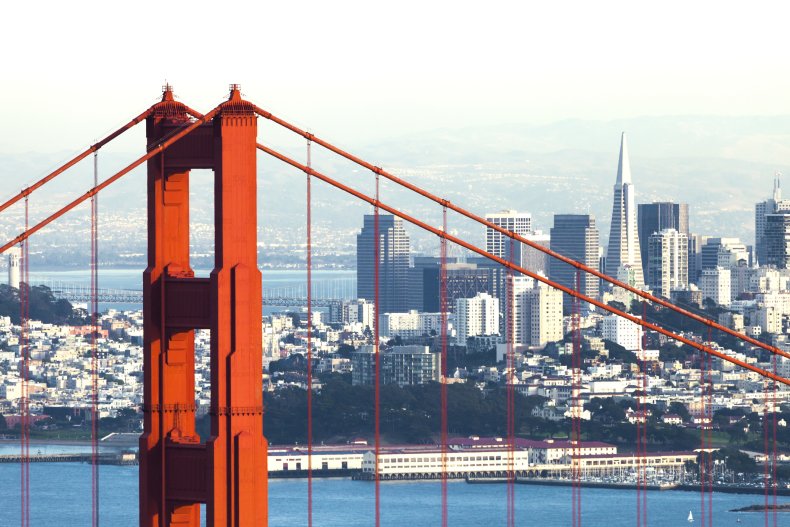 It won't come as a surprise to business owners in the technology space that San Francisco and Oakland are among the top ten best business travel destinations. However, it takes many people to fill the seats in a tech company. Workers in marketing, sales, and facilities often do more traveling than engineers.
San Francisco is not a big city in terms of size (it's about 47 square miles) or population, but it's densely packed and expensive. There are 708 hotels in the San Francisco-Oakland region. On the San Francisco side of the bay, hotels cost an average of $387 per night. For a less expensive stay, try Oakland, where the average hotel room costs just $242 per night.
This region has 37,000 dining and entertainment establishments. The drive time from the San Francisco Airport to downtown San Francisco clocks in at a reasonable 45 minutes even during rush hour. You can also use trains, buses, and scooters—and helicopter sharing if you have the budget, to get San Francisco and Oakland.
Interestingly, one Bay Area city that didn't make the cut is San Jose. San Jose is often labeled the unofficial capital of Silicon Valley because it's located near the biggest tech companies—Google, Facebook, and Apple. Recently, however, San Francisco and neighboring Oakland have been more aggressive in recruiting tech companies and attracting business talent.
*The Census also includes Hayward in this metropolitan area, but we didn't include Hayward in our analysis since it's not one of the fifty largest cities by population.
7. Atlanta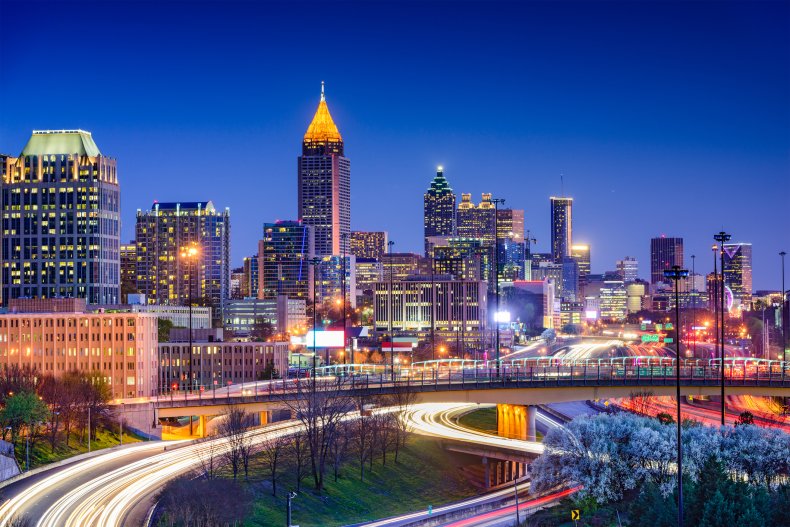 Atlanta is a good option for business travelers along the East Coast and in the South. Many trip planners set their sights on this city because Atlanta offers a combination of amenities and affordability. Visitors can choose from 842 hotels and over 32,000 dining and entertainment establishments. The nightly hotel rate averages $197, more affordable than seven of our other top 10 cities.
The Atlanta convention center is the third-largest among the cities we ranked, with 1.4 million square feet of dedicated exhibit space. Compared to New York and San Francisco, business travelers in Atlanta will also find it easier to get around the city. The airport is under 10 miles from downtown, a drive of about 45 minutes during rush hour. Public transit isn't a strong point for the city, but electric scooters are available to zip around Atlanta.
6. Miami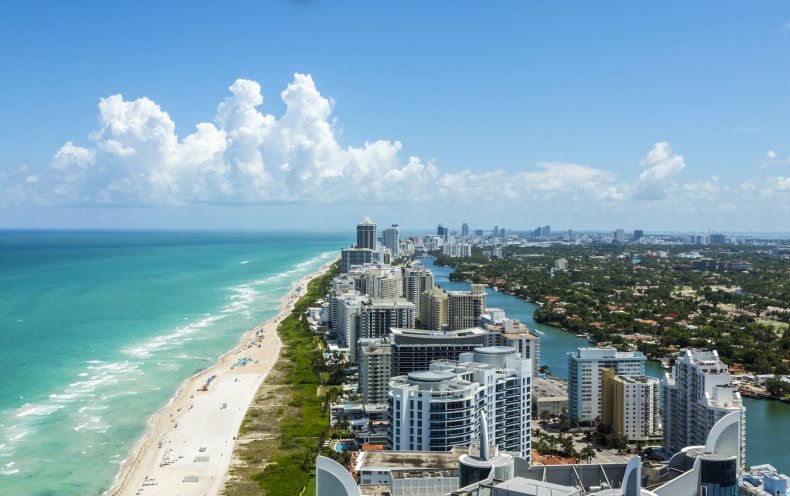 You might associate Miami more with beaches and parties than you would with a business meeting, but several factors make this city one of 2019's top business travel destinations. The city has 859 hotels, which go for an average of $209 per night. The number of dining and entertainment establishments—36,751—are disproportionately high for a 55-square-mile city, so there's no shortage of things to do with your team or with clients.
The Miami International Airport is fewer than 8 miles from downtown and a relatively short, half hour drive. As you might expect, car culture dominates in Miami. You won't have any problem finding a taxi or rideshare vehicle, but you can't always rely on public transit. Miami has a 500,000-square-foot convention center minutes away from beaches, you won't have trouble attracting a crowd for your next event. With more and more travelers mixing business and pleasure, access to a beautiful climate and beaches only enhances Miami's appeal.
5. Chicago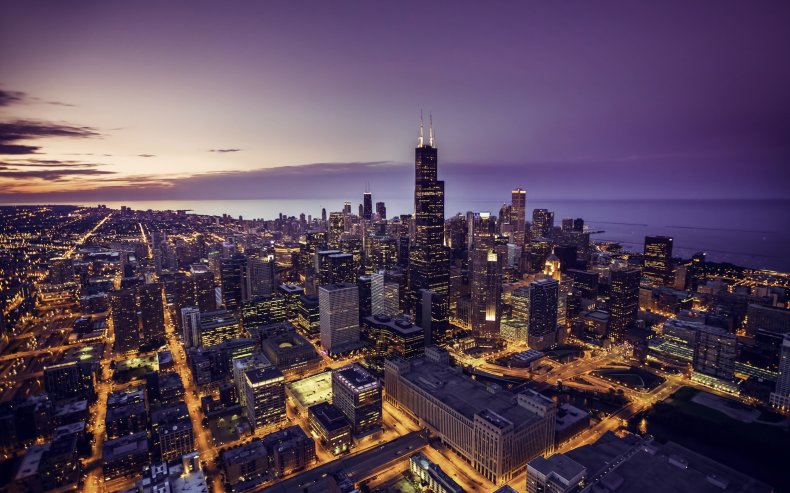 Chicago rounds out the top five business travel destinations of 2019. The city has 919 hotels and just under 60,000 dining and entertainment establishments. Hotels cost an average of $279 per night, the fifth highest rate in the U.S., so cost is an issue. Also, airport-to-downtown commute times can top 110 minutes during rush hour. Fortunately, Chicago ranked third for public transportation access, so a frustrated business traveler can opt to hop on a bus or train.
The biggest convention center in the country is located in Chicago, making this a standout city for business executives who want to host a conference or travel to attend one. McCormick Place has a whopping 2.6 million square feet of exhibit space. Over the next several months, the center will be hosting events by Salesforce, RetailX, the American Psychological Association, and the National Restaurant Association. No matter what industry your company is in, you can probably find an event or meeting venue in Chicago that meets your needs.
4. Houston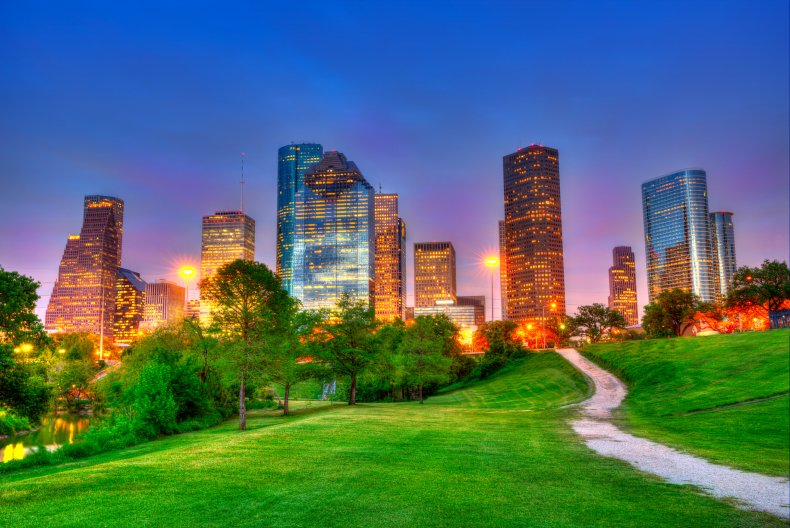 Texas performed really well in this year's rankings, with Houston ranking right behind its sister cities. Houston has 33,656 dining and entertainment establishments and 992 hotels. However, the city is a whopping 600 square miles across, so those hotels are spaced far apart from each other. We recommend business travelers choose accommodation close to downtown or wherever you'll be spending the most time.
Houston does pretty well on affordability and convenience factors. Hotels cost an average of $189 per night, just slightly ahead of the Dallas area. Despite the fact that Houston is so sprawling, getting from the airport to downtown only takes about 45 minutes in rush hour. Just don't rely on using public transit to get to your meeting, as Houston ranked in the bottom half of cities for public transportation access.
Interestingly, Houston was the only city in the top 10 without access to electric scooters. Electric scooters, rentable through an app, are rapidly becoming a popular way for tourists and business travelers to cover small distances.
3. Dallas-Fort Worth-Arlington metropolitan area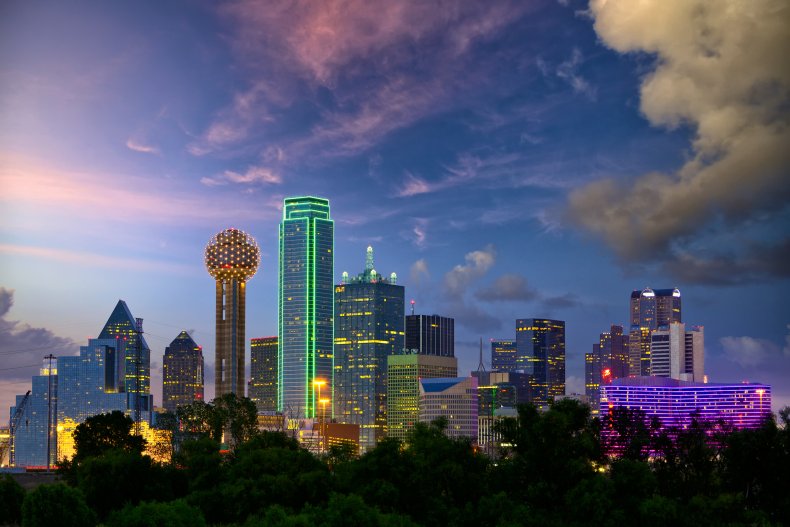 The sprawling region of Dallas-Fort Worth-Arlington, Texas is an economical and centrally located option for business travelers around the country. This region offers the best of all worlds in many ways. Finding a hotel or a place to dine your client shouldn't be a problem, with 1,053 hotels and almost 40,000 dining and entertainment establishments. Plus, the Dallas convention center has 1 million square feet of exhibit space, making it a great option for virtually any event.
The average nightly cost of a hotel stay is just $187.93, which is lower than even some less-populated cities like Miami and San Francisco. The Dallas Fort Worth Airport is 20 miles from downtown Dallas, but it takes just 40 minutes to reach downtown from the airport during rush hour. The primary downside with traveling to Dallas-Fort Worth-Arlington is the lack of good public transportation. The region is very sprawling, which makes it much more amenable to driving.
2. New York City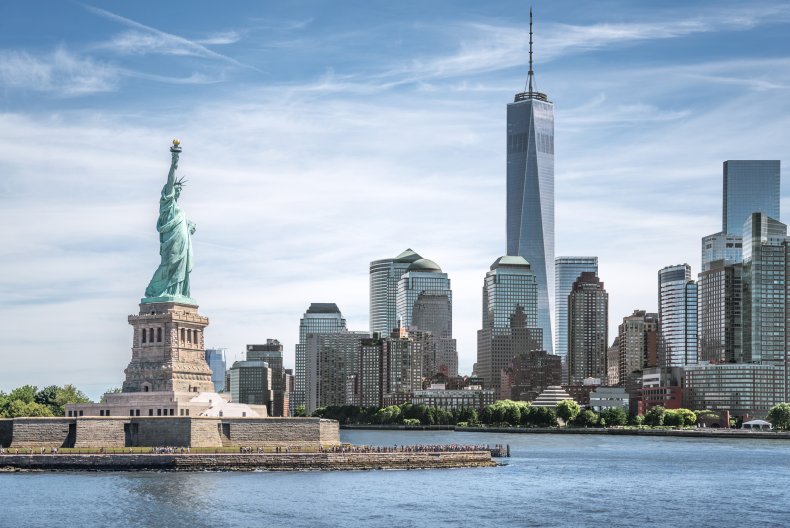 The Big Apple is the second-best city for business travelers this year. New York has 1,593 hotels, approximately the same number as Los Angeles/Long Beach, even though NYC is 60% smaller geographically. All those hotels—and NYC's 150,000 dining and entertainment establishments—are crowded into a relatively small, but densely packed, area.
New York hotels are the costliest in the country, at $393 per night on average. Commute times from Kennedy airport to lower Manhattan can average around 110 minutes during rush hour. However, savvy business travelers should consider taking the subway like the locals do. New York completes an average of 184 public transit trips per person per year, making it the best place in the country for public transportation. With a fare of $2.75 per subway ride, this is also a very economical way for small business owners to travel.
1. Los Angeles-Long Beach* metropolitan area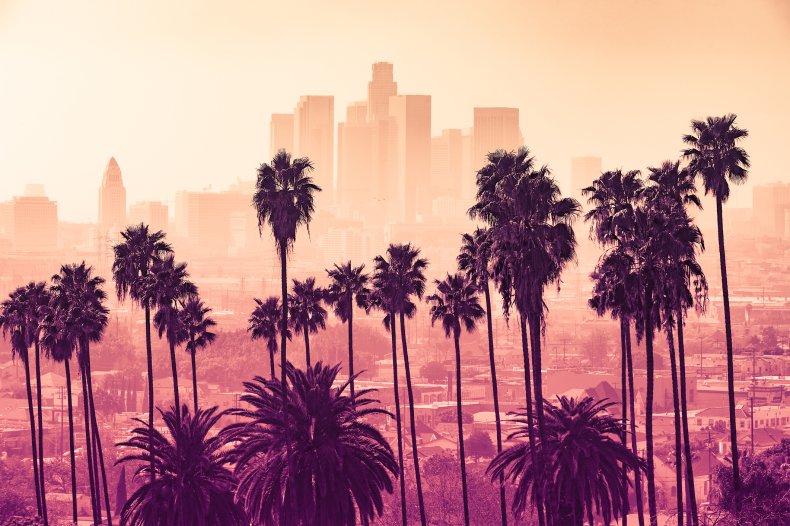 The Los Angeles-Long Beach metropolitan area tops our list of America's best places for business travel. This region shined in availability of hotels and dining and entertainment options. Based on Census data, there are 1,596 hotel rooms available in this region and over 100,000 dining and entertainment establishments.
Convenience and cost are downsides. Even though Los Angeles International airport is just 16 miles from downtown L.A., the drive can take more than an hour and a half during rush hour. Fortunately, the region does offer some alternative transportation options, including public transit, electric scooters, and even helicopter-sharing.
The average nightly cost of a hotel room in Los Angeles and Long Beach is $259, which is the eighth highest in the nation. Since accommodation is typically the second-biggest travel expense after flight costs, hotel expenses make Los Angeles-Long Beach a less likely option for budget-conscious small business owners, particularly for longer stays.
*The Census also includes Anaheim in this metropolitan area, but we didn't include Anaheim in our analysis since it's not one of the fifty largest cities by population.