The 10 Best New TV Shows to Watch on Streaming Services This January
If you have a case of the January blues, not to worry, Netflix, Hulu, HBO Max and Apple TV+ are ready to save the day.
With a host of new content such as the highly anticipated How I Met Your Mother sequel, How I Met Your Father on Hulu, and Apple's The Aftermath, you may just find your next TV addiction. There are also upcoming installments to much-loved shows such as Netflix's Ozark and HBO's Euphoria, ultimately leaving you spoilt for choice.
Here is Newsweek's recap of the biggest and best TV shows coming to streaming services in January 2022.
1. Harry Potter 20th Anniversary: Return to Hogwarts, January 1 — HBO Max
The year 2022 is already looking like a great year for Harry Potter fans across the world.
The cast and crew of the Harry Potter franchise have reunited to celebrate 20 years since the first film, Harry Potter and the Sorcerer's Stone.
In the spirit of the hugely popular HBO Max Friends Reunion, the entire cast of the Harry Potter films have shown up for the reunion, including Daniel Radcliffe, Rupert Grint, Emma Watson, Tom Felton, Matthew Lewis, Helena Bonham Carter, Robbie Coltrane, Jason Isaacs, Ralph Fiennes, Gary Oldman and Imelda Staunton...to name a few.
Join your favorite wizards as they bask in nostalgia, tears and laughs and look back on the movies and moments that changed their lives forever.
2. Euphoria Season 2, January 9 — HBO Max
After more than two years of waiting, Euphoria Season 2 is finally coming to HBO and HBO Max on Sunday, January 9.
The new season will pick up directly from the events of Season 1 and the two one-hour specials that aired in December 2020 and January 2021.
Fans will remember Jules (played by Zendaya) and Rue (Hunter Schafer) briefly reunited in Jules's episode "F*** Anyone Who's Not a Sea Blob," but didn't manage to rekindle their romance. Season 2 will see the star-crossed lovers try to live without each other, Rue return to rehab, and potentially find herself caught up in a crime.
Speaking to Teen Vogue, Zendaya teased that it was going to be a "difficult season" for her character Rue.
She said: "It's a challenging season. It's gonna be hard and it's gonna be devastating sometimes, but I think Rue really deserves all of that care when it comes to her character because I think she represents a lot for so many people. And I hope to make those people proud with our depictions of Rue [and] where all the characters go. I think this season's not going to be easy, though. It's not going to be a fun watch, I don't think."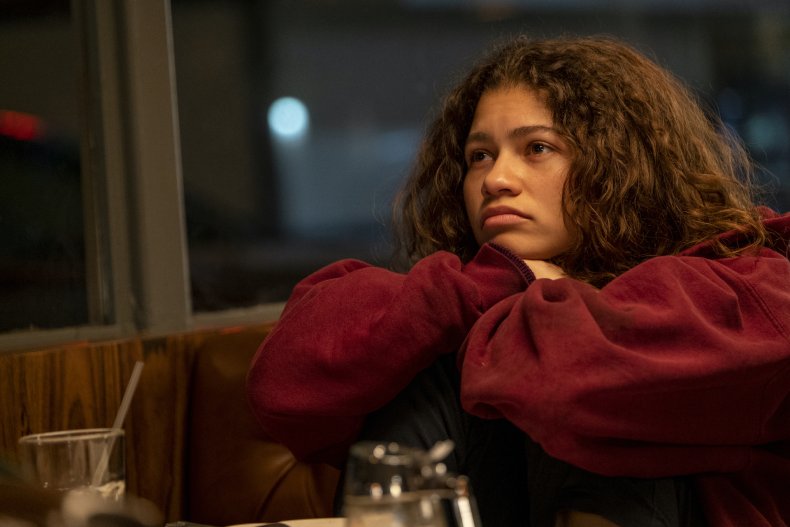 3. How I Met Your Father, January 18 — Hulu
How I Met Your Father is the highly anticipated sequel to CBS's How I Met Your Mother, which aired between 2006 and 2014.
The stand-alone sequel stars Hilary Duff as Sophie, a 20-something navigating her professional and love life in New York City and Kim Cattrall makes an appearance as the show's narrator, Sophie in the future.
Just like Ted (Josh Radnor) in the original series, Sophie will be telling her son the origin story of how she met his father. How I Met Your Father will look a little different from its parent show, considering the latter premiered back in 2006.
Starring alongside Duff in How I Met Your Father are Chris Lowell (Veronica Mars), Francia Raisa (Grown-ish), Tom Ainsley (The Royals), Tien Tran (Space Force), and Suraj Sharma (God Friended Me).
4. The Afterparty, January 28 — Apple TV+
Tiffany Haddish leads the cast of the hilarious murder-mystery series The Afterparty on Apple TV+.
The Afterparty centers around a murder mystery at a high school reunion, with each episode featuring a retelling of the same night, told through their perspective.
Starring alongside Haddish is Veep's Sam Richardson, Strangers star Zoë Chao, Parks and Recreation's Ben Schwartz, The Mindy Project's Ike Barinholtz, Broad City's Ilana Glazer, 21 Jump Street's Dave Franco, Fleabag's Jamie Demetriou, and Search Party's John Early.
5. The Woman In The House Across The Street From The Girl In The Window, January 28 — Netflix
Kristen Bell stars in this dark-comedy thriller on Netflix about a single woman who may or may not have witnessed a gruesome murder from her window.
The series title is an obvious parody of the films, The Woman in the Window starring Amy Adams, The House Across the Street starring Ethan Embry and Eric Roberts, and The Girl on the Train, starring Emily Blunt, so thriller fans are in for a treat.
However, with Kristen Bell at the helm, who is well known for her comedic roles, most recently The Good Place, and Will Ferrell serving as a producer, audiences are also in some for serious laughs.
6. Ozark Season 4, Part 1, January 21 — Netflix
The wait for the fourth and final season of Ozark is almost over.
Picking up from the nail-biting Season 3 cliffhanger, which saw Marty abducted by drug kingpin Omar Navarro (Felix Solis) and Wendy (Laura Linney) ordering a hit on her own brother Ben (Tom Pelphrey) to protect her immediate family, the story of the Byrdes is coming to an end with a 14 episode final season, split into two parts.
In a statement ahead of the final season, star Jason Bateman said: "A super-sized season means super-sized problems for the Byrdes. I'm excited to end with a bang(s)."
7. The Gilded Age, January 24 — HBO Max
Downtown Abbey creator Julian Fellowes is back with a brand new project, taking viewers into the world of the rapidly changing 1880s New York City.
Starring Louisa Jacobson, Carrie Coon, Cynthia Nixon and Christine Baranski, The Gilded Age follows the story of Marian Brook (Louisa Jacobson) who moves from Pennsylvania to New York City after the death of her father to live with her old-money aunts Agnes van Rhijn (Christine Baranski) and Ada Brook (Cynthia Nixon).
The synopsis teases: "Exposed to a world on the brink of the modern age, will Marian follow the established rules of society, or forge her own path?"
In true Downtown Abbey style, audiences can expect to see plenty of drama, politics, romance, sex, and betrayal at play in The Gilded Age.
8. The Righteous Gemstones Season 2, January 9 — HBO Max
Danny McBride, John Goodman, Edi Patterson and Adam DeVine are back as the dysfunctional televangelist and megachurch pastor family, the Gemstones.
The black comedy's second season will premiere on Sunday, January 9 at 10 p.m. ET, and audiences will be treated to two back-to-back episodes, hallelujah!
9. Afterlife Season 3, January 14 — Netflix
The third and final installment in Ricky Gervais's incredibly moving series Afterlife will drop on Friday, January 14 on Netflix worldwide.
The end of Afterlife Season 2 saw Tony (Ricky Gervais) suffer another loss, the death of his father (David Bradley) and once again, Tony's world was turned upside down.
The finale of Season 2 had a pretty mixed ending, filled with darkness and also hope. Tony was watching a video of his late-wife Lisa while holding a variety of tablets in his hand. Moments before he was about to potentially overdose, Emma (Ashley Jensen), who Tony has unresolved feelings for, appeared at his door.
Will Tony finally get the happiness he so deserves? Find out in Afterlife Season 3.
10. Getting Curious with Jonathan Van Ness, January 28 — Netflix
Queer Eye icon Jonathan Van Ness has gone solo with his own Netflix miniseries Getting Curious with Jonathan Van Ness.
Based on his podcast of the same name, Van Ness will let his curiosity lead the way as he throws himself into new experiences.
In each episode, Van Ness will ask burning questions, meet with experts and try something new.
The synopsis teases: "From skyscrapers to bugs, or from gender identity to snacks, each episode follows Jonathan as he meets with experts in various fields to uncover complexities in a wide range of subjects."