10 Best Restaurants in the East Village
The East Village has become a dining destination and the best restaurant neighborhood in Manhattan.
There once was a time when people gravitated to the East Village to buy drugs. Now they go there to eat really well. Over the last 15 years, the EV has become one of the best restaurant neighborhoods in the city. And it's not slowing down, as it keeps evolving in a delicious direction. If you can't figure out where to eat tonight, read on.
Chef Alex Stupak's casual taqueria is love letter to the al pastor taco – pork on a rotating spit that is shaved off into a tortilla and dolloped with a slice of pineapple, inspired by Lebanese immigrants' pita lamb kabob in Mexico 100 years ago. This bibulous spot shakes up a fine mezcal margarita. And while the namesake al pastor taco is good – though it doesn't compare to Los Tacos No. 1 in the Chelsea Market – the cheeseburger taco and the nachos are stellar here.
132 St. Marks Pl.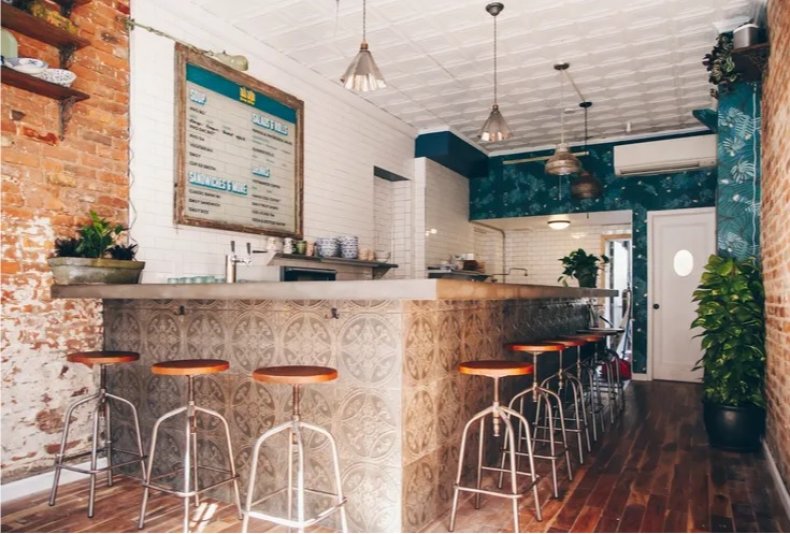 When the Vietnam War ended in 1975, thousands upon thousands of southern Vietnamese immigrated to the United States. And thus 99% of the Vietnamese restaurants in the US since then serve up southern Vietnamese fare. If you wanted to graze on the north, you had to take a trip to Hanoi. Not anymore. (Though we still think everyone should go to Hanoi.) Then Sara Leveen and Ben Lowell hired a mostly Vietnamese kitchen staff and opened up Hanoi House in the East Village in 2017. It was such a success – by far, the best Vietnamese restaurant in New York City – that in 2019 they opened up a sequel: the more casual Hanoi Soup Shop two doors down. The same incredible pho is served here, but Hanoi Soup Shop also makes an amazing, pork-licious banh mi and egg coffee, a northern Vietnamese staple. Daily specials include many northern Vietnamese noodle soups you simply won't find anywhere else but the north of Vietnam.
115 St. Marks Pl.
Since he first fired up its burners in 2003, chef Marco Canora's solidly reliable restaurant has been churning out admirable and delicious Tuscan fare in the East Village. If you're gluten averse, you're in luck: chef Canora doesn't offer a lot of pasta possibilities on his menu. Instead, he opts for simple, comforting delights like beef and ricotta meatballs, better-than-you'd-think warm sourdough bread and grass-fed butter, grilled sardines, and ultra-creamy burrata. On paper it might not sound like much but once it hits your palate, you'll know you're in the right spot.
403 E. 12th St.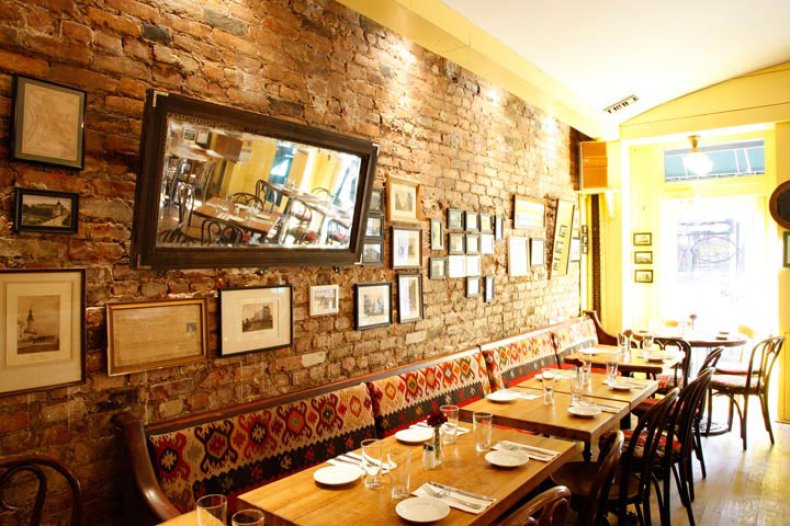 Americans' knowledge of global geography seems limited to countries its military has bombed. So that would mean we all should know where Serbia is, as US-led NATO forces went to town on the Balkan country in the late '90s. But if that's all you know about Serbia, it's time to get acquainted with its food and drink. This Serbian spot, deep into the East Village, is a charmer. Start off with some shots of šliva, an ubiquitous plum brandy in Serbia that is most often homemade, and then gobble up all the grilled meat your stomach will hold. It might not be for the Lipitor crowd, but Kafana is artery-hardening good.
116 Ave. C
It would be impossible to have a title of an article with the words "best" and "restaurants" and "East Village" without including a David Chang place. He has two other restaurants in the neighborhood: Momofuku Ssam Bar, the ambitious and haute Momofuku Ko. These are great eateries, but we choose Momofuku Noodle Bar because it was Chef Chang's first restaurant (opened in 2004) and because it has been so influential on restaurants in New York City and far beyond. The ethereal, revelatory pork buns – still so popular they're not even on the menu anymore – and the signature pork-y ramen are as good as ever.
171 First Ave.
In a city where good Neapolitan pizzerias have become a dime a dozen, Motorino tends to get overlooked at times by the pizzarati. It shouldn't. For years now, it's been charring and crisping incredible pizzas. The wine list has a number of affordable and drinkable bottles on it. The lunch special – a salad and any pizza on the menu for $15 – is quite a steal. There are also locations in Williamsburg and the Upper West Side.
349 E. 12th St.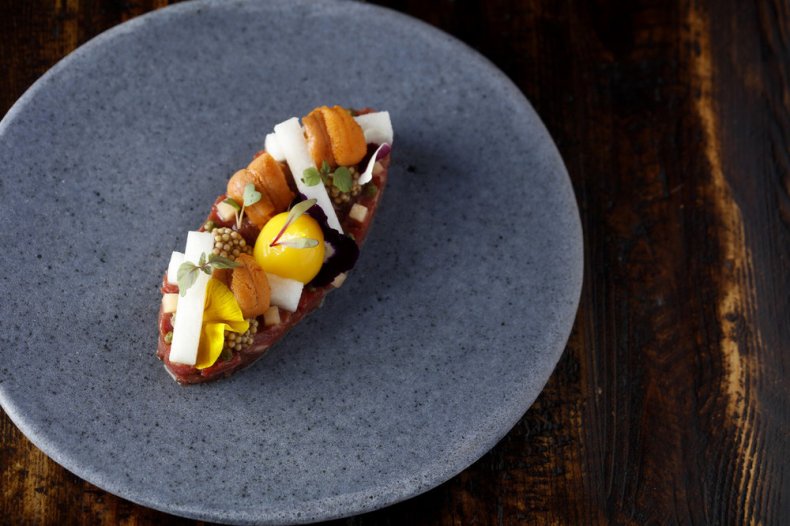 Modern Korean fare has come to the East Village. And diners are happy about it. Don't expect Koreatown fare here. This is creative and fun food. And oh so satisfying. Super tender and moist fried chicken. Fall-apart-at-first-touch slow-cooked oxtail. And, of course, the now-famed honey butter chips. Nearly everything on the menu should be stomach satisfying.
119 First Ave.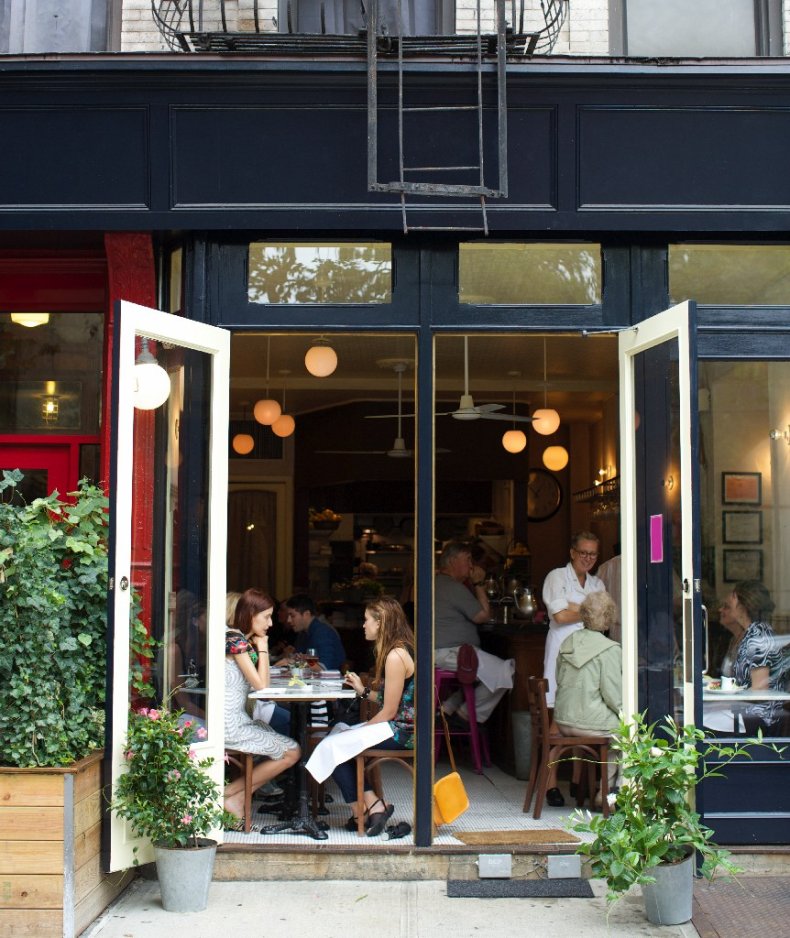 Your parents are in town and you want to take them to satisfying spot. This is it. Prune is chef Gabrielle Hamilton's culinary cathedral to New American cuisine. Brunch is a real thing here but you can't go wrong at lunch or dinner. It might even be cooler to eschew brunch for other Prune meals in a hipster sort of way. Chef Hamilton knows how to coax flavor out of every ingredient from market-fresh veggies to lamb – Prune is a seriously solid choice.
54 E. 1st St.
Once upon a time, you had to go to Queens to get excellent Thai food. Not any more. (Though Queens still has a handful of killer Thai eateries.) This Bangkok import serves up the cuisine of Isan, a region in northeastern Thailand. You won't see pad Thai or coconut milk-based curries on the menu here. Instead, you'll get incendiary green papaya salads and larb, ground meat salads that are complex and delicious.
85 Ave. A
This diminutive burger spot with its ironic name is the culinary baby to chef and one-time drummer in a Baltimore hardcore/emo band, Brooks Headley. He left his prestigious pastry chef gig at Del Posto to open this vegan/vegetarian burger spot. And this is no ordinary veggie burger. Even carnivores line up regularly to get their claws on the burger here. Try it. You'll be a loyalist too.
430 E. 9th St.