10 Best Sights in Bangkok, Thailand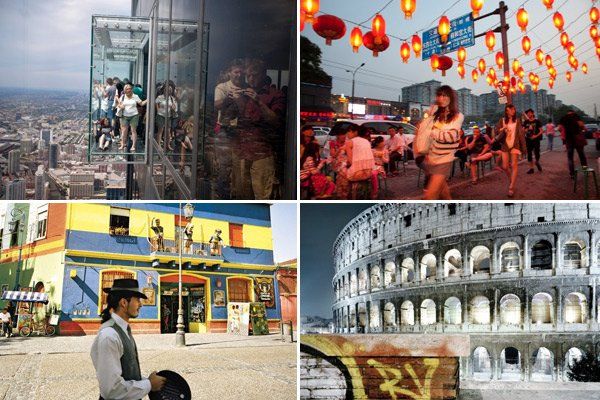 Grand Palace/Chao Phraya River
The Grand Palace, on the Chao Phraya River, has been the 213,600-square-meter official residence of Thai kings since 1782 and includes the Temple of the Emerald Buddha. Going by boat provides a ride along the river, which, with its wonderful sights and sounds, is itself a major attraction.
Maha Ratchawang, Phra Nakhon; Tha Tien or Tha Chang pier; grandpalacethailand.com
Wat Arun
Among the best of the city's temples (wats), this temple, also known as the Temple of the Dawn, is on the river's western bank (or the Thonburi side, as locals say). Wat Arun is a Khmer (Cambodian)-style pagoda, encrusted with tiny bits of multicolored porcelain, with steep stairs carved into its four sides that visitors may climb.
34 Arun Amarin Road, Bangkokyai district; Tha Tien pier, then ferry across the river; watarun.net
Chatuchak Weekend Market
Fans of Paris's Porte de Clignancourt orLondon's Portobello Road will appreciatethis sprawling, dizzying agglomerationof thousands and thousands of stallswhose wares range from Thai silk to bedding, jeans, CDs, DVDs, handmade shoes,home decoration, jewelry, ceramics,leathercraft, books, and food. Bargainingis de rigueur.
Kamphaeng Phet 3 Road; BTS Skytrain station: Mo Chit; MRT station: Kamphaeng Phet; chatuchak.org
Khao San Road
A haven for budget travelers and backpackers—and worthy of even high flyers—this enclave is awash in hostels, affordable hotels, cheap restaurants, street food, pubs, and bars. Popular with young itinerants, it has a carnival-like atmosphere and is known for its travel agencies that reputedly can secure visas to virtually anywhere.
Banglamphu area of Phra Nakhon district; Phra Arthit pier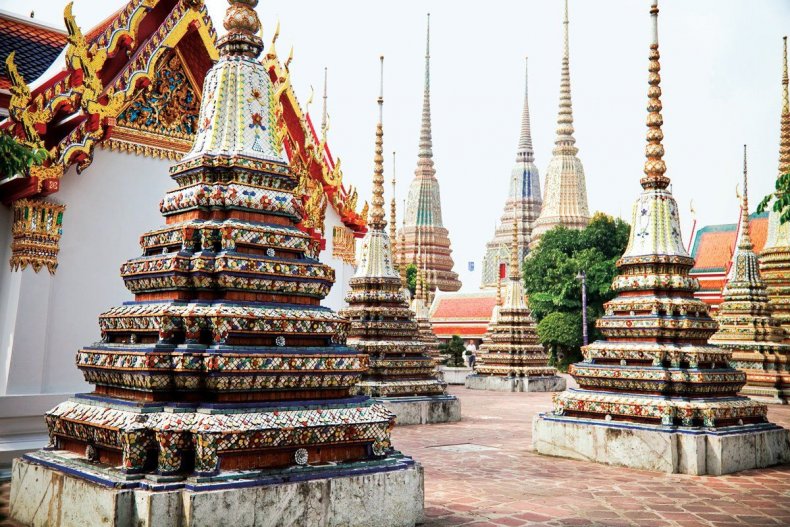 Wat Pho
This temple is noteworthy even among the city's legions of wats. The draw is the huge image of a reclining Buddha—it's about 15 meters high and 43 meters long. Some 108 bronze bowls, representing 108 auspicious characters of Buddha, are lined along a corridor for visitors and supplicants to drop coins.
248 Thai Wang Road, Phra Borom Maha Ratchawang, Phra Nakhon; Tha Tien pier; watpho.com/en/home
MBK Center
Bangkok's Ratchaprasong district is like a continual mall, stretching from Gaysorn Plaza to Central World to Siam Paragon to Siam Discovery. MBK Center, also in the continuum, is different: a mall overflowing with cheap, knockoff goods like that Prada bag you want—but not for $5,000. Get a copy here, for $200.
Corner of Rama I Road and Phayathai roads, Pathumwan district; BTS Skytrain station: National Stadium; mbk-center.co.th/en/home
Lumpinee Muay Thai Stadium
For those who have a passion for, or curiosity about, Thai boxing, consider this clamorous, somewhat rundown, slightly seedy enclave where young Thais compete in muay thai. The best practitioners are to be appreciated as canny pugilists as well as works of art, with their concave abs and sculpted bodies.
Rama IV Road, Pathumwan; MRT station: Lumphini; muaythailumpini.com/index1.html
Mandarin Oriental Hotel
One hundred thirty-five years since its opening, the Oriental remains exceptional. Apart from the sheer luxury, class, and history the hotel exudes, there are few better places for having a drink or a spot of tea alongside the lapping Chao Phraya.
48 Oriental Avenue; mandarinoriental.com/Bangkok
Chinatown
This chaotic district, also calledYaowarat, boasts the charms and smellsof Thailand's Chinese community, and isthe best place for gold—chains, bracelets,whatever. It isn't the 1990s, but deals arestill to be had. And street food is superb.Wat Traimit, with its golden Buddha, ishere. The Chinese New Year in Yaowarat?Fantastic.
Yaowarat Road/Sam Pheng Lane; Ratchawang Pier; bangkokforvisitors.com/Chinatown
National Museum
Built around an 18th-century palace, the museum—the largest of its kind in Southeast Asia—boasts art and artifacts dating from prehistoric times to the present. It is next door to Sanam Luang, which is also worth a look as the former cremation site for the nation's kings, queens, and "celestial" princes.
4 Na Phrathat Road, Phra Borom Maha Ratchawang, Phra Nakhon district; Maharaj Pier; bangkoksite.com/nationalmuseum/index.htm
10 Best Sights in Bangkok, Thailand | Culture