The 10 Cars to Buy Other Than the New Acura Integra
The 2023 Acura Integra arrives on U.S. roads this June after a 16-year absence. The five-door near-luxury hatchback sedan debuted with a non-fungible token (NFT) and wears the company's new front-end look.
Like its predecessor, it's offered with a six-speed manual for the enthusiasts, as well as an automatic transmission. Also like its predecessor, the new Integra is front-wheel drive only.
The company revealed the price last week, which means it's a good time to look at the competition. But first, here's what buyers get with the new Integra.
The reborn tall sedan with a hatch starts at $30,800. For that, buyers get a 1.5-liter turbocharged four making 200 horsepower. It returns 26 miles per gallon (mpg) in the city and 36 mpg on the highway.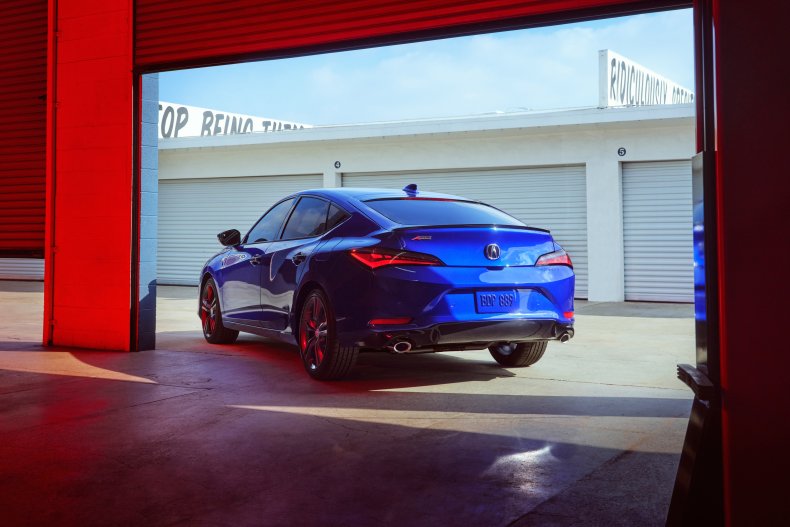 The 2023 Integra comes standard with a 10.2 digital cockpit, Apple CarPlay and Android Auto. Wireless app connect and 9-inch touchscreen are optional. A 7-inch touchscreen is standard.
These four and five seaters surround the new Integra in price, power and accoutrement. And though sedan sales are on the decline, there's still something for everyone.
2022 Honda Civic Si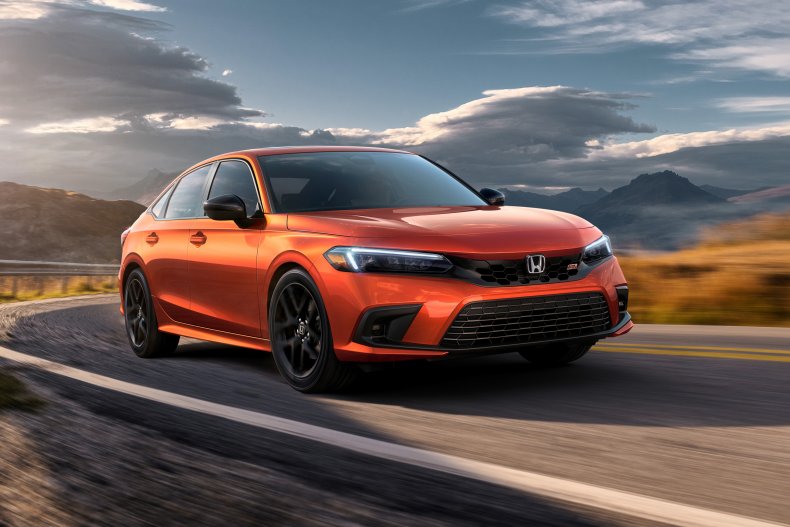 The new Civic Si, which shares the same platform as the Integra, comes in a little less expensive at $27,300, but uses the same powertrain. That means a turbocharged four-cylinder making 200 hp and 192 pound-feet of torque. It too is offered with a six-speed manual, as well as an automatic transmission.
The 2022 Civic Si sports a clean and industrial cabin with honeycomb mesh on the dashboard. It features dials for the important controls and more interior space than any previous Civic. If buyers really love the engine, but don't like the tall stance or hatchback, it's the best bet.
2022 Subaru WRX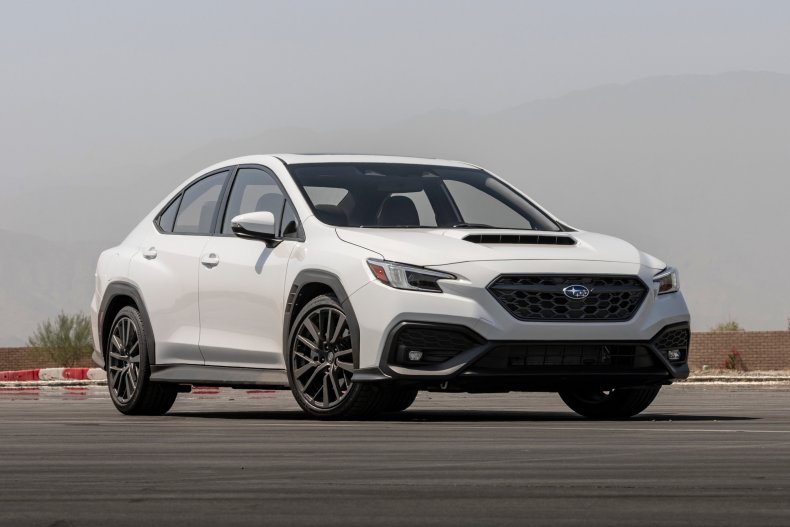 The new generation of the Subaru WRX debuted last year with the conspicuous absence of a high-performance STI version. Still, it delivers more output than the previous version at 271 horsepower, from a 2.4-liter horizontally opposed turbocharged four. The WRX returns 19 mpg in the city and 26 on the highway.
The 2022 WRX, only a sedan for now, wears the cladded bodywork of its Subaru Outback cousin and is only offered with all-wheel drive. It starts at $29,105 and features a 7-inch touchscreen. More expensive models come with an 11.6-inch screen.
2022 Hyundai Elantra N Line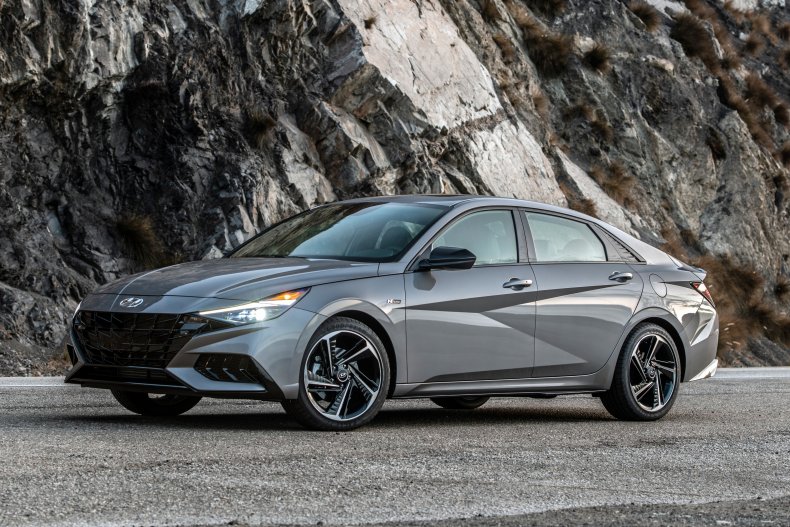 The midgrade sporty Elantra sedan features the company's new angular looks and a powertrain output that matches the Integra almost exactly. Its four-cylinder displaces 1.6 liters and delivers 201 horsepower. The N Line adds sporty exterior elements and sport tuning for the suspension, steering and engine mounts. If buyers need to go even faster, the full Hyundai N range awaits.
The 2022 Elantra N Line comes in at $25,700, so a little cheaper than the Integra, andreturns 25 mpg in the city and 34 on the highway. It comes standard with an 8-inch touchscreen, six speakers, rearview camera guidance, satellite radio and wireless Apple CarPlay and Android Auto.
2022 Genesis G70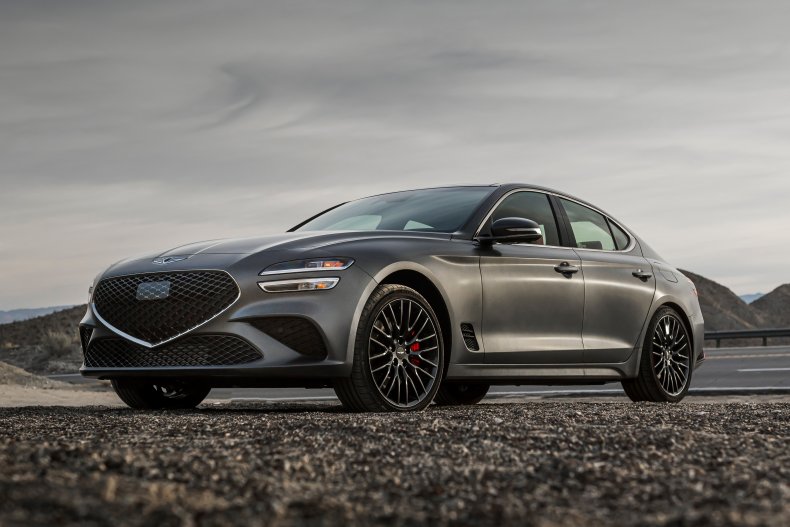 The larger Genesis G70 starts a bit more expensive than the Integra at $37,775, but buyers do get more for the premium. The base version comes with a 2.0-liter turbo four making 252 horsepower, all of which is fed to the rear wheels through an eight-speed automatic transmission. The combination is good for 21 mpg in the city and 31 mpg on the highway.
Push-button start, heated front seats with power, an 7-inch information display and an 8-inch touchscreen are all standard, as is Apple CarPlay and Android Auto. A bigger screen is optional with a better audio system. Head-up display, surround-view camera and wireless charging are also available.
2022 Lexus IS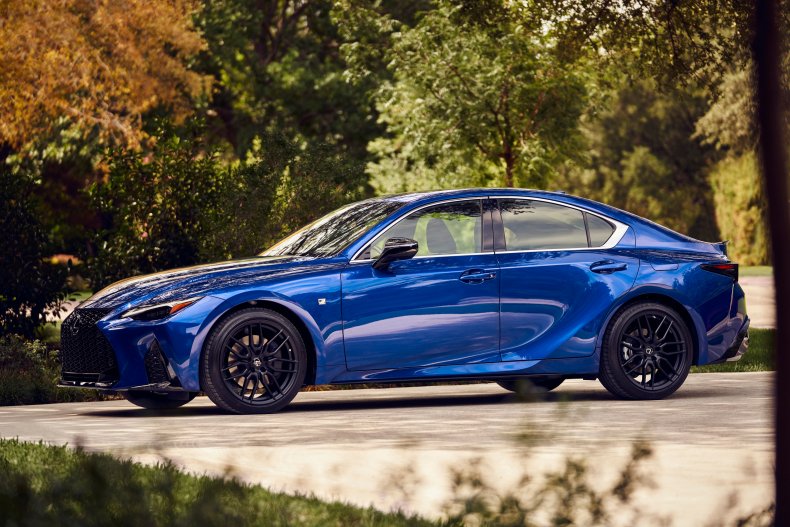 The 2022 Lexus IS also occupies the more luxurious end of the spectrum with a base price of $40,200. That gets buyers a 2.0-liter four-cylinder, which seems like the most common powerplant for this segment. It makes 241 horsepower and returns 21 mpg in the city and 31 on the highway.
The IS300 comes with rear-wheel drive and an eight-speed automatic transmission. All-wheel drive versions come with a six-speed automatic. The IS features a standard 8-inch touchscreen with a 10.3-inch version available on vehicles equipped with navigation or the Premium Audio Package. Apple CarPlay and Android Auto are standard.
2022 Volkswagen Jetta GLI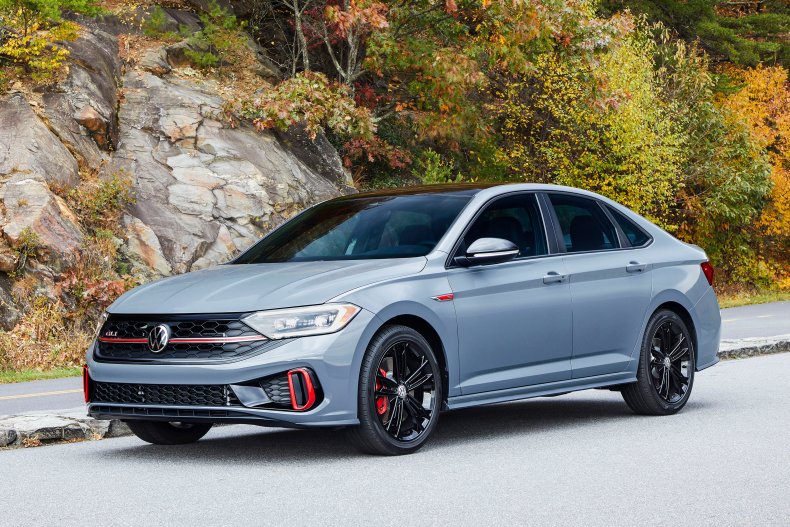 The Jetta GLI sedan is the quickest Jetta offered by VW and it comes in just a few hundred bucks more than the Integra at $31,295. The interior accommodations aren't as luxurious, but the Jetta does have more output at 228 horsepower. It's offered with a six-speed manual or eight-speed automatic transmission and only in front-wheel drive.
The IQ.Drive system is standard on the GLI and includes VW's Travel Assist (semi-automated driving assistance), forward collision warning, blind spot monitor, rear traffic alert, adaptive cruise control, lane keeping and Emergency Assist, which helps in case of a medical emergency.
2022 Kia Stinger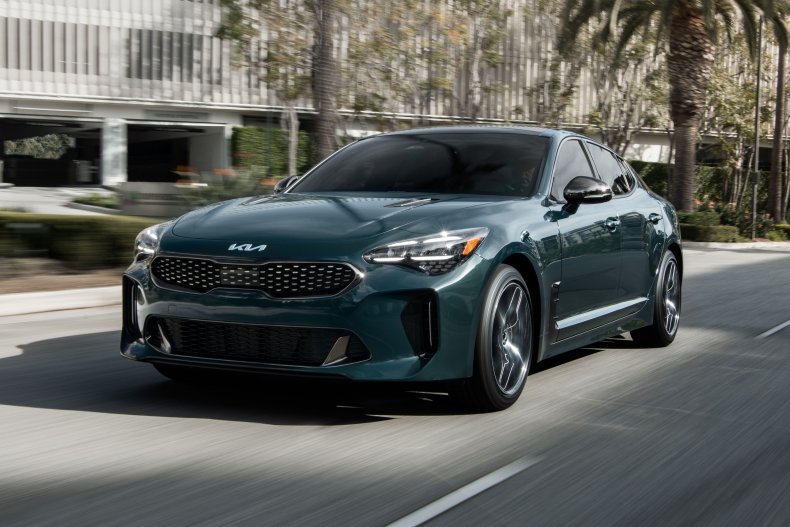 Those who want a little more sport than the Integra can provide would be wise to check out the Kia Stinger sedan. The rear-drive, five-passenger vehicle features a 2.5-liter turbocharged four-cylinder engine making 300 horsepower. That's 45 more than last year's 2.0-liter, but it keeps the same fuel mileage rating at 22 mpg in the city and 32 mpg on the highway.
The Stinger comes in rear- or all-wheel drive with an eight-speed automatic transmission. Inside, buyers get a standard 10.25-inch touchscreen display with navigation and Android Auto and Apple CarPlay, plus Bluetooth, split-screen functionality and a wireless charger for compatible smartphones.
2022 Toyota Camry TRD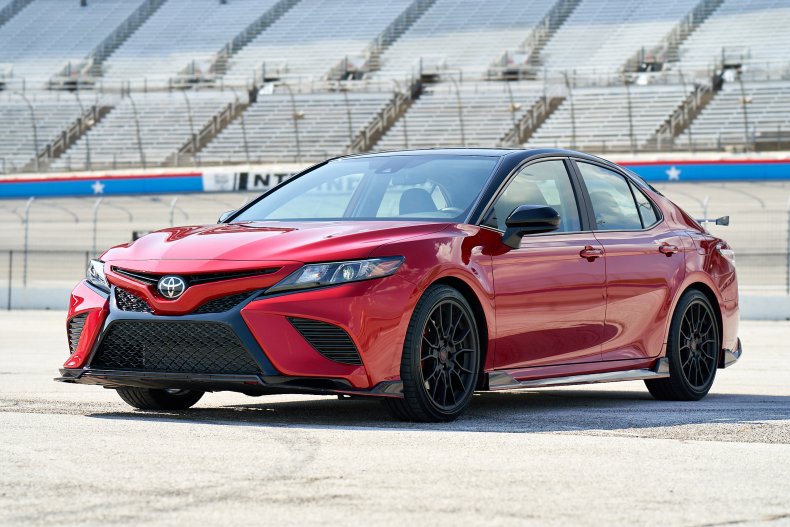 The Toyota Corolla matches the Acura Integra more in size, but it's the Camry sedan that will make a better comparison. The sport-focused TRD trim starts a little higher than the Acura at $32,460. It also offers more space and more power. It's 3.5-liter V6 delivers 301 horsepower to the front wheels through an eight-speed automatic transmission. All-wheel drive is optional.
Base Camry models get a 7-inch touchscreen while upgraded models get a 9-inch screen. The system features Android Auto, Apple CarPlay and Amazon Alexa, as well as a free three-month trial of satellite radio. Voice control and wireless music streaming are both included, though the music is only via Bluetooth.
2022 Infiniti Q50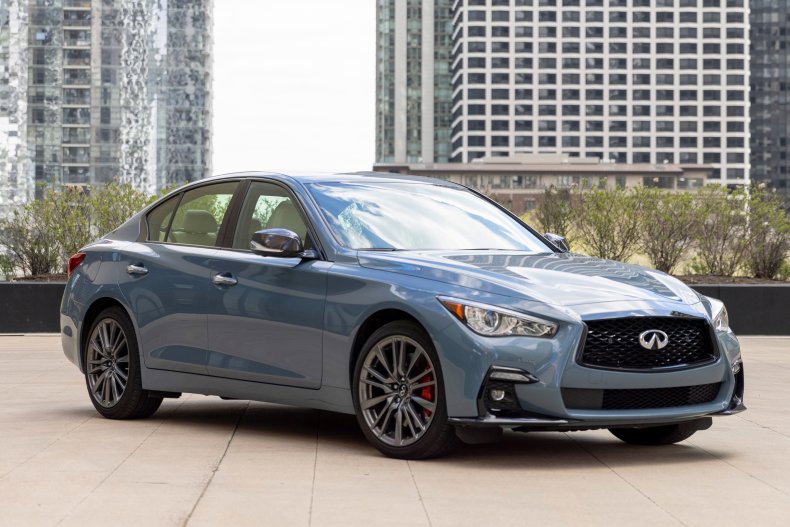 Like the Lexus, the Infiniti Q50 sedan might be a budget stretch at $42,100, but it will serve the same purpose as the Acura Integra, minus the hatchback. It's one of the most powerful on this list with a twin-turbo 3.0-liter V6 delivering 300 horsepower. Rear-wheel drive is standard and all-wheel drive is optional, both with a seven-speed automatic transmission.
The Q50 comes standard with leather-wrapped seats, power-folding outside mirrors with reverse tilt-down, a dual-occupant memory system, power lumbar support, push-button start and a Bose audio system. It comes with two touchscreens, one for climate and one for infotainment.
2022 Alfa Romeo Giulia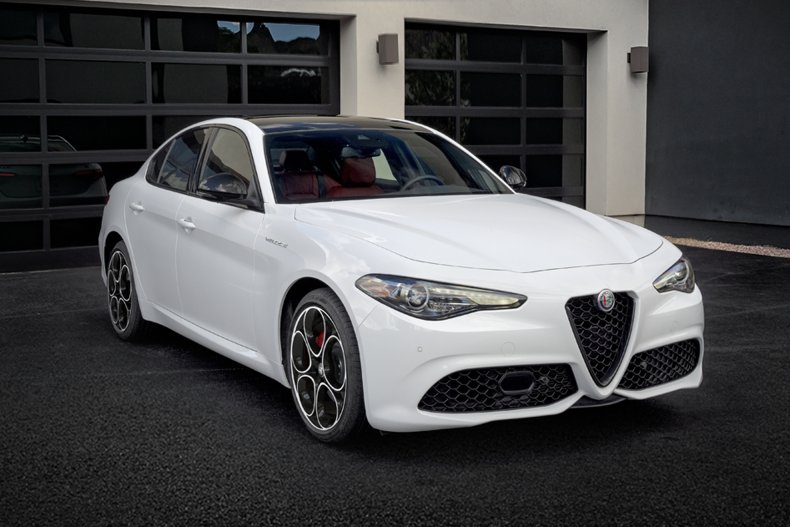 The Alfa Romeo Giulia also falls on the expensive side of the ledger, but the Italian-bred sedan brings the exact type of sportiness that the Integra excels in. They both look and feel like luxury cars. The base Alfa comes in at $42,950 with a 2.0-liter, 280-horsepower turbocharged four. It comes standard in rear-wheel drive, but all-wheel drive is available. It gets 24 mpg in the city and 33 on the highway.
The Giulia comes with an 8.8-inch center touchscreen display with driver-configurable widgets. Performance pages show your power, g-forces and more while the system features a new expanded navigation view. A 7-inch thin-film transistor (TFT) driver instrument cluster screen is also included.