10 Die From Consuming Hand Sanitizer Because They Couldn't Find Liquor, Police Say
At least 10 people have died in India after consuming hand sanitizer because they could not find liquor during a coronavirus lockdown, police officials said.
Police found the alcohol-based sanitizers in at least 20 homes in Kurichedu, a village in the Prakasam district of the Indian state of Andhra Pradesh.
"At least 10 people have died so far in the last three days. We found empty as well as unopened sanitizer bottles in these houses. Family members confirmed that the victims were consuming it in place of liquor," Prakasam District Superintendent of Police Siddharth Kaushal told The Indian Express.
Officials have identified nine of the 10 deceased, who ranged in age from 25 to 65. Most of the victims were daily-wage laborers and beggars, Kaushal said. In addition to postmortem reports for all of the deceased, police are seeking toxicology reports to determine what exactly was in the hand sanitizer, he added.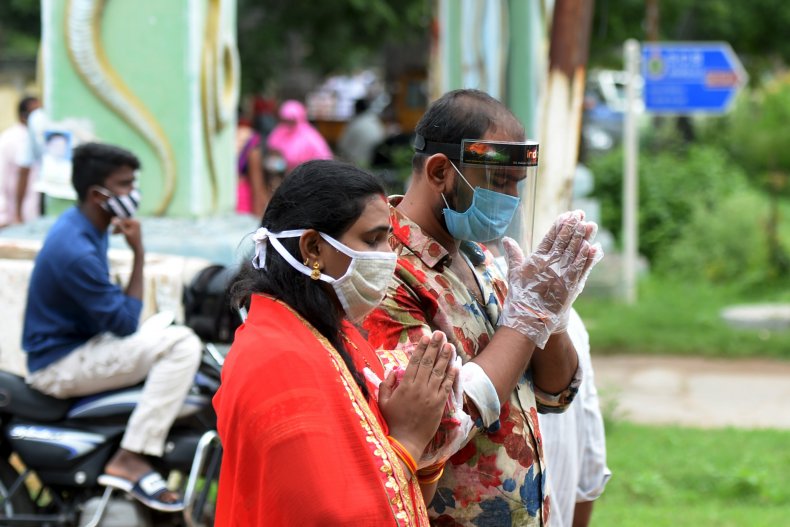 Law enforcement officials confirmed that the victims had mixed the hand sanitizer with soda or water, as liquor stores are closed because of a lockdown in Kurichedu to help contain a recent spike in coronavirus cases.
Andhra Pradesh reported more than 10,000 new cases Wednesday. As of Friday, July 31, there have been at least 1,638,800 confirmed coronavirus cases in India, with the country seeing its single-day record of new cases, 55,078, according to a New York Times database.
The victims were gathering behind a temple in the village for at least the past eight to 10 days to consume the hand sanitizer mix, police said. Family members of the deceased told police that the victims complained of vomiting, severe stomach pain and burning sensations, and that they eventually became unconscious after drinking the sanitizer.
The first victim, P. Srinu, collapsed Wednesday night after complaining of severe stomach pain. Srinu died the next day at Darsi's government hospital but was able to tell police beforehand about people drinking the hand sanitizer, the Express reported.
Maddisetty Venugopal, a member of India's legislative assembly for the town of Darsi, confirmed that the victims had consumed hand sanitizer in place of alcohol.
"Owing to reduction in the number of alcohol shops as per government policy and closure of some shops due to the COVID-19 situation and containment zones, liquor is not available," Venugopal told the Express. "Some people, including several beggars, purchased sanitizers and consumed it. While some fell ill and passed away, a few have been moved to hospital, where they are recovering."
Venugopal appealed to those who might be consuming the sanitizer mix to go to rehabilitation centers if they have an alcohol addiction.
Newsweek reached out to Venugopal for further comment but did not hear back in time for publication.