10 Gaming Keyboards and Mice to Up Your Game
Gaming is up a whopping 75% due to people self-isolating and being ordered to stay at home during the COVID-19 outbreak. While many of those responsible for this increase are likely avid gamers, it's also a great time for new gamers to get started. While isolating can be tough, gaming provides a great way to stay in touch with friends and even make new friends.
As long-time gamers are aware, the gear you use—namely keyboards and mice — can really have an effect on your gameplay. Gaming keyboards offer up faster switches (the component beneath the key you press), which results in your in-game commands being executed faster. A good gaming mouse, on the other hand, will offer up higher DPI levels, allowing you to move and turn faster — a must-have in first-person shooters like the ever-popular Fortnite and the latest Call of Duty.
Without further ado, we've compiled a list of five gaming keyboards and five gaming mice, which we've previously reviewed (or are currently reviewing), that will help you up your game!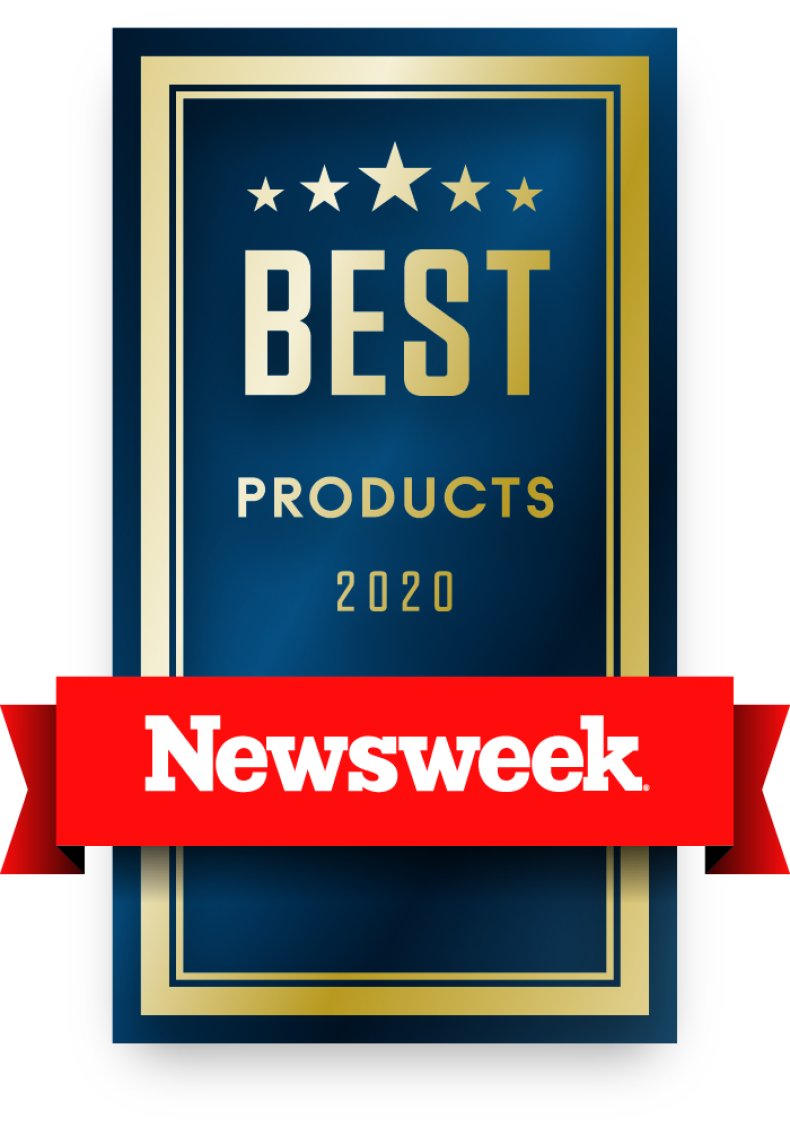 HyperX Alloy Origins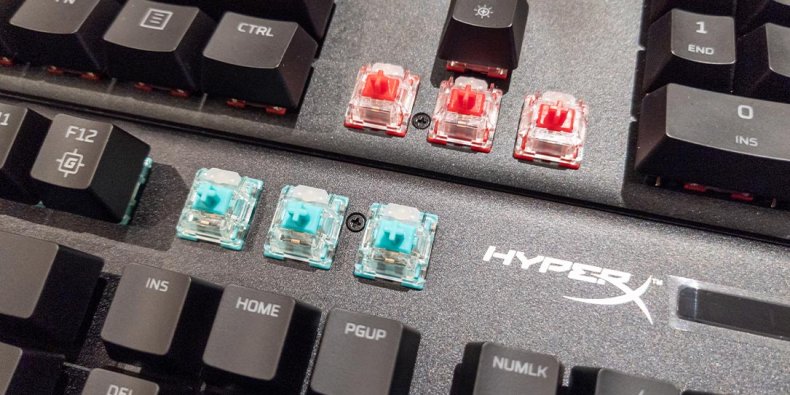 HyperX is Kingston Technology's gaming brand of headsets, solid-state drives, keyboards, and mousepads. They also have a massive 30,000 square-foot multi-level HyperX Esports Arena in Las Vegas where gamers can blow off some steam against each other or attend tournaments for various games like Overwatch.
The HyperX Alloy Origins mechanical gaming keyboard is just one of the company's gaming keyboard offerings. With a sleek aluminum housing, this RGB LED backlit keyboard is available with either HyperX Red linear or HyperX Aqua tactile switches. The Red linear switches offer up nice, smooth keypresses while the Aqua tactile switches deliver a nice subtle bump when depressed. Both styles have a low travel and actuation point, meaning the computer registers the keypress with very little force on the key. Like most keyboards, the Alloy Origins also offer 100% anti-ghosting and N-key rollover for even more accuracy and to prevent missed keystrokes. You can pick either version up on Amazon for $109. Read the full review on Techaeris, where they received a 9.3/10 rating.
Razer Huntsman Tournament Edition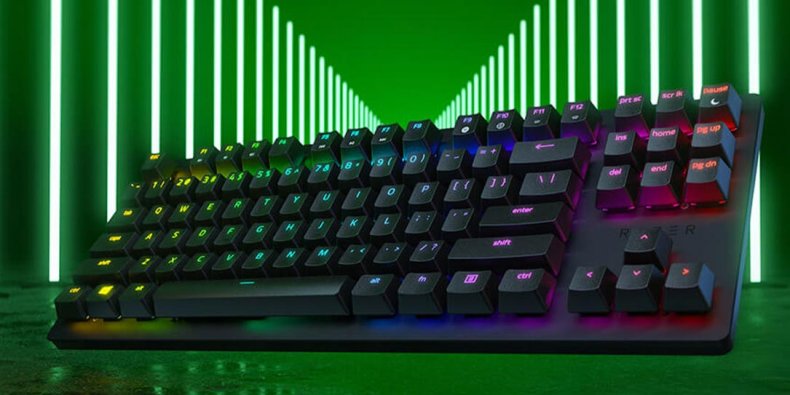 Razer. If you're a gamer, you've definitely heard of the gaming company which has a triple-snake logo. Razer is like the Apple of gaming gear, with a focus on quality gaming products, including the Razer Blade laptop series, gaming keyboards, mice, controllers, and more.
The Razer Huntsman Tournament Edition TE is just one of the company's Huntsman lineup. Featuring new Razer Linear Optical Switches, this keyboard has an actuation point of 1.0mm — among the lowest of any gaming keyboard out there. The Huntsman TE was developed and tested by Team Razer Esports athletes, so you know you're getting some tried and true competitive gaming gear here. Unlike your typical keyboard, the Tournament Edition has a compact form factor known as the tenkeyless design. This design still drops the number pad in order to allow gamers to position their mouse and keyboard closer together for even more focused gaming. You can pick up the Razer Huntsman TE on Amazon for $129.99. Techaeris hasn't reviewed this one as of yet, but have found other Razer keyboards to be great gaming keyboards.
The Apex Pro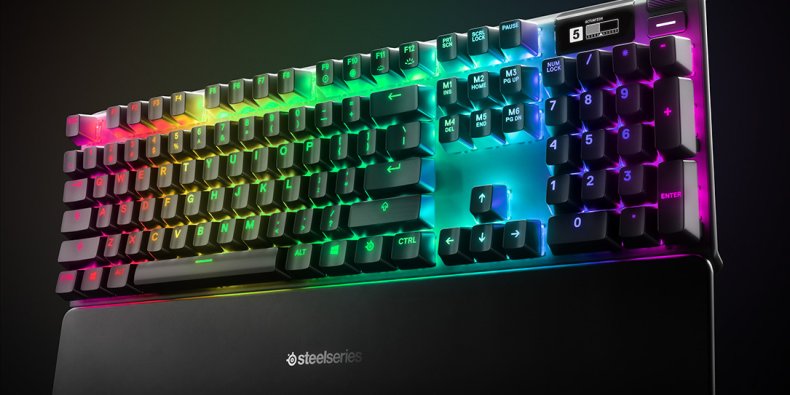 SteelSeries is another popular choice when it comes to gaming gear. Founded and headquartered in Denmark, the company manufactures headsets, keyboards, mice, and mousepads for gamers. Techaeris has reviewed SteelSeries keyboards in the past and can't wait to get their hands on the latest from the company: the Apex Pro.
The Apex Pro brings a level of customization to mechanical gaming keyboards that is quite impressive. Different switches have different actuation points and travel distances. When gamers purchase a keyboard, they take this into consideration. However, different games or tasks may work better with different actuation points. The Apex Pro is the first keyboard to offer up adjustable mechanical switches, allowing gamers to adjust the actuation point from between 0.4mm to 3.6mm, depending on their preferences. Even better? Gamers can set this on a per-key basis so you can have some keys that trigger faster and others slower. The keyboard also features the typical RGB backlighting, custom profiles, and has an OLED Smart Display. The Apex Pro will set you back a bit, however, and is available on Amazon for $199.99.
ROCCAT Vulcan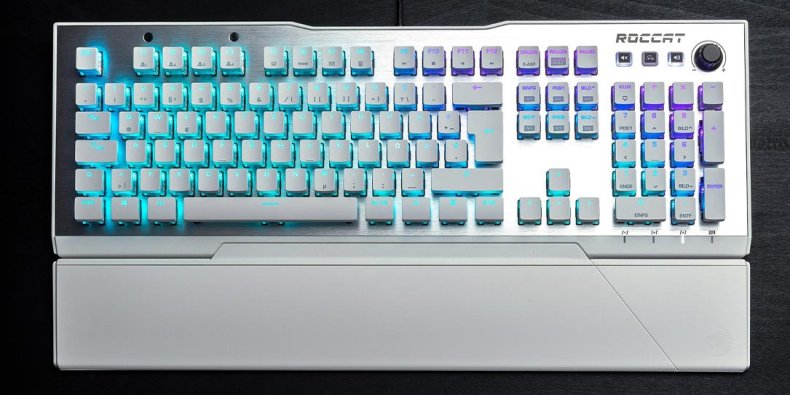 ROCCAT is a company you may not have heard of, but that's okay. A German-based company, they were recently acquired by Turtle Beach — a company you've likely heard of. While Turtle Beach focused mainly on headsets, the ROCCAT purchase is giving the company a chance to break into the North American market.
The ROCCAT Vulcan AIMO mechanical gaming keyboards come highly rated on Amazon with most, if not all, enjoying a 4.5/5 rating from gamers. The Vulcan keyboards use the company's own Titan Switches which offer up an actuation point of 1.8mm and a travel distance of 3.6mm. Unlike other keyboards with full taller keycaps, the Vulcan keyboards have a shorter keycap on a transparent switch housing to allow for more of the RGB backlighting to shine through. Many of the ROCCAT Vulcan keyboards also come with dedicated media control buttons and a volume knob. Techaeris will be adding ROCCAT keyboard reviews to their list of products shortly, so stay tuned on their site for future reviews.
HyperX Alloy FPS Pro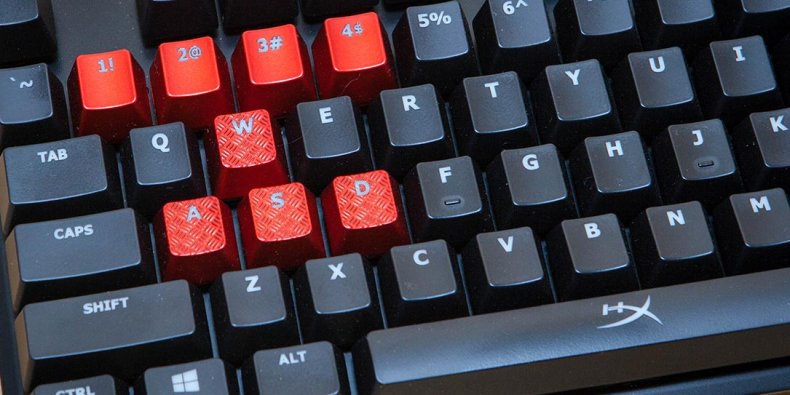 The second HyperX product to make this list is the HyperX Alloy FPS. While the Alloy Origins uses HyperX's proprietary switches, the FPS series use the long-time industry leader CHERRY MX switches. These switches offer 2.0mm actuation points with 4.0mm of total travel and come in Red linear, Blue clicky, and Brown tactile switches.
Unlike the Alloy Origins, the Alloy FPS goes for a simpler approach to gaming with red-only LED backlighting. It still offers up a dedicated Game Mode which disables specific keys, like the Windows key, from functioning while gaming, as well as N-key rollover, and anti-ghosting. The HyperX FPS boasts a full-size layout while the FPS Pro, our preference, has the number pad-less, tenkeyless design. The HyperX FPS Pro is an older model, but that means you can snag it for $69.99 on Amazon. Read the full review for the HyperX FPS on Techaeris, where it was rated a high 9.6/10.
Gaming Mice
Razer DeathAdder V2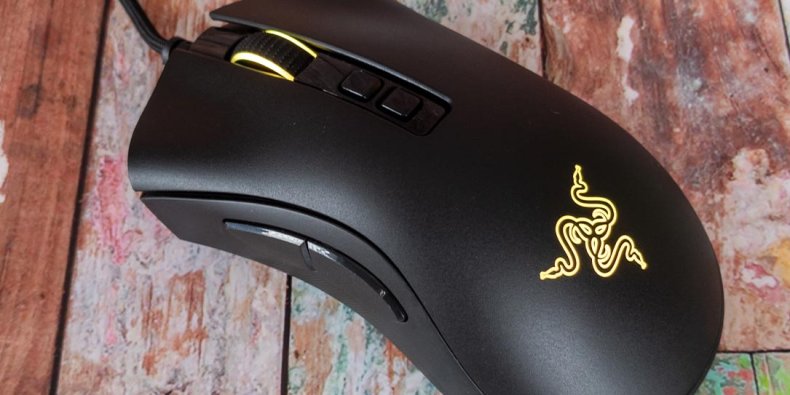 My first recommendation for a good gaming mouse comes from Razer. The Razer DeathAdder is the company's most popular mouse with over 10 million units sold over the years. The Razer DeathAdder V2 is their latest iteration, and it comes with some welcome upgrades.
For starters, the DeathAdder V2 comes with the Razer Focus+ Optical Sensor which boasts a whopping maximum DPI of 20,000. The new Razer Optical Mouse Switches have a very responsive 0.2 millisecond actuation rate. Rated for 70 million clicks, so you know this mouse should last you for a while. Another update to Razer's popular gaming mouse is the Speedflex Cable. This cable is light, has greater flexibility, and doesn't catch on edges and corners easily, providing more fluid control of your mouse. You can grab the Razer DeathAdder V2 for $69.99 on Amazon. Be sure to check out the full review on Techaeris where it received a 9.3/10 rating.
HyperX Pulsefire Dart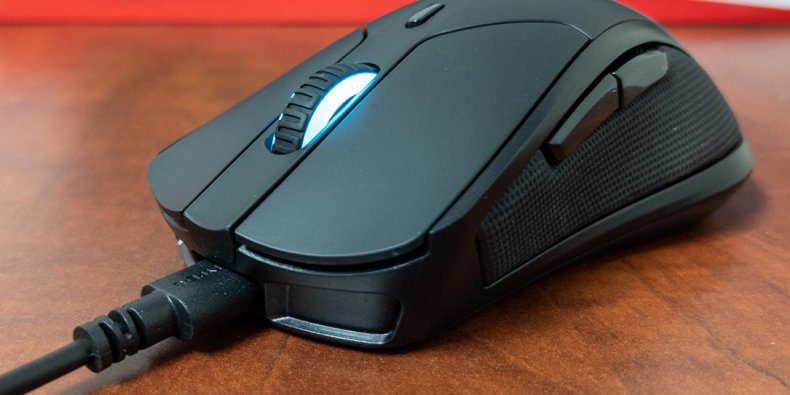 It's no surprise that HyperX is on this list as well. While most gaming mice are wired, meaning they plug into your computer or laptop with a USB cable, wireless gaming mice are making strides as well. Typically speaking, wired gaming mice are more responsive, but their wireless counterparts are catching up.
A professional gamer might not want to pick up a wireless gaming mouse, but for most gamers the HyperX Pulsefire Dart is a great option — especially if you already have a Qi charging pad or pick up the ChargePlay Base to wireless charge two of your Qi devices at once. The HyperX Pulsefire Dart can be found on Amazon for $99.99. Read the full review on Techaeris where it was rated 9.2/10.
SteelSeries Sensei 310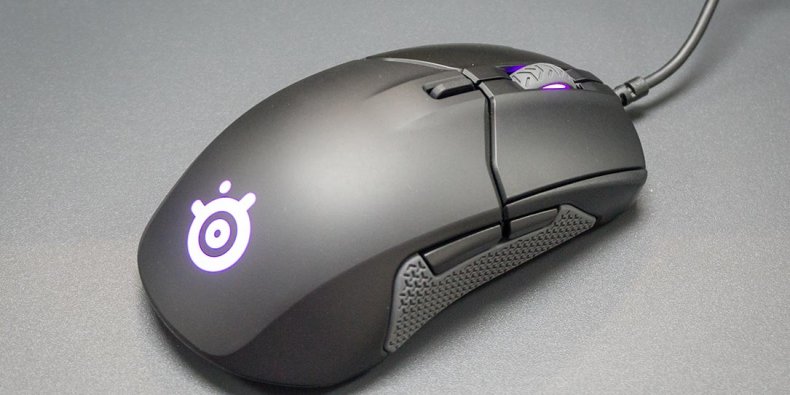 While most gaming mice are manufactured for right-handed users, there are a few left-handed and ambidextrous mice. The SteelSeries Sensei 310 is an ergonomic, ambidextrous gaming mouse with a "true 1-to-1 eSports gaming mouse sensor." With the two regularly positioned mouse buttons with Omron switches on the top, it also features two programmable buttons on either side of the mouse.
While it doesn't have as high a maximum DPI as the other mice on the list, 12,000 is still more than plenty. The key feature of the Sensei 310 is that it can be used with either your right or left hand and is equally comfortable in both. Being an older offering, it's also very affordable, available for $49.99 on Amazon. Be sure to head over to Techaeris and read the full review.
Razer Basilisk V2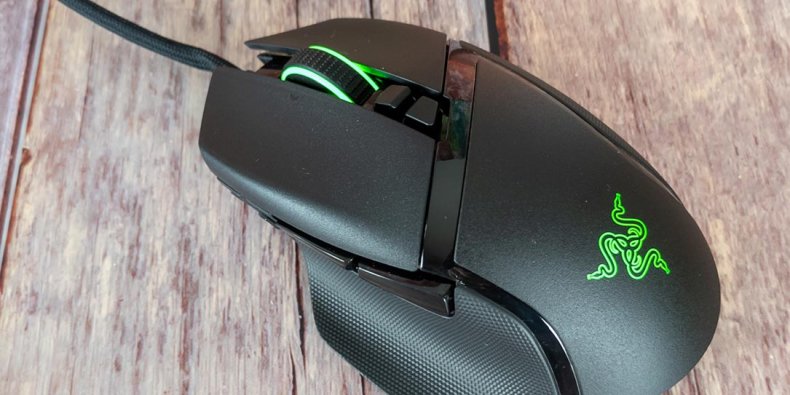 The second Razer mouse on our list is also a recent update from the company. The Razer Basilisk V2 offers the same customization as the Razer DeathAdder V2 but with some additional features. It features the same 20,000 DPI Razer Focus+ Optical Sensor, Optical Mouse Switches, and Speedflex Cable. In addition to two programmable buttons on the left side, it has a third multi-function paddle for even more functionality. The left side also curves out at the bottom, allowing you to comfortably rest your thumb on it.
The Razer Basilisk V2 is available on Amazon for $79.99 and is worth every penny. Not only does it have some great upgrades, but it is super comfortable and works well for productivity tasks as well. You can read the full review over on Techaeris where this Editor's Choice earned a near perfect 9.8/10 rating.
HyperX Pulsefire Raid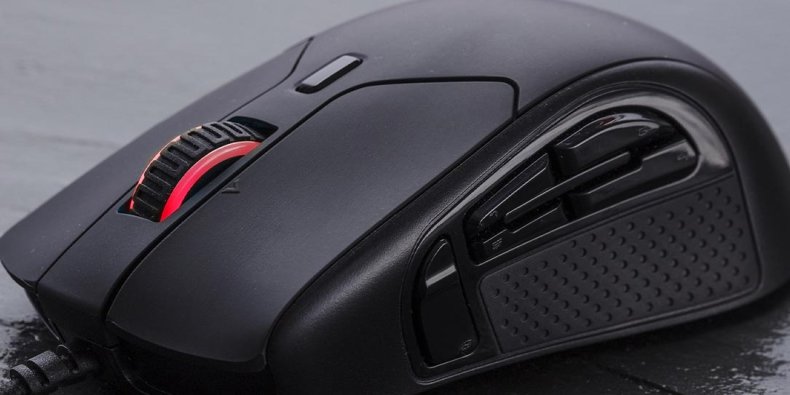 Finally, the last gaming mouse on our list is another from HyperX. The Pulsefire Raid is very similar to the Pulsefire Dart, only in wired form and with more buttons. With 11 programmable buttons, you can customize it to perform a number of quick actions in game. The Pixart 3389 optical sensor allows gamers to adjust the DPI up to 16,000 for smooth motion and aiming.
With ergonomic side grips, this comfortable mouse is a great choice for MOBA, MMO, and battle royale gamers. The HyperX Pulsefire Raid is available on Amazon for $59.99. Check back on Techaeris for the full review soon.
BONUS: Mouse Pads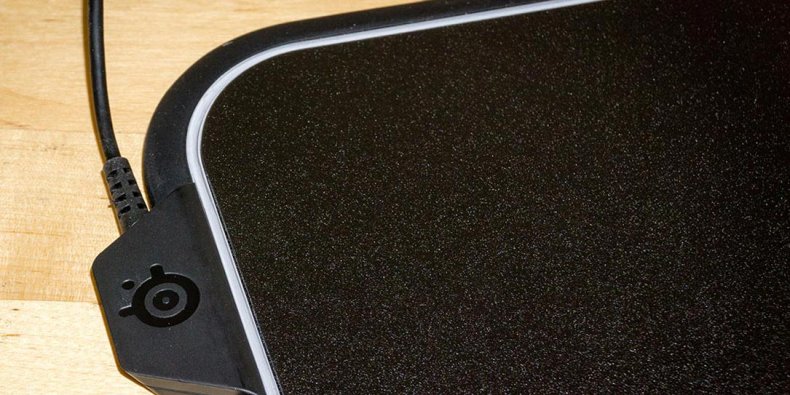 I'd be remiss if I didn't cover mouse pads alongside a selection of gaming mice. A good mouse pad can also improve your mouse's performance, especially if the software like Razer Synapse 3 supports customization based on different mouse pad surfaces. There are many different types, some with soft surfaces and some with hard, and some even have fancy LED lighting to jazz up your gaming area. Be sure to check out some of the mouse pad offerings from Razer, SteelSeries, and HyperX.
Whether you're new to gaming or a gaming veteran, hopefully you found this list useful. Given the number of manufacturers out there, there are plenty of options with different features and at different price points. For more gaming gear reviews, be sure to check out Techaris' gaming review section on its website.
--
Jason Bouwmeester is the Senior Editor at Techaeris. Follow him on Twitter, @JustAnotherJay. You can also follow Techaeris on Twitter, @Techaeris, and be sure to visit its website for the latest tech reviews and news.
Newsweek has affiliate partnerships and may earn revenue from purchases using our links.