Ten people have been confirmed as injured Wednesday in a Dippin' Dots factory explosion—the second of its kind within two years.
The explosion occurred Wednesday afternoon at a factory owned by Dippin' Dots in Paducah, Kentucky. Robin Newberry, a Paducah Police spokeswoman said 10 people were injured and were transported to two local hospitals, Baptist Health Paducah and Mercy Health Lourdes.
"This is a terrible accident, which occurred at our contract manufacturing facility and did not involve our headquarters and ice cream production facility," read an official statement from the company that was emailed to Newsweek. "We are working with local officials and have contacted state and federal authorities in preparation for a complete investigation. We are grateful for the response of first responders who helped on many levels this afternoon."
"We continue to focus on the well-being of our employees – that's our top priority...Even though the incident did not affect our manufacturing and distribution of Dippin' Dots products, we are deliberate in resuming production, which will happen soon," Dippin' Dots CEO Scott Fischer said in a separate statement emailed to Newsweek.
Although the nature of their injuries is not clear, all 10 patients were able to check out and walk out of the building unassisted.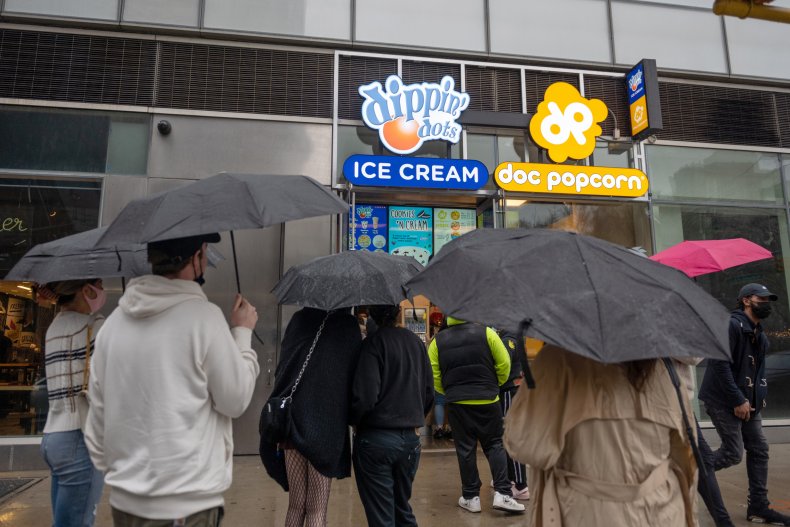 Liquid nitrogen was reportedly being unloaded from a truck when the explosion took place, according to Newberry, but no further details about what caused the explosion were available at press time.
The factory where the explosion took place is not where they make the actual ice cream product. Instead, it's a location where ingredients for a third-party product are produced.
Wednesday's events likely feel painfully familiar to high-ups at Dippin' Dots, as the company made headlines for a similar explosion at the same facility in 2019.
In the November 2019 explosion also at the Paducah facility, four employees were injured in an explosion. The exact details remain unclear, but at the time, Paducah city spokeswoman Pam Spencer said the plant had a nitrogen leak. Nitrogen is used to flash-freeze the company's novelty ice cream product.
Dippin' Dots Vice President of Administration Steve Heisner told reporters after the 2019 incident that the company's first priority was making sure all employees were accounted for and "ensure that they're safe." He also referenced having the structural integrity of the building looked at.
Fischer said the explosion occurred in a production area.
"At this moment what is most important to us is our employees," Fischer said in an official press release, "especially our four team members who were injured last night."
Dippin' Dots, as their website explains, are "tiny beads of ice cream, yogurt, sherbet and flavored ice," and were invented in 1988 by microbiologist Curt Jones, who had knowledge in the area of cryogenic technology. Although Dippin' Dots do not contain liquid nitrogen, which is considered a "hazardous" material by the Occupational Safety and Health Administration's standards, it is used in their manufacturing process.
Update (07/22/2021, 08:59 pm ET): This story was updated to include a new statement from CEO Scott Fischer.