10 Missing Children Found in Ohio's Largest Sex Sting, 161 People Arrested
Ten missing children have been found after Ohio authorities conducted the state's largest anti-human-trafficking operation.
The sting, titled Operation Ohio Knows, resulted in the arrests of 161 people looking to buy sex. Among those apprehended were a home improvement contractor, a city council member, a firefighter and a pilot.
The pilot, who made over $200,000 per year, bargained to have the price for sex reduced to $15. Another suspect was taken into custody by law enforcement with a 2-year-old in the car.
"I shake my head and can't believe those stories," state Attorney General David Yost said at a press conference Monday. "It happens everywhere. A professor, a city council member. This is not something that happens down the hood in a city. It's in every county, it's in every town. This is happening all over Ohio."
The weeklong sting involved over 90 federal, state and local law enforcement agents. The departments also partnered with nonprofit organizations throughout the operation.
Three of the people arrested sought to buy sex from minors. Fifty individuals, men and women, offering to sell sex were also arrested.
Most of the people have been charged with engaging in prostitution, which is a first-degree misdemeanor. During the investigation, officers also identified and charged people possessing illicit drugs or firearms.
Authorities identified 51 potential human-trafficking victims during the statewide operation. The potential victims were provided aid from health care and social services groups after they were interviewed by law enforcement.
"I will not rest until no one in Ohio buys or sells human beings," Yost said.
Ten missing children were also recovered during a simultaneous operation carried out by the U.S. Marshals Service, according to the state attorney general's office.
The Southern Ohio Marshals Service Task Force was asked by local law enforcement to follow up on leads for 16 missing children in cases of elevated risk. The agents were successful in locating nine of the children in the areas of Dayton, Cincinnati and Columbus. The Columbus Police Department also found one of the missing during the operation.
"We are continuing to work with our local partners on locating the remaining six children," the task force said in a statement provided to Newsweek by the U.S. Marshals Service. "In each of the cases where children were located, they were either turned over to the local law enforcement agency or children's services in the area."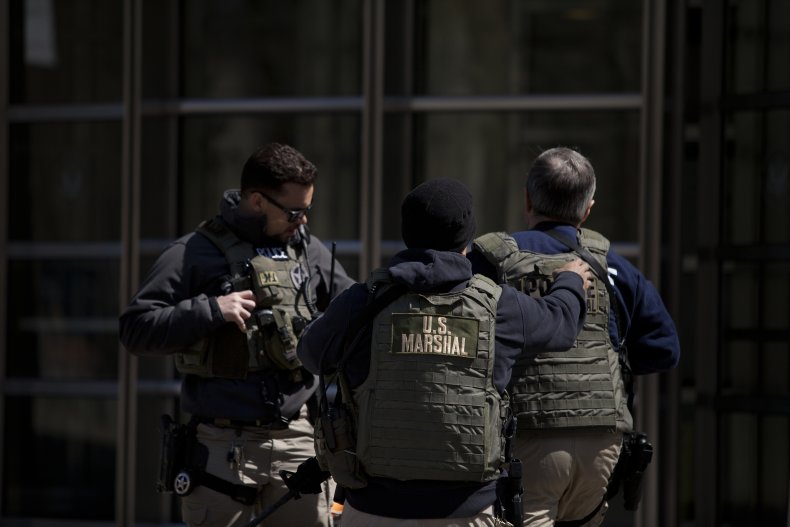 Columbus Police Chief Elaine Bryant on Monday praised the work done by law enforcement but said, "We cannot arrest our way out of this situation."
The chief also noted that the Columbus City Council voted 5-2 last month to increase penalties for those caught purchasing sex in the area. The money collected from the fines will be put into a "Victims of Human Trafficking Fund," which will go toward supporting shelters, medical treatment and counseling services for victims.
"This ordinance is aimed to hold offenders accountable as well as assist the victims," Bryant said at the press conference.
One survivor, Maddie Knight, said Monday that she personally "never had a bad experience with law enforcement" when she was being trafficked.
"Had I not been arrested, had I not gone to jail and had I not suffered some consequences for the decisions I was making, I wouldn't be here today and I wouldn't be as successful in life," Knight said.
Update (10/4/2021, 4:30 p.m. ET): This story has been updated with additional information from the U.S. Marshals Service.