The 10 Most Unforgettable Sports Moments of 2015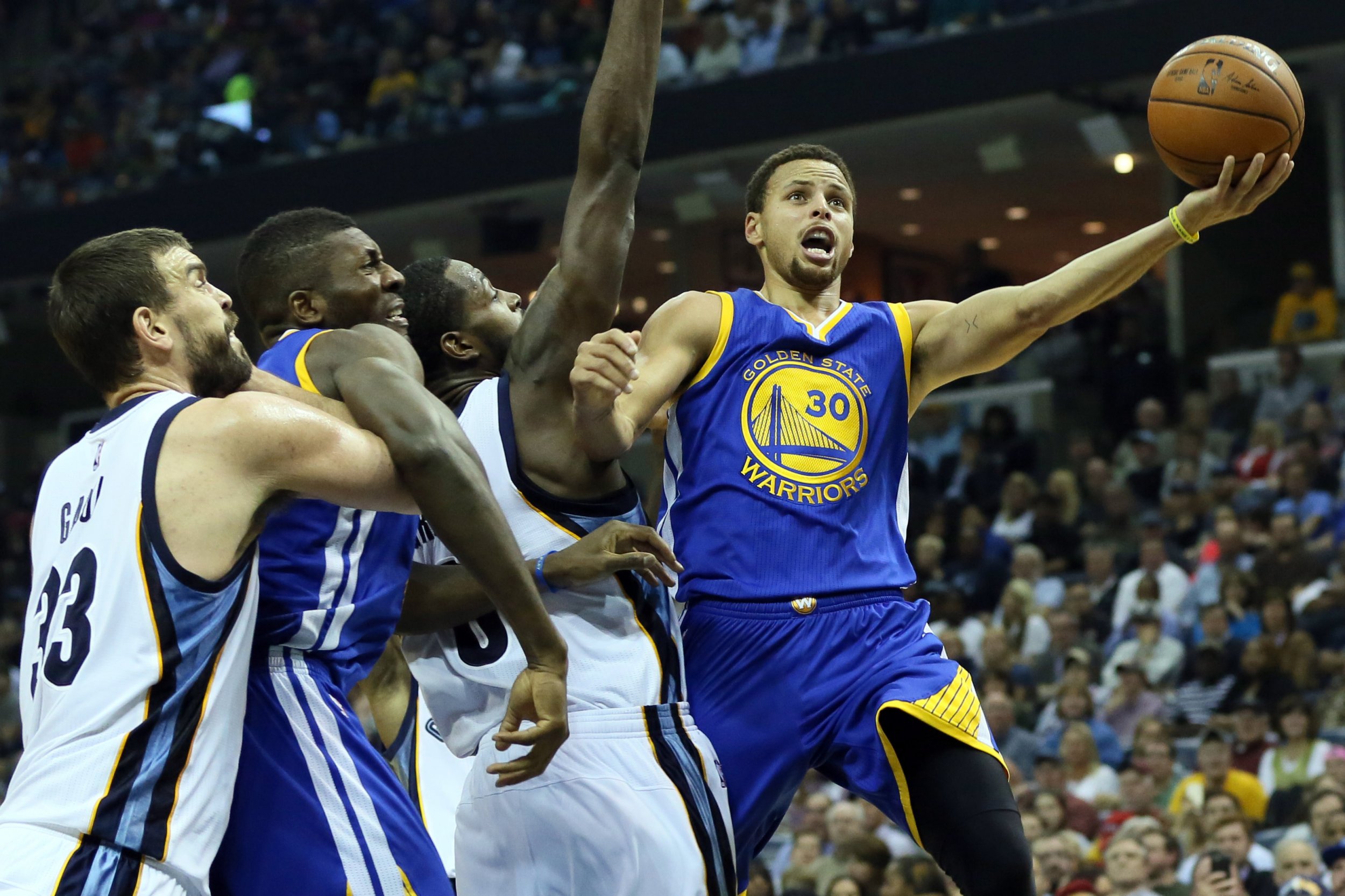 No playwright could adequately script them. No sports columnist, no matter how facile his or her use of verbiage, could properly describe them. The most incredible sports moments of 2015 left our mouths agape and pushed Twitter chatter into overdrive. What follows are not necessarily the 10 most important sports moments of the year but rather the 10 moments that left us slack-jawed, that nourished our childlike wonder with the games people play and that will not—and should not—be soon forgotten.
10. Eric Hosmer Dashes Home
November 1, Queens, New York
Kansas City trailed 2-0 when it came to bat in the top of the ninth inning of Game 5 of the World Series at Citi Field. Mets ace Matt Harvey had been masterful through eight, striking out nine while allowing no runs. When Mets manager Terry Collins informed Harvey, alias "the Dark Knight," between innings that he was being pulled for closer Jeurys Familia, he replied, "No way."
Collins, perhaps swayed by 45,000 fans chanting "Harvey!" allowed the Dark Knight to start the ninth. Then Harvey allowed a leadoff walk to Lorenzo Cain and a double to Eric Hosmer. One out later, Hosmer stood on third base when Salvador Pérez hit a grounder to Mets third baseman David Wright. As Wright threw to first, Hosmer raced home. Mets first baseman Lucas Duda's relay throw was wild: Instead of Hosmer becoming the final out at home plate, he tied the score.
Three innings later, the Royals clinched the game, as well as their first World Series title in 30 years, with a 7-2 win. The Dark Knight would not be the only man named Harvey to flame out on TV on a Sunday night before a global audience this autumn (see: Steve Harvey, Miss Universe), just the first.
9. Golden State's 24-0 Start
How's that for an encore? The Warriors followed up their first NBA championship in 40 years by opening the season with an NBA record of 24 consecutive wins. The most memorable victory during the streak? A 124-117 victory at the Los Angeles Clippers, during which the Dubs trailed by 23 in the second quarter.
Oh, and the Warriors did it all without head coach Steve Kerr, who is recovering from back surgery. Interim head coach Luke Walton, a former NBA player who had never before been a head coach, has been the suit in charge (though the wins will be credited to Kerr's career record).
8. Ronda Rousey Goes Down, Under
November 15, Melbourne, Australia
Ronda Rousey entered the octagon in Melbourne with a 12-0 career record and a reputation as something of an armbar-bie doll. Nine of her 12 bouts had been decided by "armbar submission," while her three most recent UFC fights had consumed a grand total of 64 seconds.
The 28-year-old Californian was viewed as the surest bet since a sunrise when she touched gloves with Holly Holm, a 34-year-old from New Mexico, in mid-November. And then, faster than you can say "Buster Douglas," this mixed martial arts battle between alliterative assassins was over. Holm knocked out Rousey in the second round with a kick to the head.
7. Deflategate: To Air Is Human
One day, the Patriots were romping the Colts in the AFC Championship Game, and then for the two weeks leading up to the Super Bowl the Pats became America's most-watched crime drama: PSI: New England. Coach Bill Belichick and American icon Tom Brady were under pressure over whether a few footballs were under-pressurized, leading to an opening sketch on Saturday Night Live, the 243-page Wells Report and arguably the most famous courtroom sketch in the history of American jurisprudence. Ultimately, it was all a lot of hot air about a little hot air.
6. Veni, Vidi, Roberta Vinci
September 11, Queens, New York
No athlete, on two or four legs, was more dominant in 2015 than Serena Williams. The younger Williams sister entered the semifinals of the U.S. Open with a 53-2 record on the year and was just two wins from completing the first calendar Grand Slam in women's tennis since Steffi Graf had done it in 1988.
On a slightly overcast Friday afternoon in Flushing Meadows, Williams took the court to face unseeded Roberta Vinci of Italy. Down 0-2 in the third set, the 32-year-old from Palermo rallied to win 2-6, 6-4, 6-4 in what was the most shocking upset in sports this year. "For the American people, for Serena, for the Grand Slam, today's my day," an infectiously exuberant Vinci told the crowd inside Arthur Ashe Stadium immediately afterward. "Sorry, guys."
5. American Pharoah Ends Triple Crown Drought
June 6, Belmont Park, Elmont, New York
Our long American nightmare is over. For the first time since Affirmed did so in 1978, a horse won the Triple Crown. American Pharoah captivated thoroughbred racing fans while confounding autocorrect as it sped to decisive victories in the Kentucky Derby, Preakness Stakes and Belmont Stakes. AP led from wire-to-wire at the Belmont, winning by five and a half lengths and posting the fastest time there of any Triple Crown winner (2:26:65) not named Secretariat.
4. Sparty Shocks Michigan
October 17, Ann Arbor, Michigan
In the first quarter, Michigan punter Blake O'Neill had boomed an 80-yard punt. Now, with the Wolverines leading Michigan State 23-21 and 10 seconds remaining in the game, all the Australia native needed to do was punt the ball safely away.
O'Neill lined up 15 yards behind the long snapper on fourth down at the Spartan 47. The snap came in just a little low, O'Neill fumbled it, and the ball bounced into the hands of Michigan State's Jalen-Watts Jackson, who returned it 38 yards for the game-winning touchdown.
Worth noting: (1) The Spartans did not put a man out to cover Michigan's left split end on the play; (2) ESPN's Sean McDonough correctly identified Watts-Jackson, a reserve cornerback, in the midst of the play; (3) Watt-Jackson suffered a dislocated hip, a season-ending injury, while being dog-piled by exuberant teammates as he lay in the end zone; and (4) a Michigan fan at the game suffered a heart attack after the play (he survived).
Oh, and yes: If O'Neill punts that ball, Michigan State probably does not qualify for the college football playoff.
3. Carli Lloyd's World Cup Bomb
July 5, Vancouver, Canada
To score a hat trick in a World Cup final is the stuff of backyard daydreams. In fact, it had been done only once previously in a men's or women's final, by Geoff Hurst of England in 1996. In that match, Hurst scored two of his three goals in extra time, the last in the 120th minute as England defeated Germany 4-2.
Carli Lloyd of the U.S. was far less patient and far more dramatic. The 32-year-old midfielder scored in the third and fifth minutes to put the Americans quickly up 2-0 versus Japan in Vancouver. Then, in the 16th minute, Lloyd took a pass at midfield and launched a shot on goal that sent stunned Japanese goalkeeper Ayumi Kaihori stumbling backward, then sprawling, in a vain attempt to thwart Lloyd's legend. The U.S. won 5-2.
2. Joey Bats's Bat Flip
October 14, Toronto
Have you ever seen an exclamation point sail across the sky? That was the bat triumphantly flung by Joey Bautista of the Toronto Blue Jays after his three-run blast in Game 5 triumphantly erased one of the great fielding blunders in postseason history.
When the 7th inning of the decisive Game 5 between the Texas Rangers and the Blue Jays commenced in Toronto, the score was tied 2-2. Then Blue Jay catcher Russell Martin, a Canada native, erred when making a routine toss back to pitcher Aarón Sanchez: The throw hit Ranger hitter Shin-Soo Choo's bat. Base runner Rougned Odor alertly sprinted home from third base and sooner than you could say, "Merkle's Boner," the Rangers were up 3-2.
Then Texas self-destructed. In the bottom half of the seventh inning, the Rangers committed three infield errors, each one acting to incite the fervor inside the Rogers Centre. Bautista, nicknamed "Joey Bats," then clubbed a rocket to left-center field, inciting pure chaos among the minions as he tossed the bat as if discarding a toothpick.
1. The (Malcolm) Butler Did It
February 1, Glendale, California
One yard. On second down and goal with less than a minute remaining, the Seattle Seahawks stood 1 yard away from their second Super Bowl triumph in as many years. The New England Patriots were about to lose their third Super Bowl in eight years, leaving them with a 3-3 Super Bowl record during the era of Bill Belichick and Tom Brady.
Seattle had three shots from the 1-yard line and the most hostile running back in all of football, Marshawn "Beast Mode" Lynch, in the backfield. On the previous play Lynch had gained 4 yards. So what does Seahawk coach Pete Carroll (or, more accurately, offensive coordinator Darrell Bevell) call for? A slant-in route.
As Seahawk slot receiver Ricardo Lockette made his cut, Patriot cornerback Malcolm Butler, a previously undrafted free agent from the University of West Alabama, jumped the route and intercepted quarterback Russell Wilson's pass. It was the most shocking turnabout in Super Bowl history, and it also diminished the legacy of an incredible catch Jermaine Kearse had made two plays earlier, one that ranked right up there (and was made at the same venue, versus the same opponent) with David Tyree's grab for the New York Giants in Super Bowl XLII.
The decision to pass was so boneheaded that months later it became a subplot on the television show The Deadliest Catch (pardon the irony of the title).
While most of America still wondered whether the Patriots had "cheated" (i.e., Deflategate) in their quest to arrive at this game, Belichick, Brady and owner Robert Kraft seemed to be answering those musings with the hip-hop phrase, "Damn, it feels good to be a gangsta."