Pokémon cards' popularity shows no signs of slowing, with collectors prepared to spend thousands on unopened boxes and the rarest of cards.
Interest in Pokémon and the card game, described by Nintendo as "one of the most popular children's entertainment properties in the world," has only increased in recent years, with multiple card sales at auction hitting new highs in recent years.
But which are the most expensive Pokémon cards of them all?
We asked PWCC, a major marketplace for card trading, to round up those that have been sold for the most money, all between 2020 and 2021.
Take a look...
11. 1999 Pokémon Tropical Mega Battle : Tropical Wind: Promo Card
$47,100 (Sold: February 2021)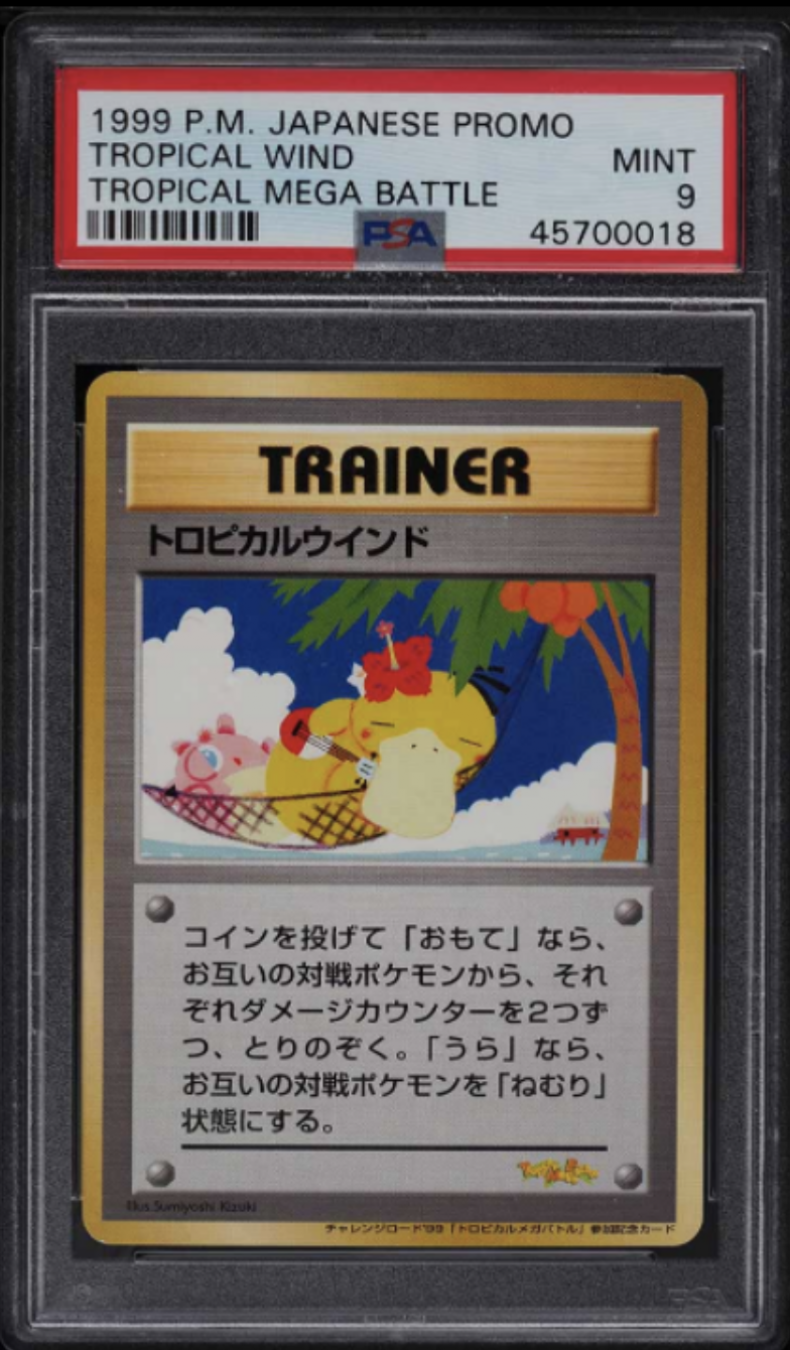 The most valuable Pokémon cards are, more often than not, promotional releases originating from special events.
This card was provided to players during 1999's Tropical Mega Battle held in Hawaii, a competition that witnessed players from around the world entering the fray.
While the card is rare, mechanically, it's a fairly basic trainer card, forcing players to flip a coin to determine the outcome of an event.
10. Ex Deoxys Pokémon Gold Star Rayquaza #107
$45,100 (Sold: December 2020)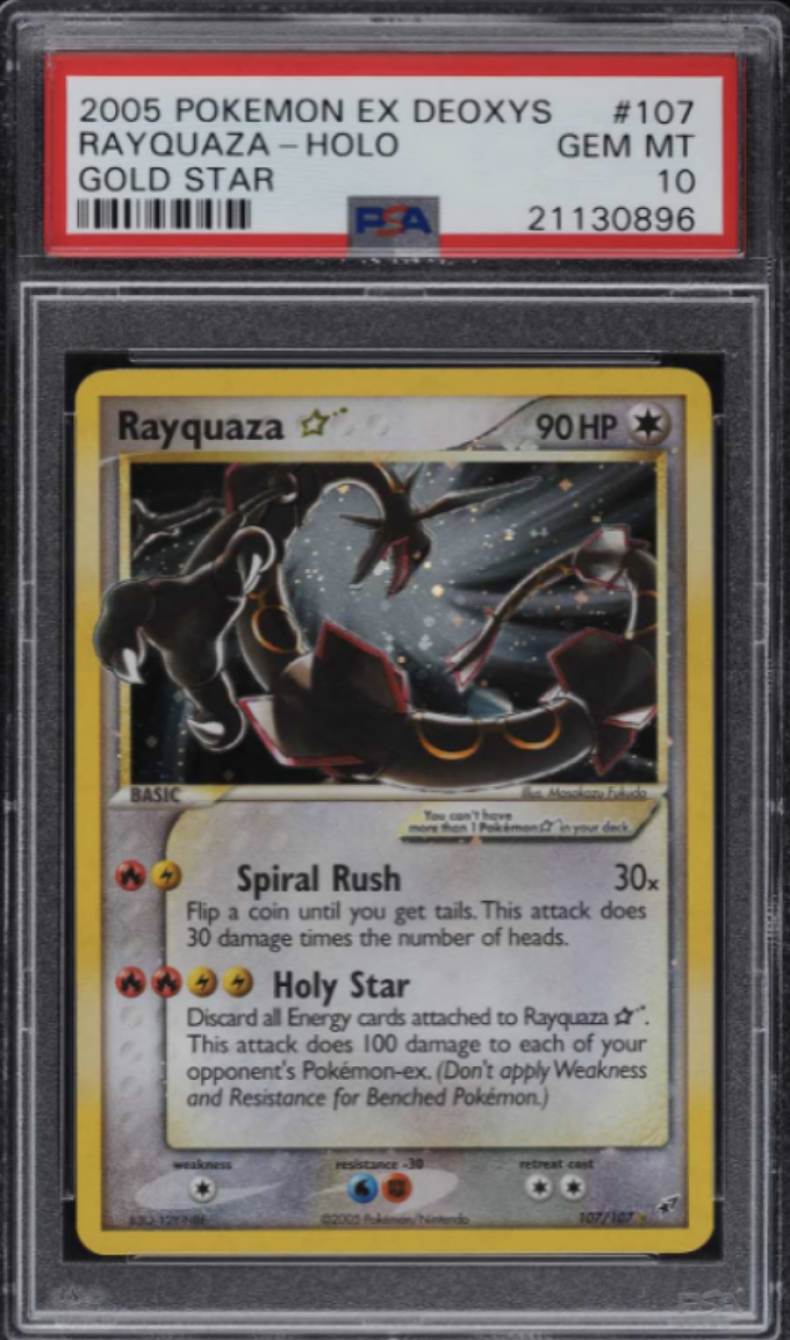 Rayquaza, a legendary monster introduced in the Game Boy Advance version of Pokémon Emerald, is a powerful creature and long-standing fan-favorite.
This Rayquaza card comes from Ex Deoxys, a Pokémon expansion released in 2005 to accompany the video game release.
This already rare card was made all the more valuable due to its condition and quality rating.
9. Pokémon Ex Deoxys Gold Star Rayquaza #107
$60,065 (Sold: October 2020)
This is the first of two Pokémon Charizard variations, originating from the 2005 Ex Deoxys Trading Card Game expansion.
This specific variant deviates from the highly collectable original cards released, with a more active fire-breathing dragon, supposedly shaded slightly darker than other variants.
These Gold Star cards are considered so powerful in the game that only one can be held in a deck during battles.
8. Pokémon 1998 Japanese Promo Card
$66,100 (Sold: February 27, 2021)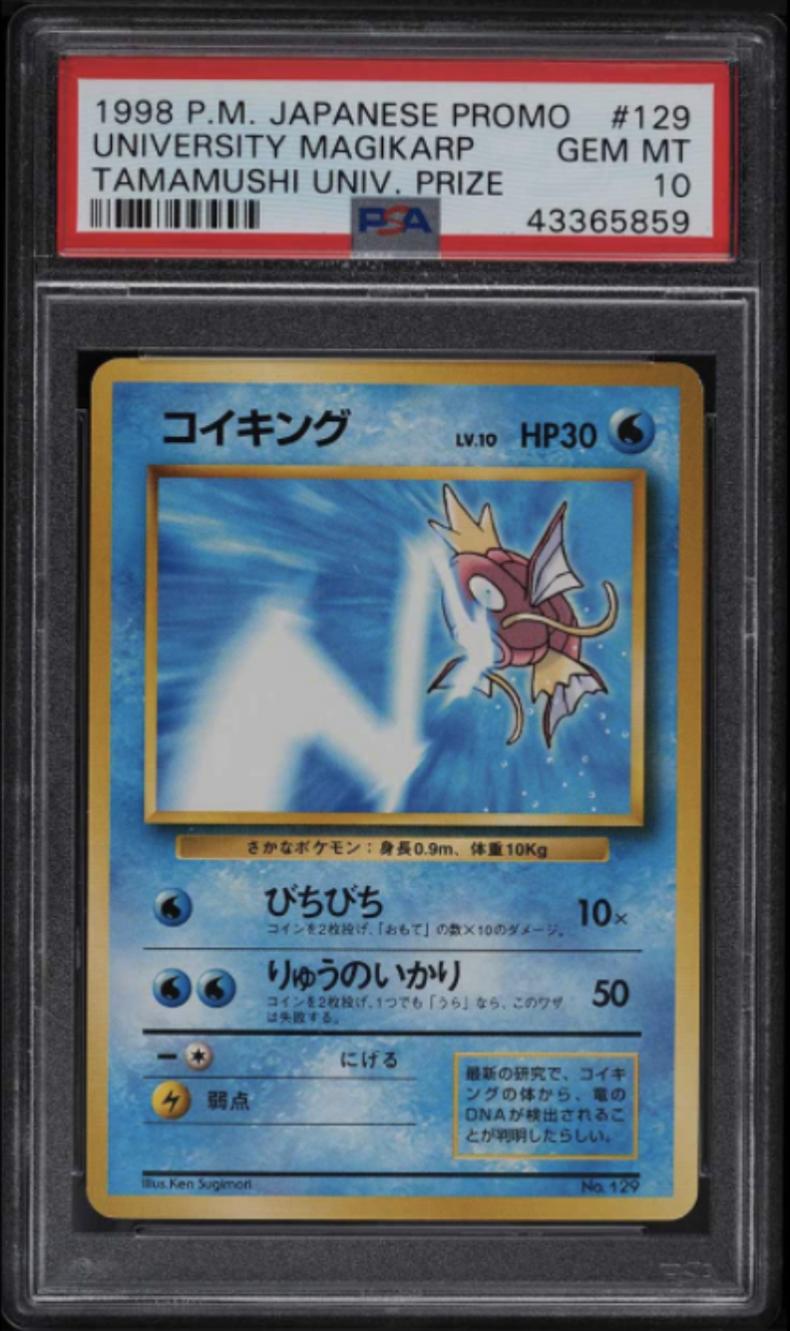 This magisterial Magikarp promo card, described as "not a very common design" was distributed only to competitors at an exclusive tournament event in Osaka, Japan.
To take part in this event, they were required to complete the "Tamamushi University Hyper Test," briefly published in a select number of magazines.
7. Pokémon Super Secret Battle "No. 1 Trainer" card
$90,000 (Sold: July 2020)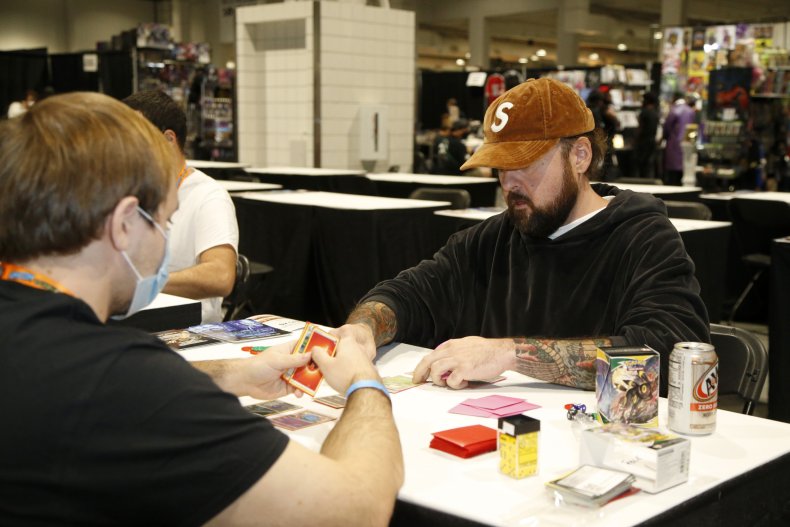 This Super Secret Battle trainer card was only given to an estimated seven players in 1999 during a country-wide tournament in Japan.
Players could only find out about the location after winning one of these cards in one of seven regional tournaments
6. Pokémon Neo Genesis 1st Edition Holographic Lugia
$144,300 (Sold: May 2021)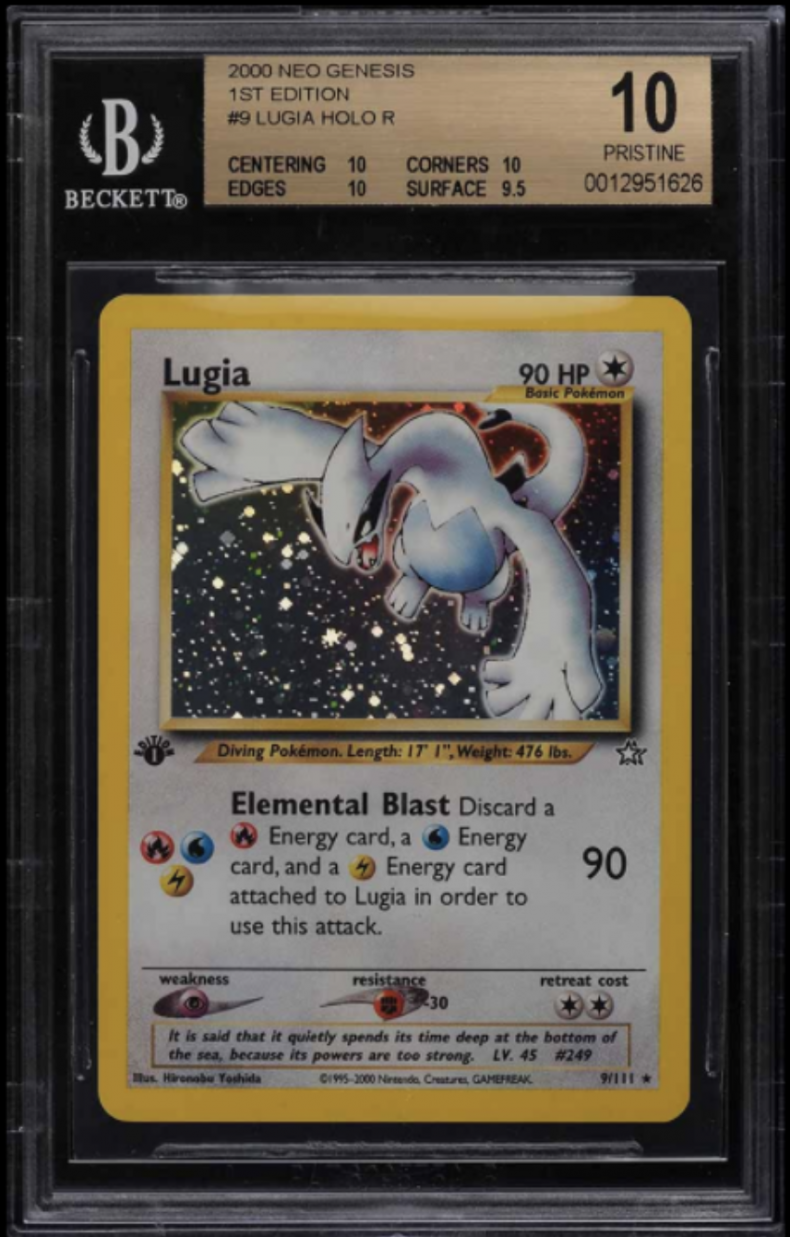 This is a near-perfect example of a super popular Pokémon card, a first-edition Lugia.
Lugia is considered to be a legendary Pokémon from Gen II often spotted on the cover of Pokémon: Silver.
Due to this apparent ubiquity, Pokémon fans were reportedly desperate to obtain this card which value is expected to increase.
5. Japanese Pokémon Promo Card: Family Event Trophy
$150,100 (Sold: October 2020)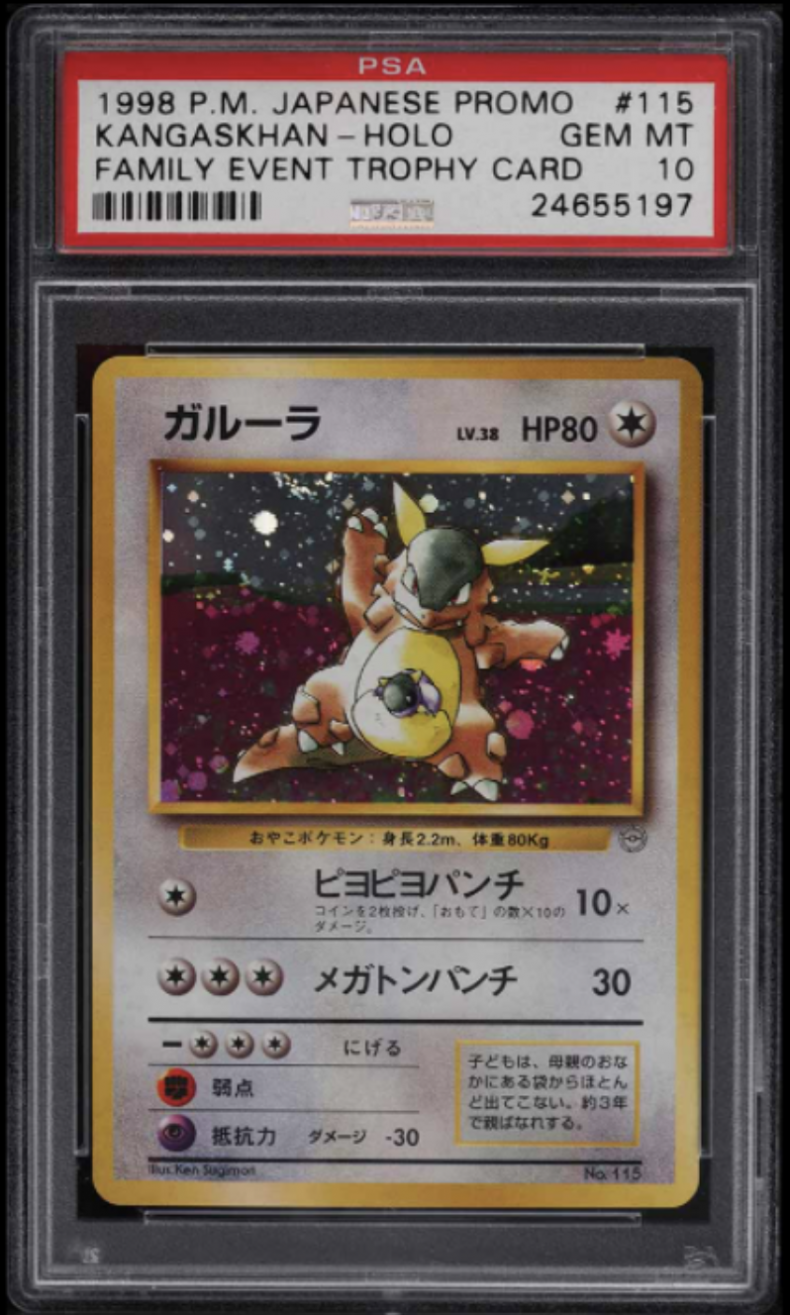 One of the rarest Pokémon cards in the world, this Kangaskhan was only distributed to winners attending a 1998 competition.
As the name suggests, this was a battle between competing families, with only those that achieved a certain number of wins obtaining this rare card.
4. Black Star Ishihara Signed GX Promo Card
$247,230 (Sold: April 2021)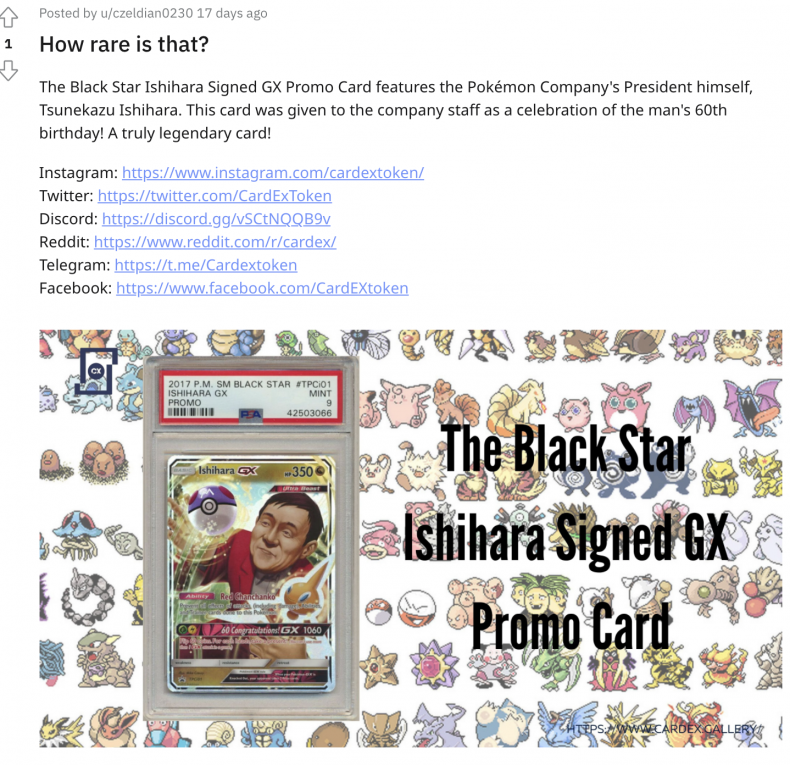 This card features Pokémon Company founder Tsunekazu Ishihara and was given to company staff to mark the man's 60th birthday in 2017.
This particular Pokémon card is all the rarer, as Ishihara actually signed this near-mint card to boost its price even further.
3. Backless Pokémon Blastoise: Galaxy Star Hologram
$360,000 (Sold: January 2021)
This Blastoise Pokémon is considered particularly valuable due to the lack of any printing on the side opposite to the art, leading to the name "Backless Blastoise."
The card is all the rarer as it was never intended to be publicly available, as it was part of a test run made by Wizards of the Coast.
2. 1st Edition Pokémon Charizard, Golf Label
$369,000 (Sold: December 2021)
This Pokémon Charizard is popular among collectors because it is a shadowless holographic first edition card.
Such extremely early cards usually lacked drop shadows behind art or text, and this tiny difference catapulted them in rarity and price
1. 1998 Japanese Pokémon Promo Card: Illustrator Pikachu: PSA 7
$375,000 (Sold: February 2021)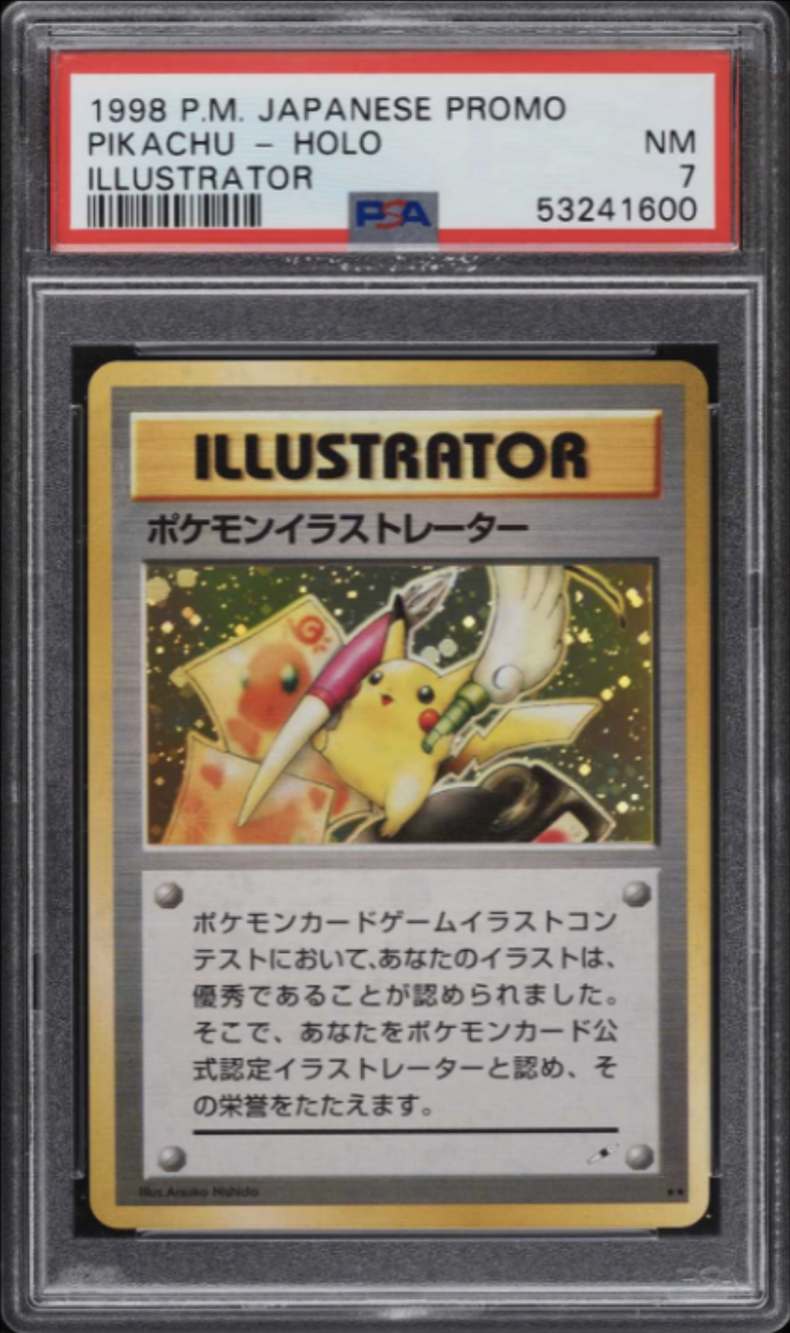 Limited edition promotional cards, such as this illustrator Pokémon card, can command huge fees.
According to PWCC, approximately only 40 of these cards were created, to be distributed during competitions held in Japan where contestants were asked to create their own Pokémon cards.
Winners received custom printed cards featuring their original artwork as well as this rare Illustrator Pikachu card as a trophy.