10 Percent of Democrats Will Vote for Trump, Poll Says
Data from a Hill-HarrisX poll released Wednesday indicated that if the presidential election were held today, 10 percent of registered Democrats would vote for President Donald Trump.
Biden's projected advantage over Trump shrank since the same question was asked by poll takers in June. At that time, only 7 percent of Democrats said they would cast their ballots for Trump.
According to the poll, which was conducted July 3-4, Democratic presidential nominee Joe Biden holds a 4-point lead over Trump overall. That number represents a slide for Biden, who held a 10-point lead over Trump in June.
In total, 43 percent of all registered voters would cast their ballots for Biden while 39 percent would vote for President Trump. Undecided voters accounted for 8 percent of the final numbers. Individuals who said they would not vote in the 2020 election made up 5 percent, as did voters who said they would rather vote for someone besides Trump or Biden.
Biden has traditionally polled well with older voters, but this month's survey found Trump and Biden neck and neck with voters between the ages of 50-64. Biden and Trump each garnered 42 percentage points within that demographic.
The poll holds a margin of error of plus or minus 3.2 percent and was weighted for factors including age within gender, political party, and income.
Newsweek reached out to both the Biden campaign and the Trump campaign for comment.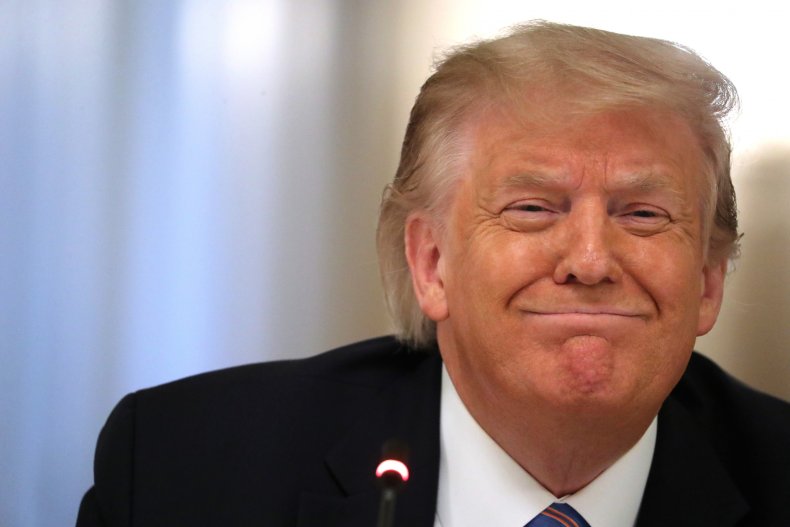 As the U.S. sees a surge in positive coronavirus cases, Biden has consistently criticized the Trump Administration's response to the pandemic. On Tuesday, the White House began proceedings to withdraw from the World Health Organization (WHO). Trump has accused the organization of being heavily swayed by China, the country Trump has publicly blamed for the spread of the coronavirus.
In a Tuesday tweet, Biden said that he would reinstate the U.S. in the WHO if elected. "Americans are safer when America is engaged in strengthening global health," Biden wrote. "On my first day as President, I will rejoin the @WHO and restore our leadership on the world stage."
In a Wednesday statement, Biden said Trump had surrendered to the virus.
"President Trump claimed to the American people that he was a wartime leader," Biden said, "but instead of taking responsibility, Trump has waved a white flag, revealing that he ordered the slowing of testing and having his administration tell Americans that they simply need to 'live with it.'"
Trump has downplayed the prevalence of the virus. In a speech at Mt. Rushmore on Saturday, President Trump said the high number of reported cases was because of the number of tests the U.S. had conducted.
"There were no tests for a new virus, but now we have tested over 40 million people," Trump said. "But by doing so, we show cases, 99 percent of which are totally harmless. Results that no other country will show because no other country has testing that we have—not in terms of the numbers or in terms of quality." Trump also said that a vaccine or therapeutic drug for treating coronavirus would be available "long before the end of the year."
Recent data indicates a total of 3,147,613 positive cases of COVID-19 within the U.S. with 50,529 new cases reported on Wednesday.