10 Republicans Voted to Impeach Trump, 7 Already Facing Challenges for Their Seats in Congress
Some of the Republicans who voted to impeach former President Donald Trump in January are already having their seats challenged and their ability to hold onto their place in Congress may be dependent on the moves the former president makes in the next 18 months.
Ten Republicans joined Democrats in impeaching Trump a historic second time, a move that was quickly met with condemnation back in their home states. They've been publicly scolded, pushed to resign and warned that local organizations will mount a strong push to oust them from office in the primary.
"After my last election, I had decided not to run again. But the vote by Congressman [David] Valadao to impeach President Trump with no witnesses, evidence, or without allowing any defense was too much for me to stay on the sidelines," Chris Mathys, a former Fresno, California, city council member, told Newsweek.
Valadao, who represents California's 21st district, wasn't in office during Trump's first impeachment, as he had been ousted from office in 2018 by Democrat TJ Coxx. In November, Valadao won back his seat from the Democrat who beat him in 2018 by less than a point. The Republican placed blame on Trump for the Capitol riot, saying that his rhetoric was "un-American, abhorrent and absolutely an impeachable offense."
That vote in favor of impeaching Trump "violated the trust" of the millions of Americans that voted for Trump in the November election, according to Mathys, who unsuccessfully sought a seat in New Mexico's House during the 2020 primary. The decision was "so egregious," that Mathys doesn't think voters will forget it.
Whit Ayer, a GOP strategist, told Newsweek it was a "very gutsy" decision to vote in favor of impeachment because they "knew they would likely draw challenges." However, it remains to be seen how much the impeachment will play in the 2022 primary and one of the factors that is still up in the air is how much of a political powerhouse Trump will be in 18 months.
"Has he started a third party, the Patriot Party? In which case, the Trump voters would follow him to his party and the Republicans in the governing party will be left to vote in a primary where these Republicans who voted to impeach should easily win renomination," Ayer said. "Or is he busy fighting off lawsuits and bankruptcy so he's otherwise engaged?"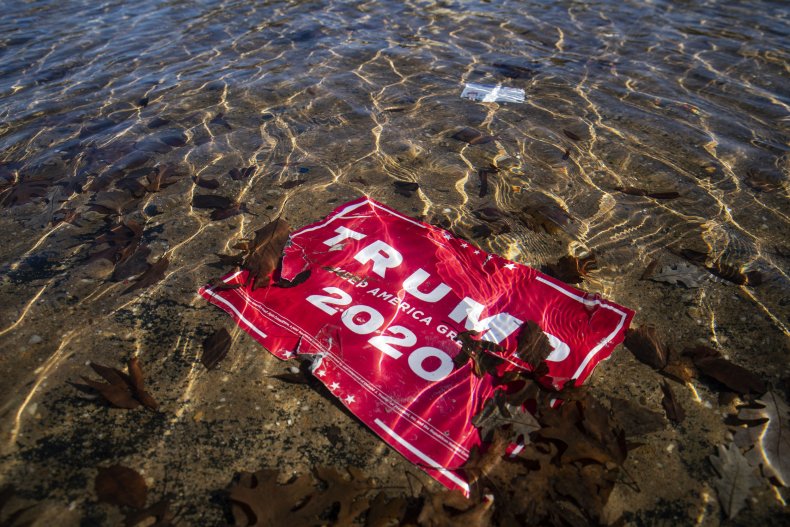 Even if Trump does start an official third party, Mathys said he would remain a Republican as he's been all his life. However, Tom Norton, who is gunning for Michigan Representative Peter Meijer's seat and called his impeachment vote a "violation of the 76 million Americans' constitutional right to express political speech without recourse," would consider switching parties.
"If President Trump forms a viable third party I would follow, but it has been made clear the president intends to mount real mid-term primary challenges in the Republican Party," Norton told Newsweek.
Ronna McDaniel, chair of the Republican National Committee, and Jason Miller, a senior Trump adviser, denied the former president was actively planning to start a third party. But Miller left the door open to the possibility that could change, saying it was "completely up to Republican senators" if the idea "becomes more serious," in a reference to Trump's upcoming impeachment trial in the Senate. A Morning Consult poll showed the former president's supporters would be more interested in joining a third party created by Trump than staying with the Republican Party.
Challengers joining Trump's hypothetical third party could help Republican incumbents solidify a win in the primary, but it doesn't bode well for either candidate in the general election. "It would break the Republican Party," Steve Schmidt, a co-founder of The Lincoln Project, told Newsweek, adding that splitting Republican votes into two parties would help Democrats declare victory in 2022.
"What happens then is Republican voters become the swing voters in a lot of these places," Schmidt said. "In hard red districts, the Patriot Party could compete and win."
While Trump isn't widely popular in Valadao's district, he is in Wyoming, where he won with 70 percent of the votes in 2020, presenting a potential problem for Representative Liz Cheney. The third-highest ranking Republican in the House wasn't shy about her critiques of Trump and her vote to impeach him lit the fire of opposition.
State Senator Richard Bouchard, a Republican gunning for her seat, called her vote proof of how "out-of-touch" she is with Wyoming.
However, one of the biggest challenges to trying to oust an incumbent from office is coming up with the funds to mount an effective campaign. Potentially working in Bouchard's favor is Corey Lewandowski, a former Trump aide. Fight Back Now America, a political group founded by Lewandowski, is fundraising to oust Cheney, who they called a "spineless Republican."
However, as the daughter of former Vice President Dick Cheney, the incumbent has a fundraising machine of her own and Schmidt had no concern about Cheney losing her seat despite a poll commissioned by Trump's political operation finding only 10 percent of Republican primary voters would vote to re-elect her. That same poll showed she trails 54 percent to 21 percent in a head-to-head matchup with Bouchard.
Challengers have also come out against Representatives Adam Kinzinger, Dan Newhouse and Anthony Gonzalez. Another Republican has created an exploratory committee in a potential bid for Representative Tom Rice's seat and local GOP organizations have vowed to recruit someone to go after Representative Jamie Herrera Buetler's spot in Congress.