10 States Projected to Not Hit 70 Percent Vaccination Rate Until 2022 Amid Variant Concerns
President Joe Biden fell short of his goal to vaccinate 70 percent of Americans by July 4. And for some states, that benchmark isn't expected to be hit for nearly a year.
Seventy percent is the minimum threshold expected to be needed to achieve herd immunity, and more than half of U.S. states haven't reached that level of inoculations. Meanwhile, unprotected individuals give the COVID-19 virus the chance to mutate, posing a potential risk to others as 10 states aren't expected to reach herd immunity until 2022.
North Dakota has vaccinated about 56 percent of its adults. Based on its current trajectory, the state isn't expected to hit 70 percent until the end of June, 2022, according to a Brown University tracker. Wyoming also isn't expected to reach 70 percent until June of next year.
Idaho and Montana, where fewer than 60 percent of residents have received at least one dose of a vaccine, are on a path to reach the 70 percent threshold in April, followed by Tennessee, Alabama and Louisiana in March.
Alabama and Louisiana are currently seeing rises in COVID-19 cases. Alabama's percent positive rate is the highest it's been since mid-May, and more than a third of its counties are in the "red," which indicates a very high risk of the virus spreading.
The state has one of the lowest vaccination rates in the country at only about 51 percent. Dr. Karen Landers, assistant state health officer at the Alabama Department of Public Health, told WBRC the increase is likely attributed to unvaccinated people not wearing masks or social distancing.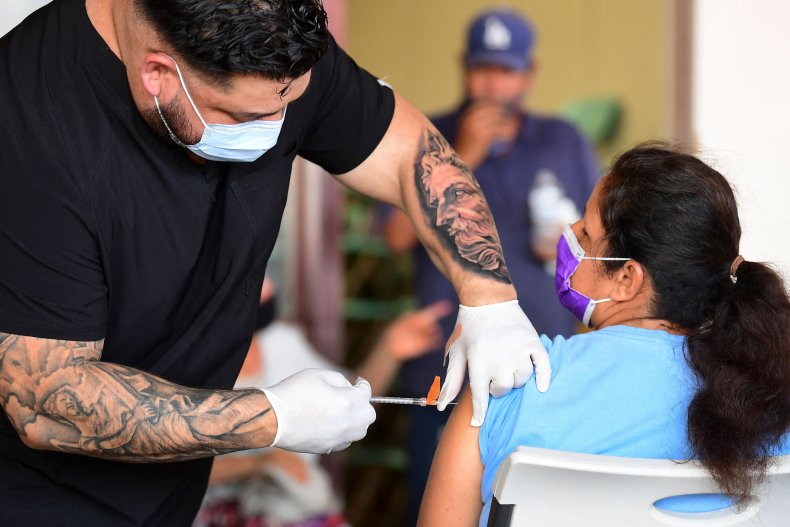 If cases continue to rise and spiral out of control, Jefferson County Deputy Health Officer Dr. David Hicks said Alabama could see the return of restrictions.
"It's something that we certainly have to look into," Hicks told WBMA. "All options I think are on the table depending how things pan out over the next few weeks."
Louisiana has vaccinated an even lower percentage of its population than Alabama as the Delta variant accounts for up to 59 percent of new cases. Since Delta is a concerning mutation because of its ability to spread more easily than other variants, officials urged people to get vaccinated before it has the chance to take hold in communities.
It's possible this is only the "beginning of increases," Dr. Joe Kanter, a Louisiana state health officer, told Nola.com, and it could pose a risk to those who are already inoculated.
COVID-19 vaccinations have proven to be up to about 80 percent effective. But since no vaccine is 100 percent effective, the spreading of the Delta variant means an increased likelihood of "breakthrough" cases, where a vaccinated individual becomes infected.
Delta is becoming an increasingly prevalent strain in Indiana, which is on track to hit 70 percent in February, along with South Carolina and Ohio. Although South Carolina and Ohio aren't seeing the same concerning rise as other states who haven't reached the herd immunity threshold, unvaccinated individuals account for the vast majority of new cases and hospitalizations.
While Delta is the dominant strain in the United States now, low vaccination rates in some places increase the potential for new mutations. Officials have concerns that a future strain could be more deadly or prove a tougher match for vaccines.
States have tried to convince residents to get vaccinated by offering an array of incentives, including free food and college scholarships. However, even a chance at winning a $1 million via lottery programs wasn't enough to significantly increase vaccinations. Having fallen short of its goal to vaccinate 70 percent of Americans by July 4, the Biden administration is shifting its attention to one-on-one conversations.
Along with advocating for doctors to talk to patients about why they should get vaccinated, Biden said people need to go door-to-door to help persuade individuals. The administration's push for individual conversations faced criticism from some who saw it as an invasion of privacy and had concerns about the government knowing people's vaccination statuses.
"The best people to talk about vaccinations with those who have questions are local trusted messengers: doctors, faith leaders, community leaders," Jeffrey Zients, the White House Coronavirus Task Force coordinator, said in a briefing. "We've seen movement by going person by person, community by community in states where neighbors have contacted neighbors."
With vaccinations available to everyone over 12 years old and an abundance of appointments in some areas, officials have concerns that the people who haven't been vaccinated will never want to get the shot, putting America's vaccination rate largely at a plateau.