10 Teenagers Drown in Israel Flash Flood During School Hike
Ten teenagers have been killed in a flash flood in southern Israel. The nine girls and one boy, all aged 18, were swept away during a school-organized hike to the Nahal Tzafit seasonal riverbed just south of the Dead Sea. Four other people also died in separate incidents across Israel and the West Bank.
Nine of the students' bodies had already been found on Thursday and the tenth was discovered early on Friday, The Times of Israel reported. Two other students from the group suffered hypothermia and were taken for treatment at a local hospital. Another 13 students were rescued unharmed.
According to Haaretz, Israeli police have launched an investigation into the deaths and have already made arrests after questioning staff members that organized the excursion. Two people have been detained and a third placed under house arrest. It is believed they are being investigated on suspicion of negligence homicide, a conviction for which carries a three-year prison sentence.
A day before the trip, one of the girls who died told friends she did not think the activity was safe. "I can't believe I'm actually going hiking in weather like this. It doesn't make sense to go to a place that's completely flooded," she said in WhatsApp messages. "It's tempting fate. We're going to die—I'm serious."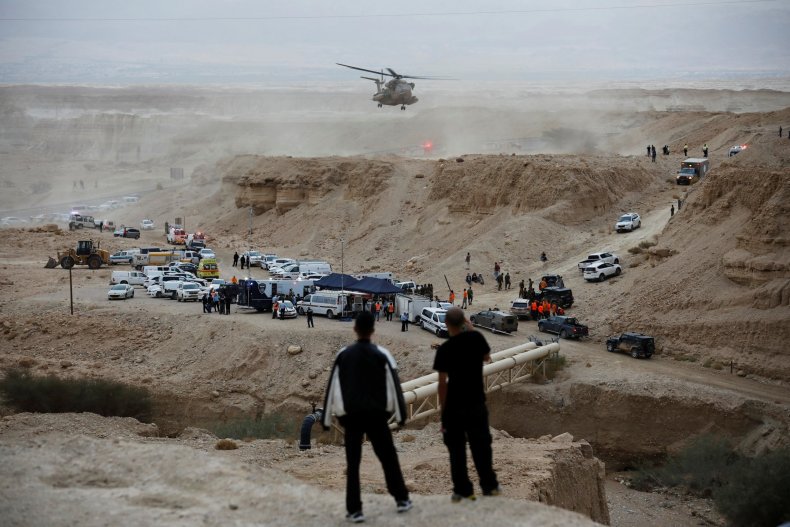 Even small amounts of rainfall in desert areas can lead to rapid flooding. The Israel Meteorological Service had issued flood warnings for the Dead Sea region but the hike went ahead regardless.
Nadav Eylon, head of emergency and security at the Central Arava Regional Council, spoke to reporters from the scene of the flooding on Thursday, explaining that volunteers were brought in to help rescuers. He said the Israeli air force also sent helicopters to assist in the search and rescue effort. "This area is very flood prone," Eylon explained.
The victims had been studying at the Bnei Zion Academy in Tel Aviv, which offers students a one-year course ahead of compulsory military draft. Israeli parliament member Yehuda Glick (Likud) met with officials at the school, and told reporters, "Everybody [at the school] is in shock… they're broken. It's just an impossible situation."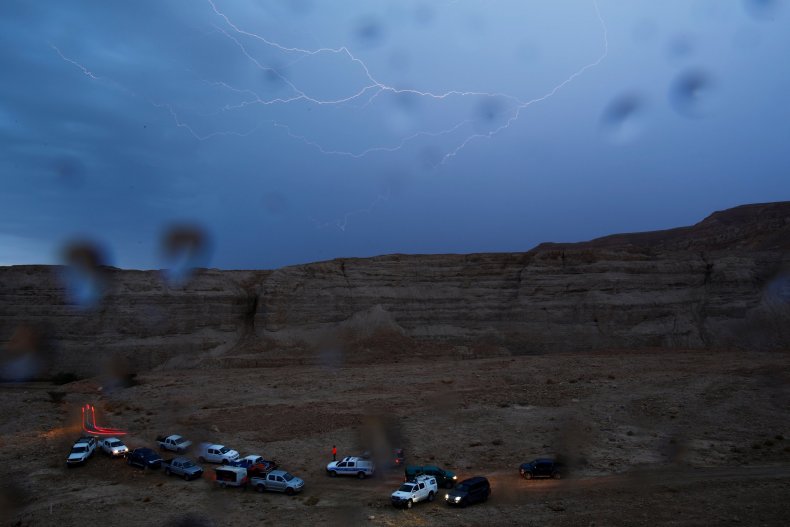 Prime Minister Benjamin Netanyahu offered his condolences to the families of those killed, saying: "Israel grieves the promising young lives that were cut off by this tragedy."
President Reuven Rivlin said: "Our thoughts and prayers go to our brothers, children, our loved ones, and those in danger," noting the government was "following the situation in the south closely" and assisting those working to find, rescue and treat other victims.
Two Palestinian children were also killed in flooding in the West Bank. Nine and 10 years old, they were found in a flooded reservoir in the El Fuwar refugee camp south of Hebron.
Two other teenagers were killed in separate incidents on Wednesday as Israel withered under the first day of hail and thunderstorms. A 17-year old Bedouin boy drowned in the Negev desert, while a woman was swept away near the West Bank city of Bethlehem.