10 Things to Know About Joe Biden's Wife, Dr. Jill Biden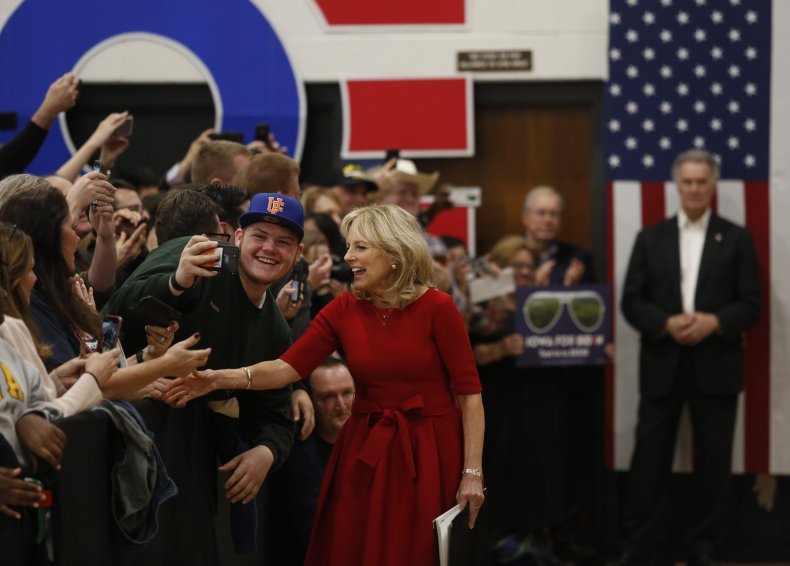 Dr. Jill Biden, the wife of former Vice President Joe Biden, has been a visible presence and surrogate for her husband on the campaign trail.
One of her most recent public appearances went viral after anti-dairy protesters stormed the stage at her husband's Super Tuesday rally in Los Angeles. Biden moved immediately to shield him amid the chaos, which was instantly memorialized in a viral photograph captured by photojournalist Patrick T. Fallon.
As Joe Biden becomes ever more poised to claim the Democratic presidential nomination, here are 10 things to know about the former second lady who is vying for the top slot:
The honorific "Dr." in her title does not refer to a medical degree, but rather a doctorate in education she received from the University of Delaware in 2007. She is a longtime educator, per her official White House biography, and has taught in Delaware schools for over a quarter-century. While serving as second lady, she taught English at Northern Virginia Community College.
She was born in Hammonton, New Jersey, and raised along with four sisters in Willow Grove, Pennsylvania, by her father, Donald Jacobs, and her mother, Bonny Jean Jacobs, who passed away one month before the 2008 presidential election. Her father was a banker who eventually became vice president at a bank in Chestnut Hill, according to a profile in Vogue magazine.
Biden is a vocal advocate for breast cancer awareness and developed the Biden Breast Health Initiative in 1993 after several friends were diagnosed with the disease. According to an archived version of her White House profile, the initiative "has educated more than 10,000 high school girls about the importance of early detection of breast cancer."
She was introduced to her future husband at a blind date set up by the then-senator's brother Frank. The pair hit it off and dated for around two years before marrying in 1977 at the United Nations chapel in Manhattan. Joe Biden's two sons from his first marriage, Beau and Hunter, accompanied the couple on their honeymoon.
Jill Biden received five separate proposals from her then-boyfriend before agreeing to marry him, according to an interview with Vogue. Joe Biden said he pleaded with her, "Look, this is the last time I'm asking you. I don't care when we get married. But I want a commitment." Just years earlier, Joe Biden's first wife had died in a car crash along with their infant daughter. Jill Biden later said that she "had fallen in love with the boys," Beau and Hunter, who survived the crash.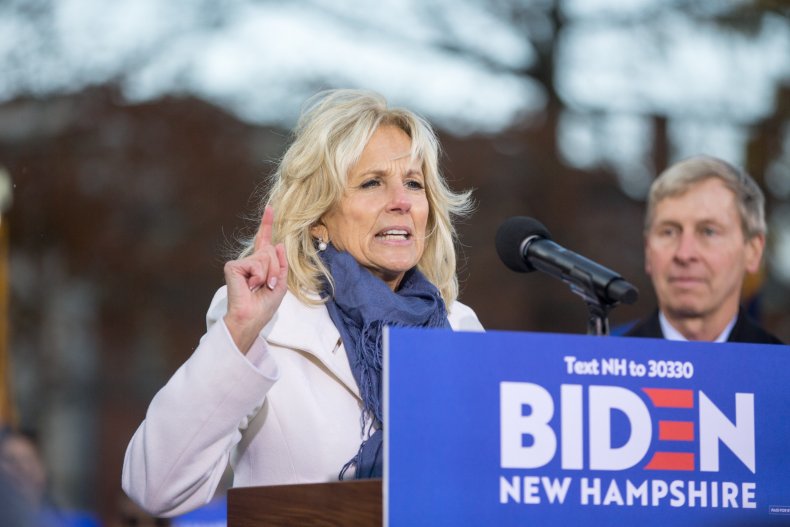 She is the author of several books, including Where the Light Enters, which recounts her relationship with her husband, and the children's book, Don't Forget, God Bless Our Troops. The latter was inspired by her granddaughter Natalie, whose late father, Beau, was deployed to Iraq.
In addition to her doctorate, Biden has received two master's degrees: one in English from Villanova University, and another in reading from West Chester University. Her White House biography says these were earned in the 1980s "while working full-time and raising a family."
On the campaign trail in 2008, Biden engaged in a bit of levity by pulling pranks on her husband. She put a plastic rat on a podium that Joe Biden was using and then placed it on his pillow that night. "Things are so serious that I like to add a little humor," she told Reuters.
During the Obama-Biden administration, the first and second ladies led an initiative, called Joining Forces, to support service members returning from active duty. In partnership with her counterpart Michelle Obama, Biden promoted employment resources, education programs and access to health care for military veterans.
Biden is a runner, and has competed in several 5-K, 10-K and half-marathon races, according to a 2010 interview with Runner's World. She says her interest in the sport began after she was asked to sound off a race for charity in the 1990s and noticed her relative lack of physical fitness. "I got so winded that I said, 'I'm going to start running,'" she told the magazine. "My first run was around my neighborhood in Delaware—about a third of a mile. I kept increasing the distance until I got the bug."