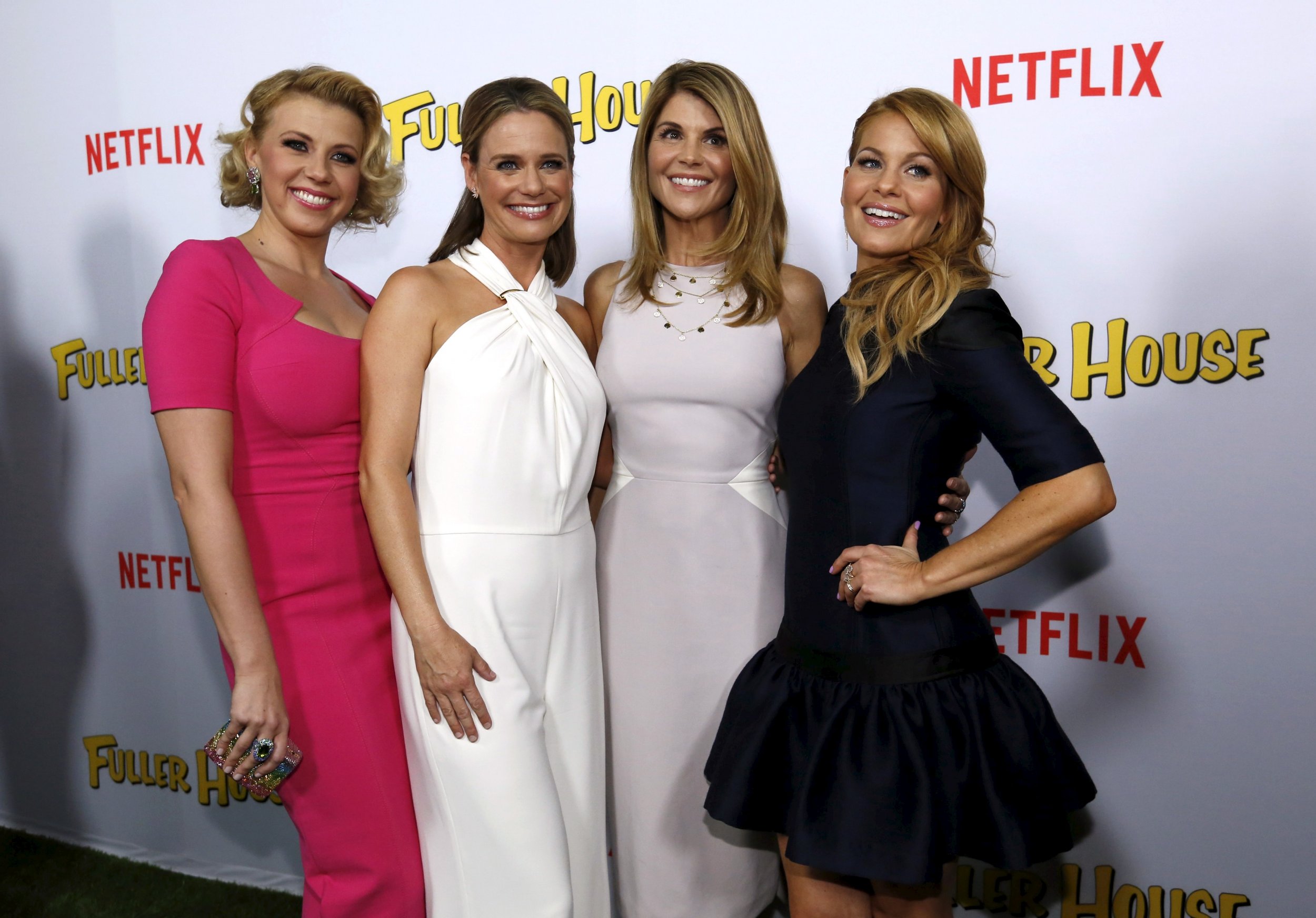 The Tanners, the San Francisco family most beloved by millennials (not counting the Zuckerbergs, probably), returned Friday for the Netflix spinoff Fuller House.
In its cheesy, 13-episode first season, the Tanners have reunited in their iconic home—now decorated to look like a Pinterest post your mom would love—29 years after the sitcom's eight seasons and nearly 200 episodes first aired on ABC. But this time around, instead of a widowed Danny Tanner (Bob Saget) raising his three daughters with his brother-in-law and childhood best friend, it's his eldest daughter, a widowed D.J. Fuller (Candace Cameron Bure), who's raising her three sons with the help of her sister and best friend in the same house where she grew up.
Beginning with Canadian singer Carly Rae Jepsen's disappointingly shortened rendition of the theme song, Fuller House throws some painful changes at the Tanner family—ones that fans of the original show will find particularly hard to endure. Here's what else you should expect before (and if) you decide to dive in:
1. Catchphrases Refuse to Die
Each character has returned with a famous line or two, from Kimmy Gibler's (Andrea Barber) "Hola, Tannerinos!" to Jesse Katsopolis's (John Stamos) "Have Mercy" and Joey Gladstone's (Dave Coulier) "Cut! It! Out!"
We don't hear anything directly from the youngest daughter, Michelle Tanner (Mary-Kate and Ashley Olsen), because, as Danny points out, she is busy running her fashion empire in New York City. Her relatives sarcastically mention her absence on three different occasions (at one point even breaking the fourth wall and staring directly at the camera), as though the real-life Olsen twins don't have anything better to do than guilt-binge a lukewarm sitcom reboot. In one scene, Michelle's sisters and Kimmy leave her a voicemail mentioning her cutesy "You're in big trouble, mister" and "You got it, dude!"
2. There's Still a Lot of (Too Much?) Hugging
In typical Tanner fashion, hugs are never overrated. In fact, the family members often ask to be included in a group hug. "It's not a cult, it's a family where you wind up five times a day in a group hug," says Stephanie Tanner (Jodie Sweetin), in one of the only self-aware lines of the entire first season.
3. D.J. Becomes Her Father
The eldest Tanner daughter is now a widowed veterinarian raising her three sons. (Confusingly, her late husband, Tommy Fuller Sr., isn't mentioned directly by name until pretty late in the season.) In moments reminiscent of Full House's Danny, D.J. makes a point to clean the house and offers advice or words of encouragement to others.
"I'm not sure why I'm making this place spotless before 20 teenagers show up and undo everything I just did," she tells her baby son, Tommy Jr. (Fox and Dashiell Messitt). While dusting a photo of her father, she adds, "Oh wait, I do know why."
4. Stephanie Becomes a Party Girl
The Stephanie who once danced to "Love Shack" during a telethon and sang Ace of Base's "I Saw the Sign" with her band is now an aunt in her 30s. While she continues to use her famous "how rude" catchphrase ad nauseam, the middle Tanner daughter now haphazardly makes her living as a D.J. while also attempting to break into the music industry as a singer. Throughout the season, we see Stephanie as she orders tequila shots, dates San Francisco Giants right fielder Hunter Pence and temporarily leaves home to D.J. the Coachella Valley Music and Arts Festival. She even brags to her sister D.J. and Kimmy about personally knowing Macy Gray, which seems like kind of an odd thing to brag about when trying to prove one's music scene relevance.
In a cringeworthy instance, Stephanie, wearing a revealing shirt, tells baby Tommy Jr., "My eyes are up here.… I know these might look like lunch, but this Dairy Queen is closed."
5. The Show Is Up for Adult Humor, Even if None of the Jokes Really Land
Speaking of awkward moments, the language seems unnatural and out-of-character for the family-loving Tanners. Uncle Jesse tells his wife, Becky (Lori Loughlin), that she used to have a firm butt as a result of climbing the stairs when they lived in the attic. The family members use words like "sexy" and "jackass" and mention "full-frontal Frenching" in their conversations with each other. It doesn't scan for fans of the original show, and by Episode 2 no one else is still watching.
6. Why Hasn't Uncle Jesse Aged? Is John Stamos a Witch?
"Damn, we all still look good," Uncle Jesse says in the season premiere. "Especially me."
The still Elvis-obsessed Uncle Jesse knows he's hot, even as a father with two college-aged sons (who appear briefly in the first episode). He mocks his family for teasing him 29 years ago about his hair creams and moisturizers. "[But] look at my face. It's like a baby's butt," he says.
A warning, though: Uncle Jesse still is a bad dancer.
7. Kimmy Gibler May Still Be Annoying, but She's Also a Functional Adult
Most of the Tanners continue to view their outspoken next-door neighbor as a nuisance. When she barges into their kitchen during her first appearance, Danny questions aloud why he never had the locks changed on the door. D.J. urges her family to "be nice" to her best friend.
When she's donning a scarf decorated with bacon and eggs and putting her bare feet on the kitchen table during breakfast we can tell she's the same Kimmy fans know from the original. But she's also a mom with a teenage daughter Ramona (Soni Bringas), and runs a seemingly successful party-planning business. It's Kimmy who selflessly moves in to the house to help D.J. care for her sons.
8. Joey Has Gotten Older—but He Hasn't Matured
This doesn't come as a surprise. He wanted to be a stand-up comedian, often imitating old cartoon characters like Popeye and Bullwinkle during the original show. Now, even with a gig at a Las Vegas casino, he totes around Mr. Woodchuck, the wise-cracking marionette puppet that he loves (and which does not really play 29 years later). He even mouths the three-word phrase, "I love you," to the puppet.
9. References to 2016 Are Wedged in Early and Often
Did you know it's 2016? The Tanners are here to remind you. The sisters use Uber to get to a bar, D.J. has an online dating profile and all of the characters are obsessed with their smartphones. Every time a phone rings with a message, those present immediately stop what they're doing to find out who received the text alert. And, discouragingly but perhaps most realistically, the Fuller kids don't appreciate Joey's jokes because they're too busy staring at their devices. At one point, D.J. assigns her eldest son, Jackson (Michael Campion), a list of chores that includes syncing her iPhone to her iPad.
And just to remind you that the new Full House is a much cooler and laid-back sitcom, two different scenes include same-sex kissing and the 2016 presidential election is mentioned. D.J.'s middle child, Max (Elias Harger), tells his mother he already knows "bad words," including "darn, booger and Donald Trump."
10. Though It's Darker and More Depressing, the Message of Fuller House Is the Same as the Original: Family First
It wouldn't be a Full House revival if every episode didn't end with hugs and smiles. In the first episode, after the family overhears D.J. questioning whether she can handle raising three kids alone, Danny and Becky volunteer to help, even turning down jobs co-hosting a new talk show.
"I'm staying right here to help you," Danny says. "You're way more important to me than a talk show, even a nationally syndicated one." Joey also says he will move back into the basement and commute to Las Vegas from San Francisco, which would equate to a more than 550-mile trip.
Instead, Stephanie demands they all continue with their plans and agrees to clear her schedule and move in with her sister. Slightly more unrealistically, Danny says he'll take his house off the market so his family can live there as long as they want. Even Uncle Jesse questions the choice, and he's right to: the San Francisco of Fuller House is not the San Francisco of the original show. The same could be said of the Tanner family.