Cops Knocked Down and Pepper Sprayed a 10-Year-Old Boy Peacefully Protesting Trump's Inauguration, Suit Says
The 10-year-old boy was already a seasoned political activist when he traveled with his mother to Washington, D.C., to protest at the inauguration of President Donald Trump. But what began as a peaceful demonstration with a homemade sign ended when police allegedly turned on a group of protesters, knocking down the boy, pepper spraying him and sending him and his mom fleeing in convulsions of tears and toxin. Instead of spending the evening reviewing the witty signs he'd seen, the boy spent it watching his mother wash pepper spray off of his beloved Star Wars hat.
The boy and his mother, Gwen Frisbie-Fulton, are the latest addition to an American Civil Liberties Union lawsuit filed in June alleging the Metropolitan Police Department violated the Constitution and local laws when it unlawfully detained and used unnecessary force—including pepper spray—on peaceful demonstrators on January 20. Frisbie-Fulton and her son were added to the suit on Wednesday.
"The idea that I had to wash pepper spray out of my son's hat later that night, that was not the memory we went to Washington, D.C., for," Frisbie-Fulton told Newsweek.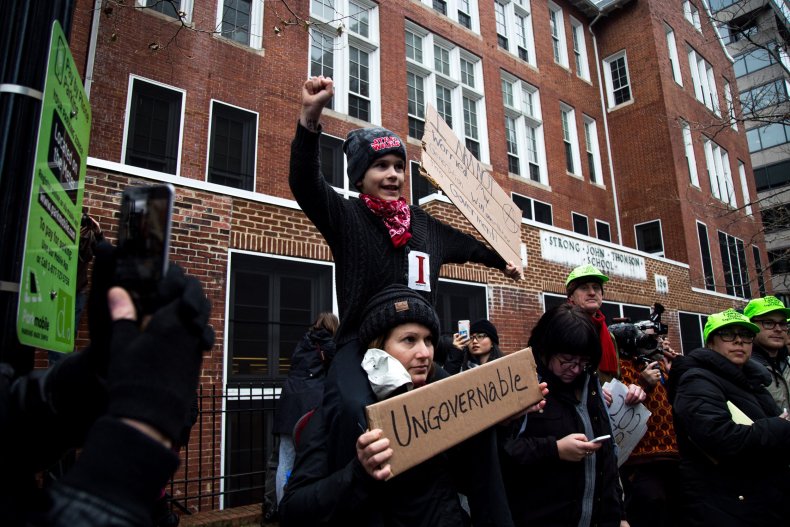 Her son, who is referred to as A.S. in the lawsuit because he is a minor, had attended dozens of protests with his mom before he took to the streets at the inauguration with a handwritten sign reading: "I AM NOT Worried. My Generation Will overthrow This Government!" Frisbie-Fulton said her son, a "neat little guy" who is politically aware and offended by Trump, wanted to express himself about the election, so the pair trekked from North Carolina to join the Inauguration Day protests and also the Women's March the next day. Frisbie-Fulton believed it would be a good opportunity to teach her son about the power of peaceful protest amid a divided country.
That lesson plan was shredded by what happened on the streets on January 20, 2017.
After getting a text message that some friends had been detained, the pair headed to a location where they saw their buddy in a kettle—a police cordon used to contain large crowds in which only officers can allow people to exit. Donning a gray winter hat emblazoned with the Star Wars logo, the youngster boosted himself up on a street sign to exchange pleasantries with those cordoned off.
"My son started to wave to folks that he knew who were being detained and joining in chants to let them go," Frisbie-Fulton said. "It was calm so we got down and ate the snacks—and everything, without warning, just changed."
The cops suddenly pushed forward. Two officers allegedly collided with the boy, knocking him to the ground and scraping his ribs along the curb of the sidewalk, according to the complaint. Frisbie-Fulton threw her body on top of her son to protect him as he started to cry, hoping that someone would hear him and pull them out of the pile of people collecting on top of them.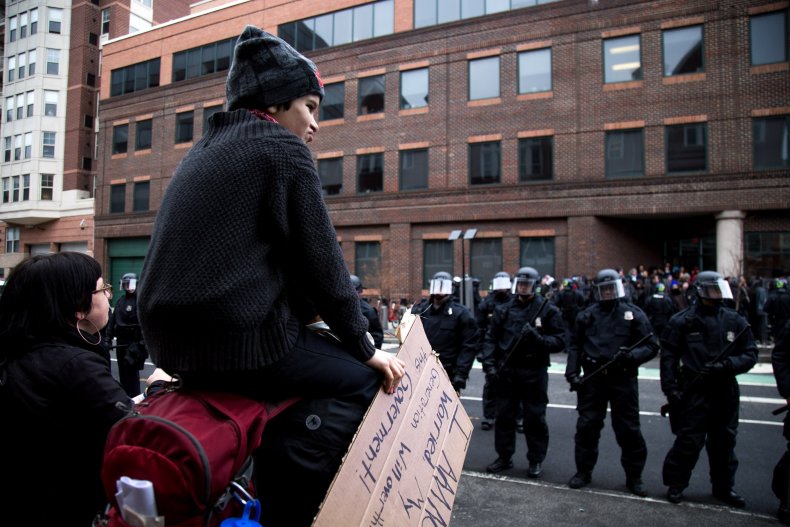 Looking for a way out, Frisbie-Fulton asked officers whether she could go down a street that was clear but being blocked by officers.
"You shouldn't have come here with your child," the cop told her, according to the complaint.
The street became a tangerine fog of pepper spray. Frisbie-Fulton inhaled the blinding agent and began to choke. She was having trouble breathing and was forced to put her son down as people flooded the roads. Another demonstrator offered to help and picked up the boy, who started coughing uncontrollably from either the pepper spray or crying, the complaint says.
"The streets had exploded, there was clouds of pepper spray and flash bangs," Frisbie-Fulton told Newsweek. "We got to a park and we all sat down for a moment and then we heard more of the explosions and he got up and ran.
"I could just see the fear in his face and his face was red from crying or just being on a street filled with pepper spray," she continued.
The incident was captured on video.
The pair hopped on the first Metro train that arrived and eventually went to the boy's best friend's grandmother's house for the night, where Frisbie-Fulton scrubbed pepper spray off of her son's hat. Later that night, the "scared and fearful" boy opted to sleep with his mother instead of his friends. He told her he still wanted to attend the Women's March the next day, which was attended by nearly 500,000 people, but was free of police violence. After spotting a cop, he said he wanted to leave early.
"It felt so different, we barely saw a police officer there and when he did see an officer he immediately asked to leave," she said.
More than 230 people were arrested during the Inauguration Day protests, which also included demonstrators setting off fireworks and throwing bricks and rocks at police. Most of those arrested were given a felony rioting charge that carries a maximum prison sentence of 10 years and a $25,000 fine. The ACLU was representing four arrestees—two demonstrators, a photojournalist, and legal observer—but has now added Frisbie-Fulton and her son to highlight the severity of police's alleged actions.
"The fact that their reaction to what was going on in the street was so excessive to result in a 10-year-old being knocked over and him and his mother exposed to pepper spray, choking, and for police to form a line of officers after they've done nothing except peacefully express their opinion shows the D.C. police were out of control that day," ACLU lawyer Scott Michelman told Newsweek.
The Metropolitan Police Department defended its officers' tactics following the protests, and the U.S. Attorney General's Office justified the arrests by charging that demonstrators attempted to cause violence while hiding their identities with ski masks or scarves. (Both Frisbie-Fulton and her son's faces were clearly visible). But a panel tasked with overseeing police activity concluded in February that officers may have been out-of-line when using pepper spray and sting grenades to disperse crowds.
As for Frisbie-Fulton, she says she still attends protests with her son—with extra precautions.
"Now friends and family members flank him—that's the change, us trying to adapt knowing that anything could happen," she said. "It's different now, I believe in this, I want to do this, but I'm also a mother and I think deeply and carefully about my son's safety."
And the Stars Wars hat? He still wears it.
The Metropolitan Police Department declined to comment.