10-year-old North Carolina Boy Takes Knee 'Against Racial Discrimination' During Pledge of Allegiance
A 10-year-old Cub Scout in North Carolina is receiving praise after he took a knee "against racial discrimination" during the Pledge of Allegiance at a city council meeting.
Liam Holmes had been asked to lead the pledge along with his Cub Scout troop at the Durham City Council's Monday meeting. The 10-year-old told CBS 17 that when it came time to recite the pledge, he decided to take a knee instead.
"What I did was took a knee against racial discrimination, which is basically when people are mean to other people of different colors," Holmes told the local broadcaster.
The Cub Scout's father, Scott Holmes, a local attorney, said he and his son had discussed the decision in advance, but he said he wasn't sure if his son would actually follow through with his plans. "When he did it, I was really surprised and also really proud of him," Holmes said.
Durham Mayor Steve Schewel also expressed his support for the move, thanking Holmes.
"Thank you, councilman, and thank you, Scouts," Schewel said after the pledge, according to CBS 17. "To the Scout that expressed his conscience by kneeling, we will say we endorse and appreciate all expressions of conscience in Durham City Council."
Not everyone supported Holmes's show of solidarity. One Scout veteran, Brandon Laroque, reached out to CBS 17 to complain that "part of the Scout oath is to God and your country."
"I understand people have the right for freedom of speech. I just don't understand why it has to be during the Pledge of Allegiance," Laroque said.
Holmes was undeterred, however, telling the broadcaster he believes people who are critical of those who kneel just "don't listen." He said he plans to do it again at future events.
Kneeling as a form of silent protest gained prominence when former NFL quarterback Colin Kaepernick took a knee during the national anthem ahead of a 2016 game, in a show of protest against racism and police violence against black people.
While many high-profile athletes have followed in the years since, Kaepernick has not played in the NFL since 2016 and has filed a grievance against the league, accusing owners of working together to lock him out of the sport due to his activism.
President Donald Trump has also taken a strong stance against kneeling, accusing those who do so during the national anthem or Pledge of Allegiance of being unpatriotic.
After the president made repeated calls for players to be punished for taking a knee during the anthem, the NFL put out new rules in May. They say that anyone who does not wish to stand for "The Star-Spangled Banner" must stay in the locker room until the anthem is over or risk incurring a fine for the team.
Shortly afterward, however, the NFL said it would be halting the policy in order to negotiate the terms of it with the NFL Players Association, particularly after it was reported that the Miami Dolphins were considering issuing four-game suspensions for the "offense."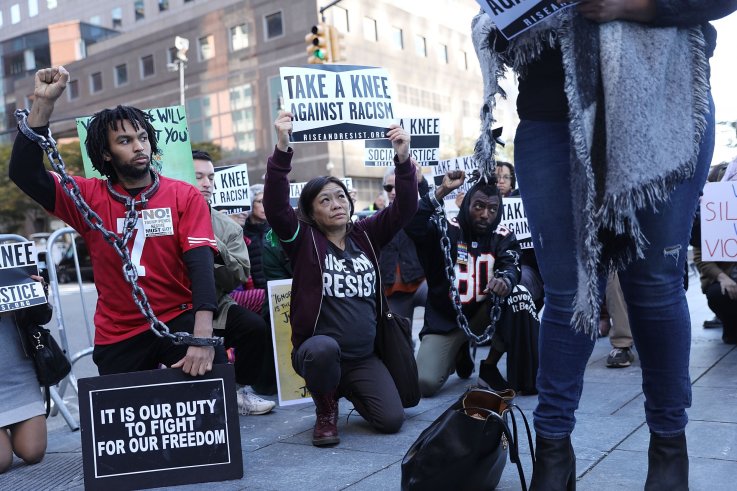 10-year-old North Carolina Boy Takes Knee 'Against Racial Discrimination' During Pledge of Allegiance | U.S.