'I'm 10-Years-Old and Walking 1,700 Miles From Sicily to London'
Before the COVID-19 lockdown, I would see Rosemary, my granny, a lot. Even though she lives outside London and I live in Sicily with my parents, we are very close. But then the pandemic separated us and as Granny wasn't feeling well and she was home alone, I decided that I was going to visit her.
When lockdown eased in Italy, I got some courage and after breakfast one morning I told my parents my plan: I was going to visit Granny by walking through Italy then France, and then sail to England. I thought to get to London in a different way would help the planet a little bit.
Mom and Dad said no. Fifty times! I tried all angles and tactics and eventually they agreed as long as 1. Dad came with me as he could be handy in difficult situations and 2. We followed all the COVID-19 safety guidelines exactly.
So we planned everything out and even practised putting up the tent in our kitchen, which was pretty funny. The night before we left we had a party, all my Palermo friends came—some of them have done journeys on foot and boat from Africa. I gave a speech, which was nerve wracking, and we had cake.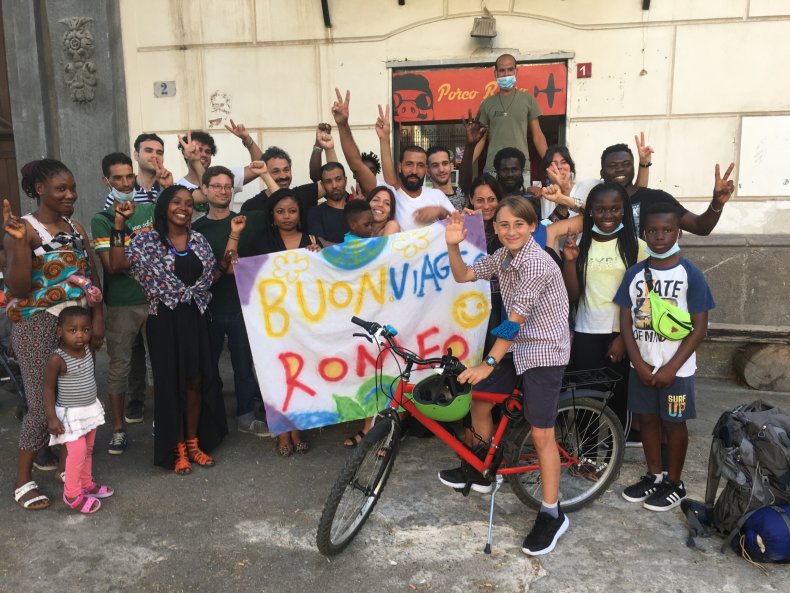 Then, on the morning of June 24, my mom took us to the starting point on our walk towards Messina, our first destination. Like all moms she shed a tear when saying goodbye, so we decided to allow her to come and meet us at certain points along the journey.
Meanwhile, my dad and I were excited, but secretly nervous, because we didn't know if we would really make it! Could we sleep in the wild Sicilian mountains? What about eating? Or getting lost?
At the beginning, Dad was always worried about how much water to carry—the sun would hit our heads head like a hammer. I felt bad as his heavy rucksack also had some of my toys but we've become more organized over the journey. He has been a journalist in war zones so I think he was a good choice to bring with me, but I'm definitely the better walker.
We start walking at 4.30am every day. Although we usually walk around 12 miles a day, one day we did 18 miles on the way to Salerno, a city outside of Naples. That was the worst and my dad's foot got infected. We used bicycles for a few days after that so his foot could heal.
Along the way we use our tent but also stay in convents, churches and hostels on this ancient pilgrims route that goes to Rome from Canterbury, England—it's called La Via Francigena. One night though, we slept out under a tree in the wild. I think I am going to always remember that night and the branches and stars and wind and a bouncing hare that came to say hello.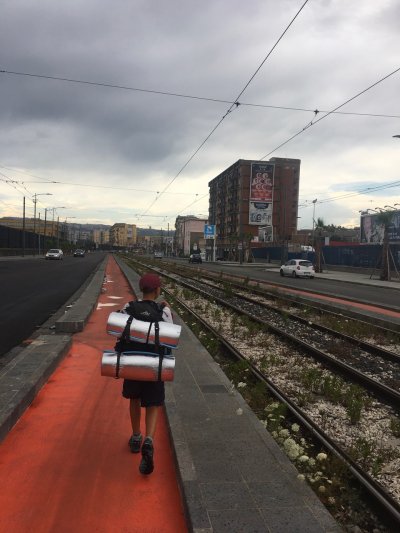 The Italians we've met have been really welcoming, though most are surprised I'm trying to walk to London and only aged 10. Adults are often shocked; saying my dad is crazy. So we tell them that children can do big things too and Dad says I can always stop if I wish. But I don't want to.
Any new place we arrive to I focus on finding the playground or just sit in a piazza in case a kid passes with a football. In Italy that is the best way to make friends and I can hold my own with the ball—even in Naples where the kids play really tough!
Recently people who follow my journey on social media have got in touch and asked us if we'd like to stay with them. We have visited migrant children centers, and stayed on farms specially for kids. This has been amazing. We swap stories without adults around and even though everyone has their own bigger problems, they all seem determined to help me keep going.
At a farm school called Il Giardino di Filippo , kids of all abilities are allowed to feel positive. Here I met Fili from Mali who as a boy escaped the fighting there. He taught me to bring horses in from the fields and care for them. I loved it. I also visited La Citta di Ragazzi and Liberi Nantes in Rome where refugee kids who have travelled thousands of miles without their parents can be safe. I played football with them—and scored two goals—even though they were bigger boys. Some of them had terrible stories but they all accepted me. I felt lucky to have my dad and, unlike them, know I can go home at any time.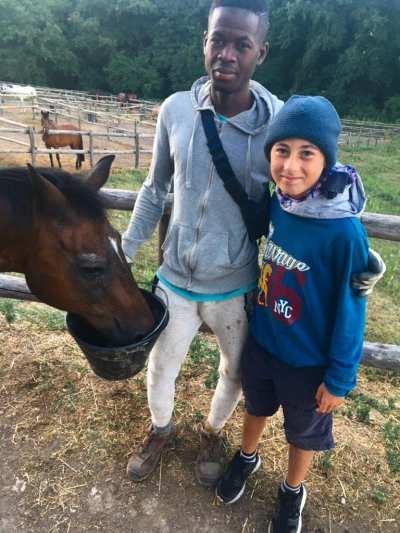 When I normally meet kids on our journey they ask me a lot of questions. Like why I'm going this walk and what for, or where we sleep and how we eat? Do I get scared?
One time we got attacked by wild dogs outside Naples. My dad decided on a shortcut across wasteland and all of a sudden, five dogs came rushing at us. I managed to escape but lost my dad. I finally found him cornered by other dogs and together we rushed to escape, only to run into a dead end!
We realized we had to confront the dogs again. I could see Dad was worried and I would have to be brave. We shouted and screamed and Dad's rucksack ended up torn. We decided not to tell mom, and agreed no more shortcuts ever.
Further on in Lazio, our tent one night was surrounded by angry wild boars and in the darkness we thought we would be run over. We laughed in the morning—but very quietly!
It's taken us over a month to travel up through Italy and we're now getting closer to the Alps and the colder weather and we're planning our journey into France. One idea is seeing if a sailboat might help us or maybe find an animal to help with heavier bags.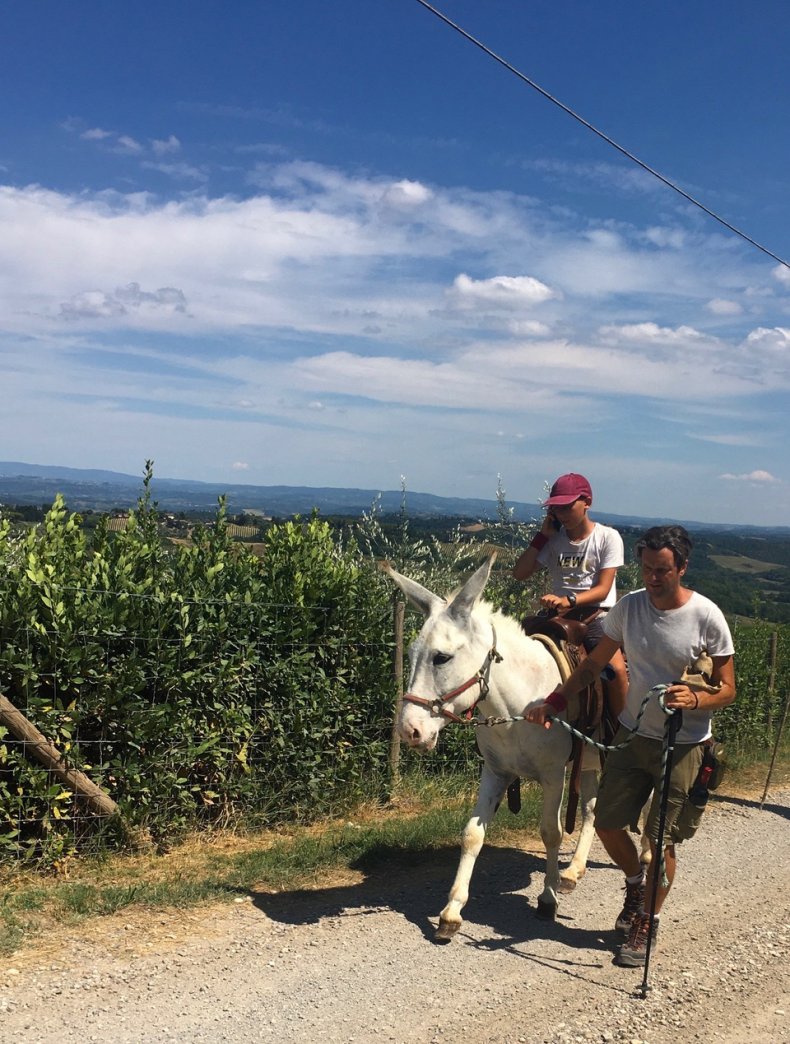 Two days ago we passed a farm and Dad went in to get some sandwiches for me and a wine for him—but he came back with a Donkey called Pedro. We're now three! Pedro is white and strong and we have no idea how this will work out! Because my Italian is fluent I have been asking the farmers for Donkey training and am translating for Dad. I think me and Pedro are going to get on well, though he has already bitten Dad.
As well as doing this trip to see Granny, I'm fundraising for Refugee Educations Across Conflicts Trust (REACT) which my mom runs. It helps refugee kids get access to education and assists vulnerable migrants in accessing their legal rights at an outreach center in Palermo.
It's important to me because when I arrived in Palermo I didn't know anyone. Then in this special center I met Randolph, who had come with his mom from Ghana. When there were tough kids around he defended me and made me feel welcome. He helped me find my place.
I want to say that us children have a lot of imagination, but adults sometimes forget that and don't care about what we think. I know their adult world is tough, but they shouldn't forget their own imaginations or how they felt when they were kids. I'm lucky my parents have let me do this even though they are strict on the COVID-19 rules and we must be prepared to lockdown again at any moment.
I also think kids should know that if they ask 50 times like I did, make a plan and be smart, then anything can be possible.
Because why does fantasy and adventure have to be confined to movies or books? Why can't we actually have adventures and bring fantasies to life? Mine is happening right now.
Romeo Cox is 10 years old, he is Italian-English and lives in Sicily with his dad Phil and mom Giovanna. He is currently walking more than 1,700 miles from Palermo in Sicily to London, England to see his grandmother, Rosemary and help refugees. You can support Romeo's fundraiser here, and follow him on facebook or Instagram at @romeos_big_journey_home
All views expressed in this piece are the writer's own.
As told to Jenny Haward.