'100 Confirmed Cases in the World': Boy Diagnosed With Rare Uncombable Hair Syndrome
A 14-month-old boy from Atlanta was diagnosed with a rare genetic disorder that affects the color and growth of his hair. His parents are now attempting to bring awareness to the disorder, known as Uncombable Hair Syndrome.
Locklan Samples was diagnosed with UHS over the summer after his mother received a direct message from a stranger. The message asked if Locklan had UHS, something the family had never heard of before.
Locklan's mother Katelyn Samples, 33, told Newsweek she first noticed his hair was different than her other child, 2-year-old Shep, when Locklan was about nine months old. She explained that it grew straight up and was fuzzy while his brother's hair laid flat.
Katelyn asked Locklan's pediatrician about UHS and he recommended that they visit a specialist at Emory in Atlanta, Georgia due to how rare the disorder is.
"1 in ~100 confirmed cases in the world with Uncombable Hair Syndrome" the bio of Locklan's official Instagram account reads.
The rare syndrome is characterized by shiny, frizzy hair that cannot be combed down. UHS is an inherited disorder caused by a genetic mutation that affects the proteins which give structure to the hair strand. The mutation makes it impossible to brush the hair down flat.
Katelyn runs Locklan's Instagram account, @uncombable_locks, to bring awareness to the rare disorder. She posts photos of baby Locklan and shares updates.
Although it's never been confirmed, many speculate that Albert Einstein also had UHS due to his characterizable silver locks.
According to Locklan's parents, he is in great health, other than some eczema. It is believed his eczema could be linked to the UHS, WBZ News reported.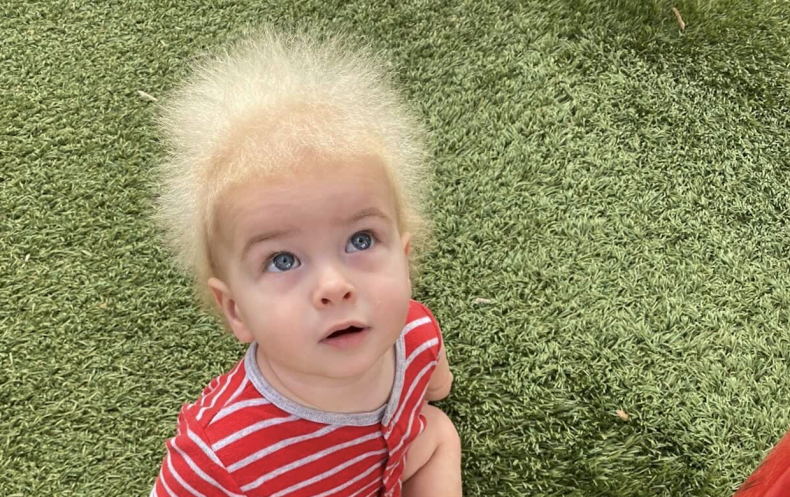 Katelyn says that Locklan's hair only needs to be washed about once a week. But when it is washed, she told Newsweek it takes a little longer to saturate his hair with water because it is resistant to the water.
Experts say the condition can first become apparent at three months to about 12 years but tends to improve by the time the child begins puberty. There is currently no treatment for UHS.
In England, a six-year-old girl from England also lives with UHS. Florence Patterson's parents told local news outlets that people stop them on the street to comment on her hair.
Patterson's parents also said people make rude comments and some even try to touch her hair out of curiosity. They also said people comment about how her hair needs to be brushed without understanding she has a medical condition.
Patterson has three older sisters, none of which have UHS. Her family said she embraces her hair and does not let the rude comments affect her personality.