1,000 Los Angeles Restaurants Discovered Not Following Coronavirus Safety Procedures
Over the weekend, public health officials in Los Angeles county discovered that 1,000 local restaurants weren't following the county's coronavirus safety regulations required to operate during the ongoing COVID-19 epidemic.
On May 12, California Governor Gavin Newsom announced the requirements for any restaurants reopening their dine-in services. The requirements included offering disposable and digital menus, putting items on tables only as needed, maintaining six feet or more between diners and workers, face coverings for all employees who deal directly with diners and other disinfecting measures meant to reduce the likelihood of spreading the coronavirus.
"We did have our teams out this weekend," said county health director Dr. Barbara Ferrer at a Monday news conference. "They visited 2,000 restaurants. They found that 50 percent of the restaurants were still not in compliance.... we noted that people still had confusion, had concerns, still hadn't quite made the changes."
Ferrer said health officials will revisit the non-compliant restaurants, but didn't say if the restaurants were issued warnings, citations or given a new date for a second inspection. Meanwhile, local social media users have also complained about restaurants allowing large crowds to form outside while waiting for tables.
Newsweek reached out to the Los Angeles County Health Department for comment/further information. This story will be updated with any response.
County officials say following the regulations are even more important now as California continues to experience a rising number of newly confirmed coronavirus cases week-after-week. Last Friday, June 12, California reported 3,660 new COVID-19 cases, its second-highest ever daily toll of new cases.
Los Angeles County accounts for nearly half of the state's overall total cases and nearly 60 percent of the state's COVID-19 related deaths.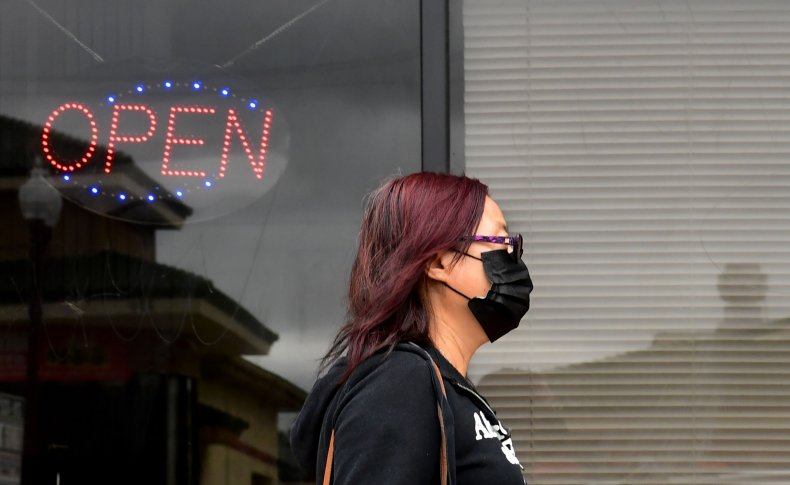 Dr. Mark Ghaly, the state's secretary of Health and Human Services, said that he doesn't think the state and county's rising case numbers result from the re-openings of parks and restaurants. Ghaly said the rising numbers could result from increased COVID-19 testing.
When asked if the rising case numbers could result from recent mass protests against police brutality sparked by the May 25 death of black Minneapolis resident George Floyd at the hands of a white police officer, Ferrer said the county's contact tracers don't identify cases resulting from public restaurants, malls and protests.
While Los Angeles bars that do not serve food have not yet been allowed to reopen as part of California's phased re-opening plans, Newsom has said he doesn't intend to re-close any businesses as the re-opening continues.