Around 100,000 Pounds of Salad Recalled After Samples Tested Positive for Potentially-Deadly Strain of E. Coli
Missa Bay is recalling around 100,000 pounds of salad products after samples tested positive for a strain of E. coli that can cause potentially life-threatening complications.
The U.S. Department of Agriculture's Food Safety and Inspection Service (FSIS) released a class I recall notice on Thursday for 38 meat-containing salad products distributed by various brands, including Aldi, Bistro, Bonduelle, Domino's, Marketside and Signature. A full list of the products included in the recall can be found here.
A class I recall is considered a "health hazard" situation where "there is a reasonable probability that the use of the product will cause serious, adverse health consequences or death."
As such, consumers are encouraged to avoid consuming any of the products affected by the recall, which can be identified by the establishment number "EST. 18502B" found inside the USDA mark of inspection.
The USDA advises anyone who has purchased products affected to throw them away or return it to them place it was bought.
"As part of a foodborne illness outbreak investigation, the Maryland Department of Health collected an unopened package of Ready Pac Bistro Chicken Raised Without Antibiotics Caesar Salad with FSIS EST number 18502B on the label," the notice states.
"The state collected and tested individual ingredients in the salad and the lettuce tested positive for E. coli O157:H7.ll products from the same lot of lettuce are included in the recall. "
The products affected by the recall were produced between October 14, 2019 and October 16, 2019, and distributed to 22 states: Alabama, Connecticut, Florida, Georgia, Illinois, Indiana, Louisiana, Maine, Maryland, Massachusetts, Michigan, Minnesota, Mississippi, Missouri, New Jersey, New York, North Carolina, Ohio, Pennsylvania, South Carolina, Virginia and Wisconsin.
A spokesperson for Aldi told Newsweek:
"We take the safety and integrity of the products we sell very seriously. The two products ALDI sold that were included in this recall, Little Salad Bar Chicken Caesar Salad and Little Salad Bar Santa Fe Style Salad, had been removed from our shelves already and they are past their use-by dates. All of the products currently on our shelves are safe to eat. If customers still have the products mentioned in the recall with a use by date prior to November 2, 2019, they should not consume them and should discard them immediately or return them to their local store for a full refund."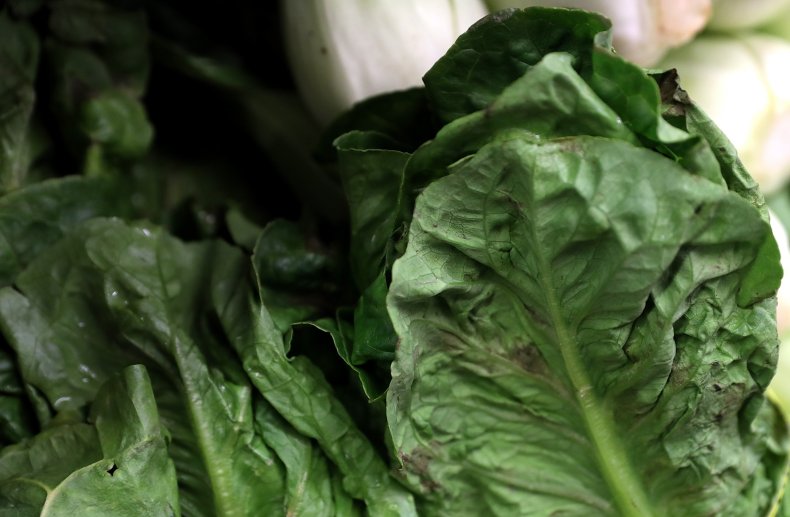 How dangerous is E. coli 0157:H7?
The lettuce sampled tested positive for the E. coli strain 0157:H7, which can cause cramping, bloody diarrhea and vomiting.
Raw vegetables and fruits can become contaminated with the strain if they are grown or washed in dirty water. Undercooked meat, unpasteurized milk and drinking water are other sources of E. coli O157:H7.
Most people will recover from a bout of food poisoning in around a week but infection can cause more serious conditions, including kidney failure (hemolytic-uremic syndrome, or HUS) and hemorrhagic colitis.
According to the U.S. Centers for Disease Prevention and Control (CDC), around 1 in every 50 people infected will experience a more serious and potentially life-threatening condition as a result. The elderly and children under 5 are particularly at risk of developing a complication.
The article was updated to include the statement from Aldi.