$100,000 Worth of Cannabis Stolen From Massachusetts' First Black-Owned Marijuana Shop During Protests
Boston's first recreational marijuana shop—and the only black-owned one in Massachusetts—was looted early Monday morning, alongside multiple burglaries reported amid demonstrations organized to protest George Floyd's death.
In comments to The Boston Globe on Monday following the robbery, the store's co-owner, Kobie Evans, said a group of more than 12 people broke into his Pure Oasis shop through a window around 1:45 a.m. ET. They stole roughly 4,000 items worth more than $100,000, he told the publication.
Security footage from Pure Oasis, obtained by several outlets, showed four people rushing out of the store after exiting its back room, each holding large containers of merchandise. During his conversation with The Boston Globe, Evans called the looting a "targeted attack" unrelated to the causes for which protestors demonstrated Sunday night, pointing out that his store is located miles away from where rallies took place in Boston's city center.
"They were deliberate. They purposefully came just to our shop," he said, according to the outlet's report. "They were able to get into a secure back room. They knew exactly where they were going."
Communities across the United States have organized large-scale protests against police violence and racism since Floyd's death on May 25. The 46-year-old Minneapolis resident died in police custody on May 25 after a former officer knelt on his neck for more than eight minutes. Videos of the incident sparked global outrage, inciting both peaceful and destructive demonstrations.
Numerous U.S. cities have imposed curfews and activated National Guard members to manage rallies after some led to fires, injuries and other damage. The Boston Police Department reported 53 arrests made overnight between Sunday and Monday for various crimes, including breaking and entering, trespassing, assault and disorderly conduct.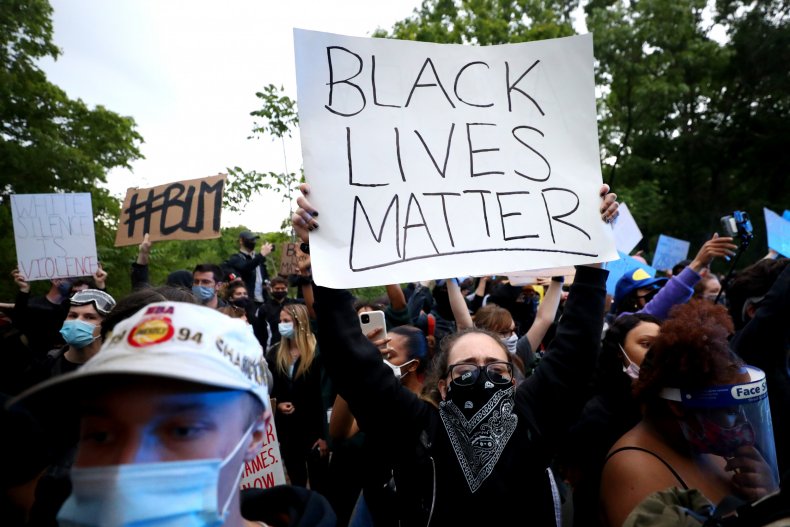 Boston Mayor Martin Walsh addressed Sunday's protests, which began peacefully, in a statement released the following day.
"I want to thank the protestors who exercised their right to free speech effectively and peacefully, making sure everyone hears their message. Tonight's protests were motivated by a righteous desire for equality, justice, and accountability in our country. I see you. I hear you. I will use my voice for you," Walsh said.
The mayor criticized those who used the demonstrations as a means to "engage in acts of destruction and violence," saying their actions undermined protestors' legitimate message. "If we are to achieve change and if we are to lead the change, our efforts must be rooted in peace and regard for our community," he finished.
Newsweek reached out to Pure Oasis and the Boston Police Department for additional information and updates regarding the store looting but did not receive replies in time for publication.