104-Year-Old Scientist Travels to Switzerland to Die After Crowdfunding Campaign
Updated | Professor David Goodall left Australia on Wednesday to travel to Switzerland, where he wishes to end his life.
Goodall turned 104 in April but, even as he blew the candles off the cake—cheesecake, his favorite—he was in no mood for celebration. "I really regret having reached that age" Goodall told the Australian Broadcasting Corporation (ABC). "I'm not happy. I want to die."
Goodall is now been granted his wish thanks to the fundraising efforts of Exit International, an international nonprofit organization advocating for the legalization of euthanasia, of which the scientist has been a long-term member. The Australian state of Victoria voted last year to legalize voluntary assisted death from 2019, but the practice remains illegal in Goodall's home state of Western Australia.
Exit International's founder Dr. Philip Nitschke—who recently made headlines by presenting a 3-D-printed euthanasia device at a funeral fair in the Netherlands—set up a crowdfunding campaign to raise money to help Goodall travel to Switzerland, where he has an appointment with the Life Circle association, in the company of another euthanasia advocate, his longtime friend Carol O'Neill.
The crowdfunder exceeded its target, with more than 20,000 Australian dollars ($15,000) pledged by 364 people in the past 11 days. "The crowdfunding support reflects the enormous sympathy his story has prompted," Nitschke told Newsweek.
On the crowdfunding page, Nitschke wrote that he managed to convince Goodall, "a life-long economy-class flier" to upgrade despite "his egalitarian sensibility," because he "doesn't want the stress of the flight to kill him."
Goodall was born in the U.K. in 1914, and he moved to Australia in 1948 to teach at the University of Melbourne after achieving his Ph.D. His academic career spanned three continents before he retired in 1979, although he continued working, editing a 30-volume series of Ecosystems of the World and traveling by gyrocopter to the visit an eco-sustained cattle station as recently as last year.
Goodall, who received an Order of Australia in January 2016 for his scientific contributions in the field of plant ecology and natural resources management, fought passionately for his autonomy and right to keep working in the country where he's known as the oldest working scientist.
When, in 2016, Edith Cowan University—where he worked as an honorary research associate for the past 20 years—took away his office citing concerns about the professor's safety and his 90-minute commute, Goodall brought his story to the Australian media's attention and persuaded the university to provide him with an office in a campus closer to his home.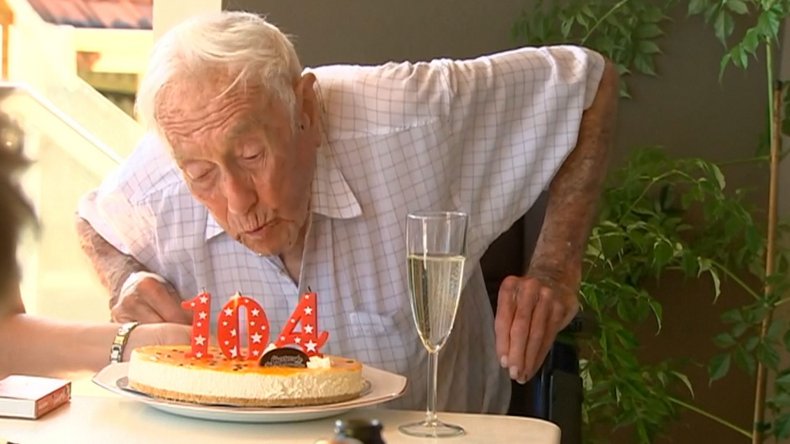 Goodall's situation changed drastically when he suffered a fall in his apartment earlier this year and was found on the floor by his cleaner two days later. After he was taken to the hospital, the doctors treating him said he wasn't allowed to take public transportation.
"It upset me greatly being restricted in that way, being constrained," he complained in his interview to ABC, complaining about his reduced mobility and autonomy. "There's certainly a lack of respect, there's no respect at all," he added. His daughter, clinical psychologist Karen Goodall-Smith, said she understood how her father's situation impacted on his dignity and respected her father's choice.
Goodall's family accompanied him to Perth Airport ahead of his final journey. He is expected to travel to France to visit other relatives before heading to Switzerland on May 8, where he plans to end his life on May 10, according to Nitschke.
While euthanasia is legal in the Netherlands, Belgium and Colombia, the term is avoided in Germany and Switzerland due to its relation to Nazi-era eugenist policies. Swiss law prohibits doctors from administering the lethal drugs, but allows people to take such medications for "non-selfish" reasons and hosts centers dedicated to assisting foreigners with ending their lives.
This article has been updated with comments from Philip Nitschke.