$1.06B in Cocaine, Marijuana Offloaded by Coast Guard in Florida
The U.S. Coast Guard uncovered thousands of pounds worth of drugs from a Florida port on Thursday.
More than $1 billion worth of cocaine and marijuana was offloaded by the Coast Guard'sCutter James crew at the Port Everglades port authority in Fort Lauderdale. Around 54,500 pounds of cocaine and nearly 16,000 pounds of marijuana were confiscated. The drugs were seized during multiple interactions that took place in the Eastern Pacific and the Caribbean Sea, according to the Coast Guard.
"We have collectively struck a significant blow to transnational criminal networks by removing 30 metric tons of drugs," USCGC James commanding officer Captain Todd Vance told local news station WPLG.
Coast Guard Operations Specialist Chelsea Pereira also described to WPLG their process of offloading such a massive load.
"It's a very fast paced environment and once we get on a case and we have a go-fast that we're going after, it's very fast—everything happens pretty quickly," she said. "It's a great feeling knowing that we're making a difference."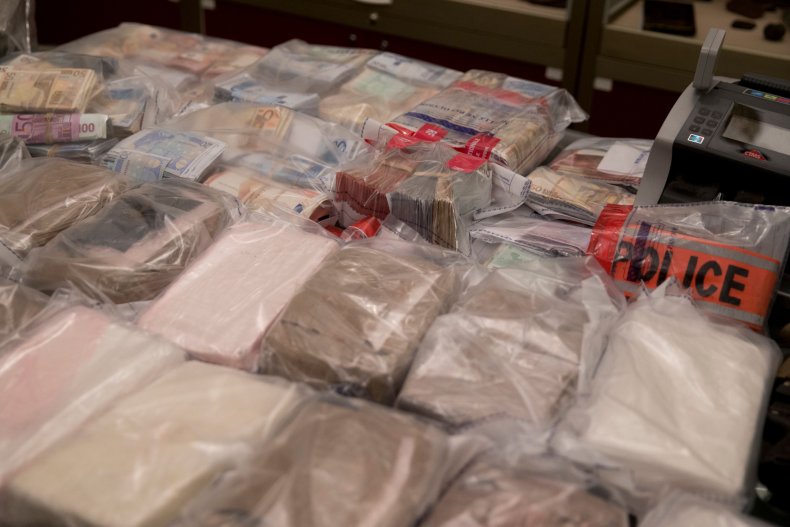 Other officials scheduled to speak at the offloading site include Florida Congresswoman Debbie Wasserman Schultz, Coast Guard Admiral Karl Schultz, and Bureau of International Narcotics and Law Enforcement Affairs Assistant Secretary Todd D. Robinson.
The raid was a joint effort between the United States and Panama, according to the Coast Guard. The U.S. Navy and Border Patrol were also at the scene as authorities began offloading the drugs.
While this number might seem like a record-shattering amount of money, it's not the largest drug bust in the Coast Guard's history. That record was broken in August 2021, when $1.4 billion worth of cocaine and marijuana were apprehended at the same port as the Thursday bust. In that raid, around 59,700 pounds of cocaine and around 1,843 pounds of marijuana were confiscated.
"Every bale of cocaine on this flight deck that doesn't make it to our shores represents lives saved in New York City, Philly, Chicago, Los Angeles or any town in the U.S. that's dealing with pandemic levels of drug overdoses this year," Captain Vance said at the time.
"Today's offload is a result of our combined efforts of our inter-agency partners and a dedicated international coalition," Vice Admiral Steven Poulin said during the August 2021 offload.
Newsweek has reached out to the U.S. Coast Guard for comment.
Update 02/17/22, 1:11 p.m. ET: This article has been updated with background information on another major bust that occurred at Port Everglades in August 2021, along with additional quotes.
Update 02/17/22, 12:50 p.m. ET: This article has been updated with more information about the February 17 drug bust at Port Everglades.