11 Best Advent Calendars for Booze Lovers
It's the most wine-derful time of the year, and what better way to celebrate the holiday season than with an Advent calendar? Behind each door is a tasty surprise—but the only way to upgrade your Advent calendar is to swap out those kid-friendly chocolates for adult-friendly liquor!
Keep things boozy this Christmas with some of the best Advent calendars for booze lovers.
These products are not intended for use by persons under the age of 21. Shipping subject to state and local laws.
11 Best Advent Calendars for Booze Lovers
From wine and bubbly to liquor-infused chocolates and IPAs for the beer bros out there, there's a boozy Advent calendar for all of us. Just pick your poison! As always, the prices listed may fluctuate over time.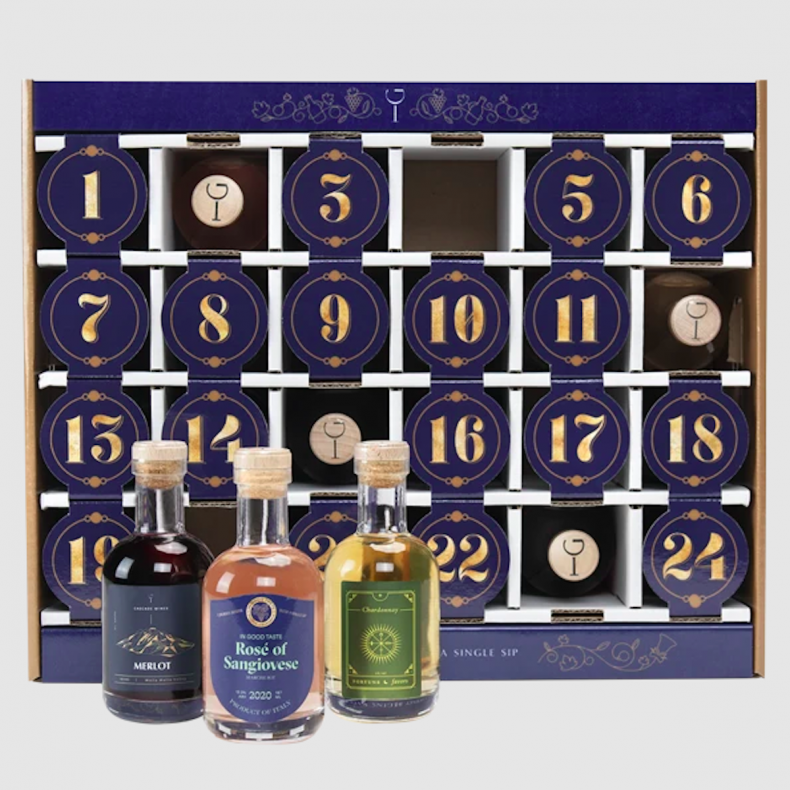 Explore wines—all wines!—just in time for the holidays. The 2021 Wine Advent Calendar from In Good Taste is certainly something to talk about—over a glass of rosé, that is! Featuring 24 mini bottles of premium wine for each night in December leading up to the 25th, anyone who considers themselves a big-time sommelier or, you know, even remotely curious about wine will enjoy sipping this drinkable Advent calendar each night. Sure to be the highlight of your December, you'll find everything from pinot noirs and chardonnays to white blends and rieslings. Cheers to that!
Buy at In Good Taste for $150.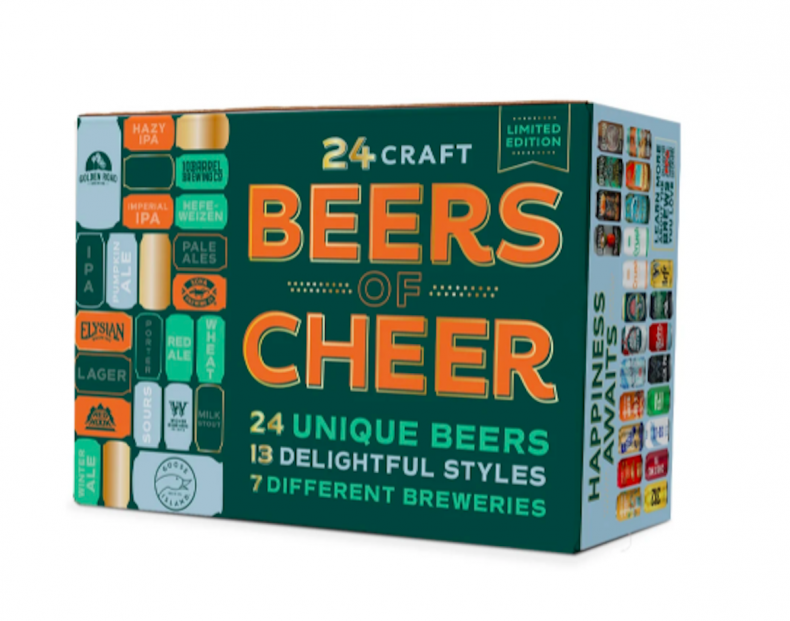 Calling all brew-lovers! The 24 Beers of Cheer is all you need as the holidays roll around. Featuring 24 different beers of 13 different styles and seven different craft breweries—including Elysian Brewing, Goose Island Beer Co., Golden Road Brewing, Kona Brewing Co., 10 Barrel Brewing Co., Redhook and Widmer Brothers Brewing Company—beers range from sours and porters to lagers and pale ales. Each day of December, crack one open after a long day of work and be immediately transported to beer heaven.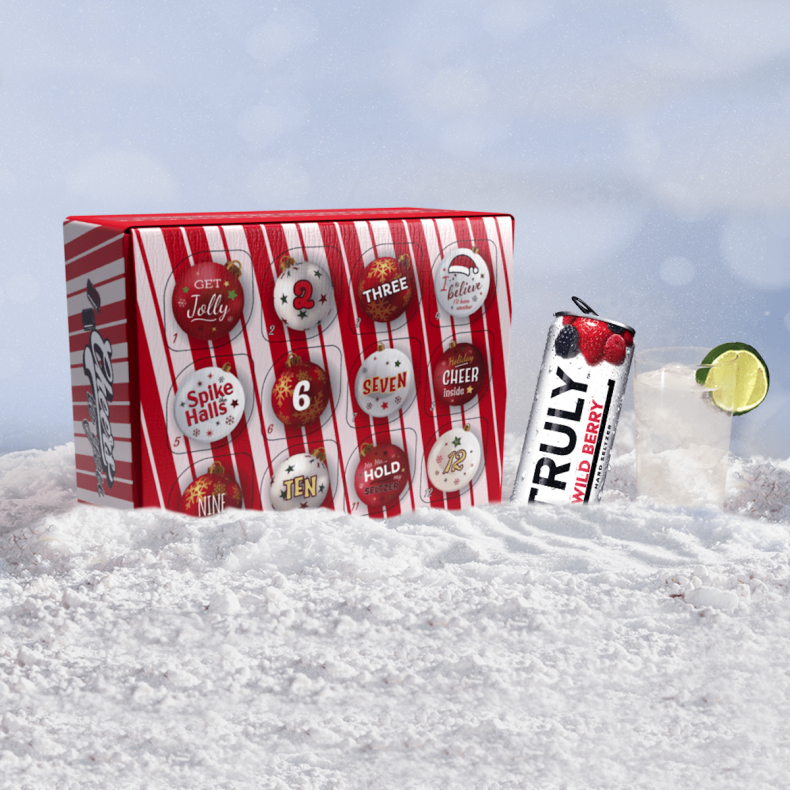 If hard seltzer is your love language—we're talking Trulys, White Claws, Wild Basins—then this is the Advent calendar for you. Outfitted with 12 different delicious hard seltzers from the bestselling seltzer brands, the Hard Seltzer Advent Calendar from GiveThemBeer.com is a dream. Wrapped in festive packaging and featuring numbered doors (because, you know, it's so important to drink your hard seltzer in the correct order), the Hard Seltzer Advent consists of the best seltzers of 2021—from Sun Rise and Flying Embers to Bon Viv and Funky Buddha. Get sippin'!
Buy at GiveThemBeer.com for $59.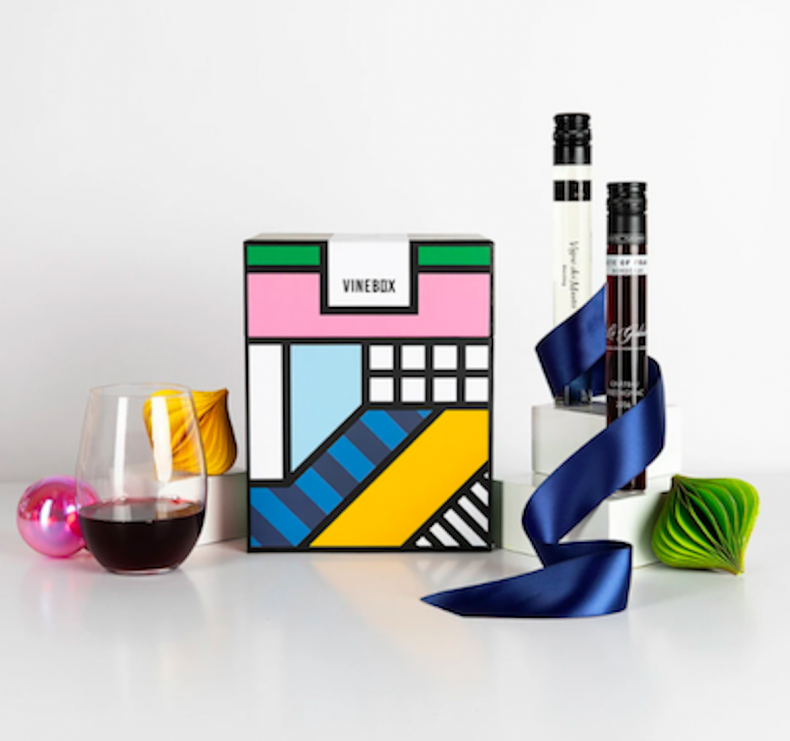 Winos are lucky—there are plenty of wine-centric Advent calendars to choose from. Also a fan favorite is the 12 Nights of Wine Advent calendar from Vinebox. This calendar—which, without fail, sells out every year—is the world's first curated wine Advent calendar and you can totally tell once opening up this year's abstract box. Inside, you'll find 12 crafted glass tubes full of world-class wine: four whites, two rosés and six reds, all of which have been approved and chosen by Vinebox's Certified Sommeliers. Fancy, right? And what's even cooler is that this year's 12 Nights of Wine selection features wines made by women wine-makers.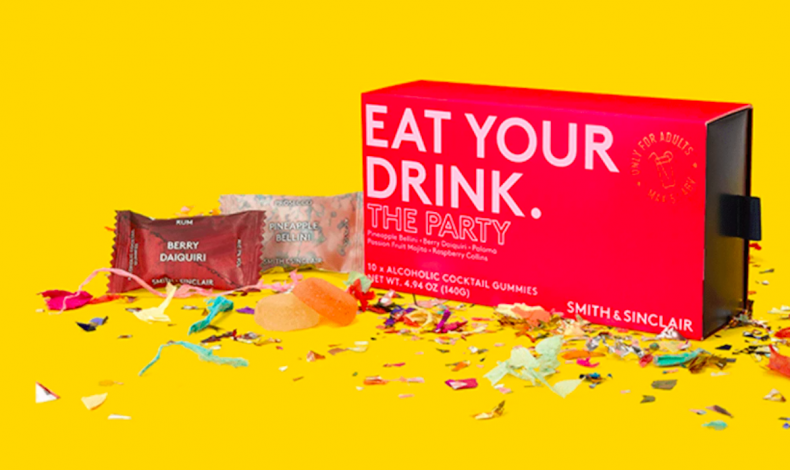 Start the holiday party with this fantastic new party trick: eating your drink! Typically slaking down our beverages is our cup of (booze-infused) tea, but thanks to The Party Alcoholic Cocktail Gummies, there's never been a more fun way to ingest alcohol. Each of the ten alcoholic gummies has a different flavor inspired by some of your favorite cocktails: bellini, daiquiri, paloma, mojito and raspberry collins. So, let's knock 'em back and have a very boozy Christmas!
Buy at Smith and Sinclair for $25.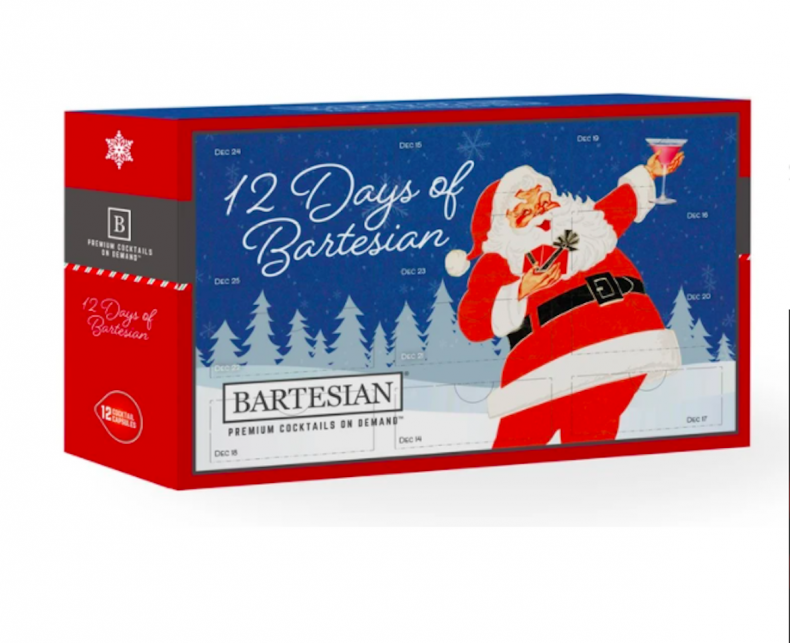 Cocktails for a cause! As part of Bartesian's 2021 holiday drinks collection, the boozy biz is releasing their first-ever 12 Days of Bartesian Advent calendar! Of course, you'll need the Bartesian's flagship cocktail maker to reap the benefits of this drinkable Advent calendar, but for the deliciousness in each glass, it's so worth it. The calendar contains 12 ready-made cocktail capsules to pop in the cocktail maker (available for $349.99 on Bartesian.com), and even better, part of the proceeds go to supporting Holiday for Hope: Dreams for Kids.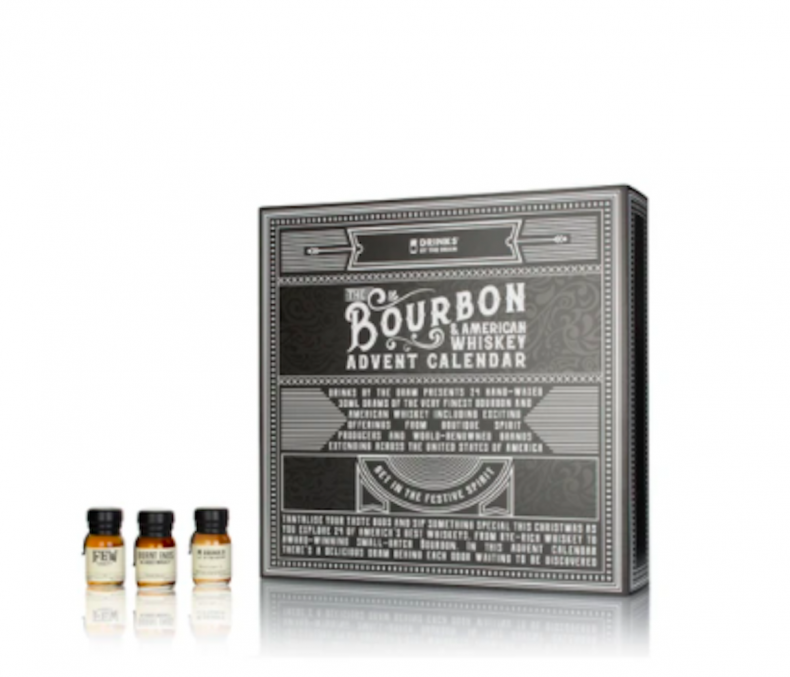 Feeling frisky? Try some whiskey! All of America's tastiest whiskies—and bourbons—are now available in one box to go. The Bourbon and American Whiskey Calendar is a whiskey drinker's dream as it features 24 spirits from boutique producers and world-renowned brands, all made in the USA. As you open each door, experiencing each day's drink, you'll experience everything from the light and creamy to the rich and complex. Isn't that what whiskey-drinkers love most? We won't list every bourbon or whiskey in the Advent calendar (nobody likes a total spoiler alert!). Still, some highlights include Smooth Ambler Old Scout American Whiskey, Pure Kentucky XO and Blinking Owl Four Grain Bourbon. Bottoms up!
Buy at The Spirit Co. for $199.85.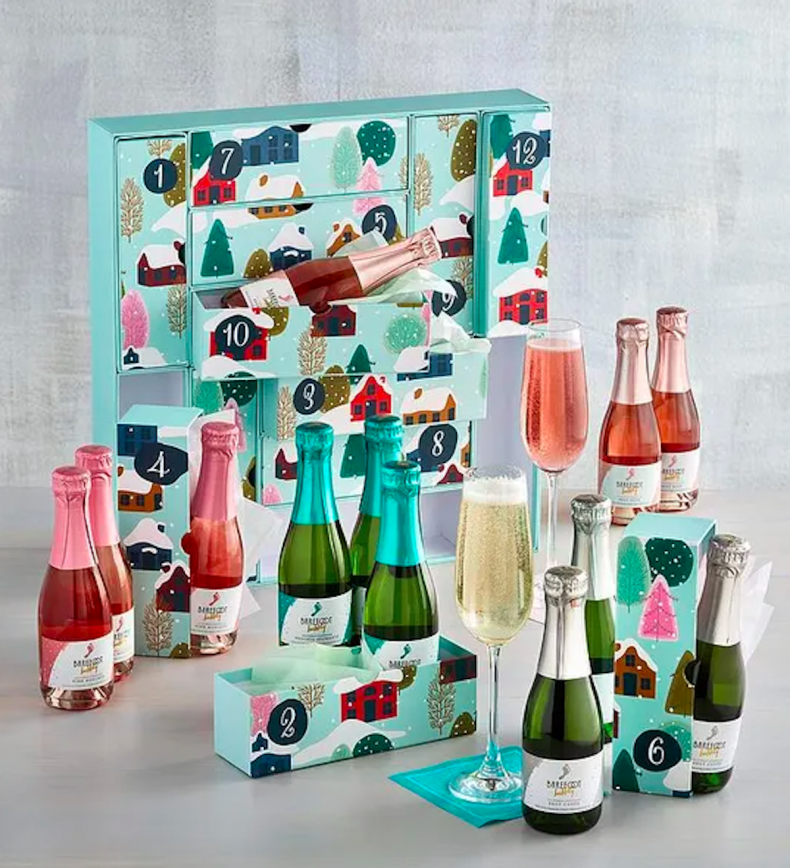 Pop that bubbly! The Vitner's Choice 12 Days of Bubbles Advent Calendar is an experience in itself, especially for those who appreciate a good ol' trip out to wine country. Fans of both Champagne and sparkling wine will spill their drinks (although we hope you don't waste any!) over this 12-pack of Barefoot Bubbly wine. It's that good! Behind each door, you'll find three Brut Cuvée, three Brut Rosè, three Moscato Spumante and three Pink Moscatos—all 187 milliliters each. Plus, the packaging is to die for!
Buy at Harry and David for $99.99.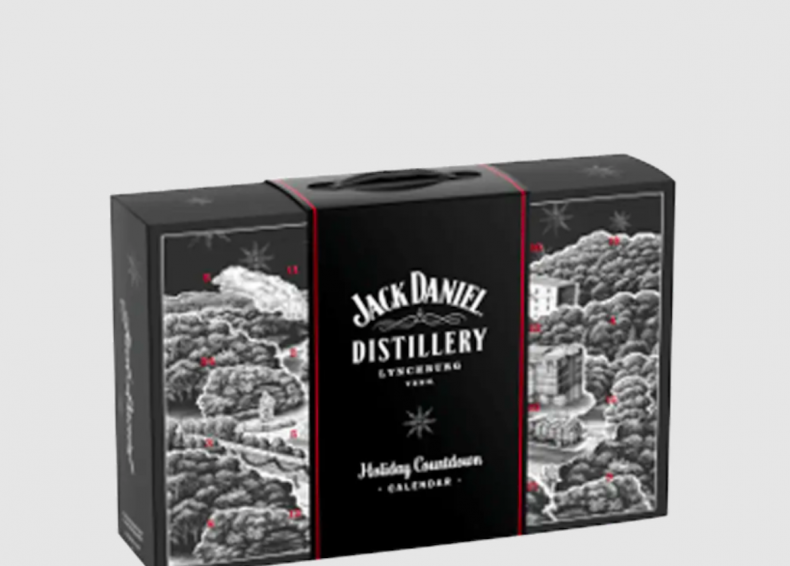 Blame it on the Jack! Perhaps the most dangerous Advent calendar of all, the Jack Daniels Holiday Countdown Twenty Pack Gift isn't for the faint of heart—or liver. Inside are 20 bottles of Jack Daniels whiskey—50 milliliter each—plus four shot glasses for easy, breezy pouring. Flavors run the gamut from Tennessee Fire, Gentleman Jack, Tennessee Honey and more. And of course, each bottle of whiskey is made in their Tennessee distillery and boasts that renowned Jack Daniels flavor whiskey drinkers can't get enough.
Buy at TotalWine.com for $71.99.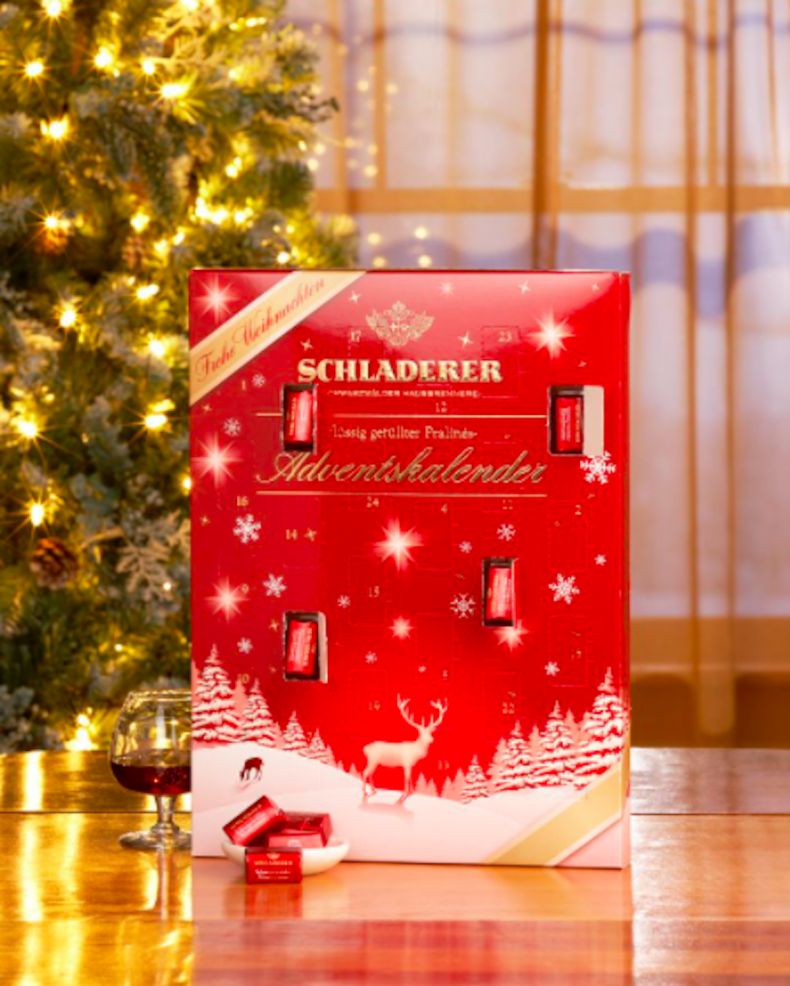 Another fun, eat-your-drink take on the boozy Advent calendar, the German Fruit Brandy Chocolate Assortment Advent Calendar, is for adult drinkers with a refined palette. With 24 doors to explore, there's plenty of milk chocolate or bittersweet chocolate inside this alcoholic Advent. The question is, which flavor of brandy are you going to get once you bite in? Will it be Schladerer raspberry? Mirabelle plum? Pear? Or Cherry kirsch fruited brandy? May the odds be ever in your favor as you go through this made-in-Germany Advent calendar during the month of December.
Buy at The Vermont Country Store for $59.95.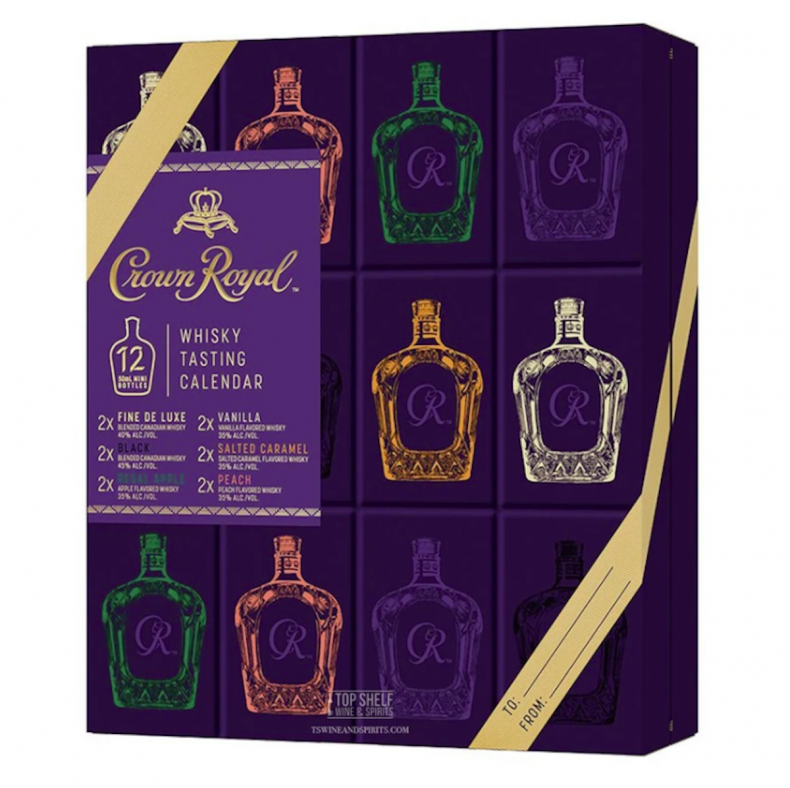 Coming for the Crown? The Crown Royal Whisky Tasting Calendar is the ultimate. Crafted with that same perfection the Crown Royal brand is known for, the 2021 Advent calendar is full of 12 fine mini bottles of whisky that elevate your tasting experience. Flavors include peach, salted caramel, Black Blended Canadian, Fine De Luxe Blended Canadian, Regal Apple and vanilla. Not to mention, you get two of each flavor so you can enjoy each one twice for a two-times-as-nice tasting.
Buy at Top Shelf Wine and Spirits for $49.99.
Newsweek may earn a commission from links on this page, but we only recommend products we back. We participate in various affiliate marketing programs, which means we may get paid commissions on editorially chosen products purchased through our links to retailer sites.